New York State
'I want to move forward:' Andrew Cuomo announces PAC, podcast
The former governor, who resigned amid multiple allegations of sexual harassment, said he's "not done" weighing in on state and national politics.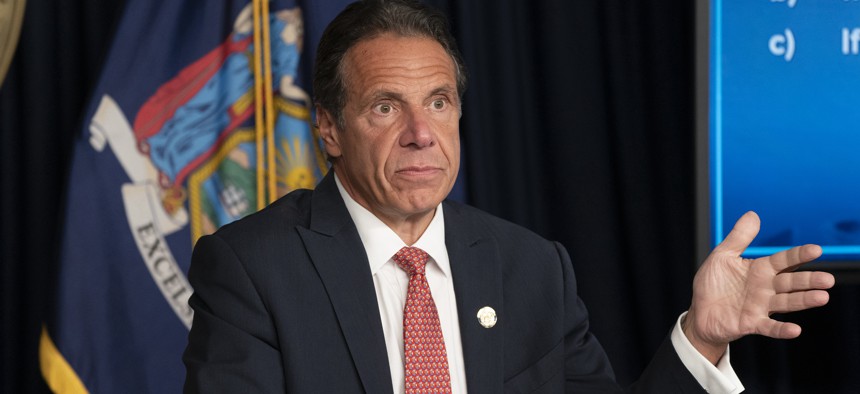 Former Gov. Andrew Cuomo is jumping on the podcast bandwagon – admittedly a few years after its boom.
In an eight-minute video posted online, Cuomo announced that in addition to starting an as-of-yet unnamed weekly podcast, he would also launch a new political action committee to elect "the right people to office." In a familiar refrain, the ex-governor decried "both extremes" in politics and "cancel culture" which he's said he is a victim of. "It's not about the truth, it's not about what's right, it's not about what's smart," Cuomo said after offering criticism of rhetoric on social media. "It's a Twitter mob – but the mob has power."
Undeterred by his epic fall from grace so soon after his popularity peaked during the pandemic with his daily televised briefings, Cuomo pitched himself as the solution to the partisan political woes facing both New York and the country today.  "I have fought the good fight all my life, and I am not done fighting yet," Cuomo said. 
Cuomo still has millions in his campaign account that he has spent in recent months on ads in an apparent attempt to help rehabilitate his image following his resignation over multiple sexual harassment allegations. That cash will likely fund his new PAC, although a spokesperson for Cuomo said that "details will be released in the coming days" when asked about the former governor's considerable war chest.
Pitching his podcast as a way for him to "hear what's on your mind," Cuomo cast himself as the former politico now offering a look behind the curtain. "My intention is to speak the full truth, unvarnished, from the inside out, frank and candid," he said, "as a person who has been in the room many times for many years, and knows these people, and knows their games." Cuomo promised to help "establish the facts," asserting that political discourse has become too partisan and opinionated. His announcement follows the successful podcast launch in July of his journalist brother, Chris Cuomo, who was fired from CNN as part of the fallout from Andrew Cuomo's downfall.
In addition to the podcast and PAC, Cuomo also said he would start the Gun Safe America project, but offered few details on what that project will look like, nor its goals. He said that he would have more to say about it "soon." 
The video, which started with a brief update of his personal life since exiting office, features Cuomo alone, speaking straight into the camera in front of a white background. He didn't mention the numerous scandals he faced when he resigned from office last year, which included several high-profile allegations of sexual harassment by current and former state workers. Cuomo has repeatedly denied those allegations. In addition, he faced increasing scrutiny over his handling COVID-19 in nursing homes and potential misuse of state funds to help write a memoir on his experiences during the pandemic.
Cuomo's attempted comeback did not sit well with at least one prominent progressive who has criticized the former governor many times in the past. "This is the latest pathetic grasp at relevance from a sad, aging narcissist who I might just start feeling sorry for," state Sen. Gustavo Rivera told City & State in a text. "Not yet though."
Speculation abounded since the beginning of the year about what the future had in store for Cuomo as he paid for ads that touted the lack of criminal charges brought against him over sexual harassment and appearances with Black and Hispanic clergy. Many thought he was eyeing a potential run in the Democratic primary, with polls coming out that included him in theoretical matchups. After that deadline passed, rumors spread that he could mount an independent challenge, which also did not happen.
More recently, Cuomo purchased Facebook ads to promote a Daily News op-ed that offered a sympathetic review of the sexual harassment scandal – and subsequent state attorney general investigation – that led up to his resignation. He also published his own op-ed in the Daily News on the anniversary of Hurricane Maria touting his past support of Puerto Rico during times of crisis. The New York Post published snippets of an interview with Cuomo in which he hinted about what he planned to do next. And he recently tweeted that he would appear in the Bronx with former New York City Council member Rev. Rubén Díaz Sr. soon, although did not offer a specific date.
Cuomo also has continued to face repercussions from his alleged harassment of women who worked for him. Back in February, an unnamed state trooper who said the ex-governor groped her filed a civil lawsuit against him. And a few weeks ago, former executive staffer Charlotte Bennett filed her own lawsuit against Cuomo and his top aides over the alleged sexual harassment. 
The former governor seemed ready to put that behind him, even if others are not. "I want to move forward and focus on what is really important," he said.
Update: This story has been updated to reflect that Cuomo has denied the allegations of sexual harassment made against him.
Correction: This story originally misidentified Cuomo's political action committee as a super PAC.
Powered By
NEXT STORY: Hochul up 17 points on Zeldin in latest Siena poll