Heard Around Town
NYC council looks for answers on unfilled city jobs
Some members discussed low pay and in-office requirements, while others members were singularly focused on vaccine mandates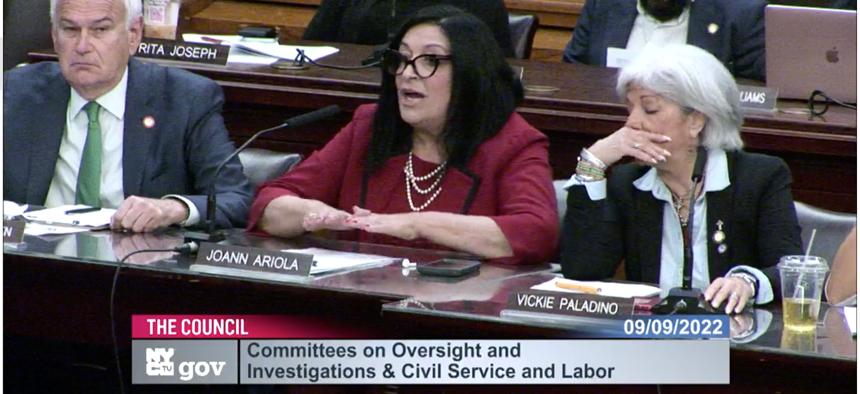 Choose your topic: in-office mandates? Or COVID-19 vaccine mandates. Today's New York City Council hearing on maintaining the municipal workforce felt like two separate meetings at the same time. Committee chairs Gale Brewer and Carmen De La Rosa and some other speakers were focused on city workers' strict bans on working from home, the lowballed salary offers and slow pace of bureaucracy they blame for the high, 8% job vacancy rate – as high as 27% in some agencies, The City reported. 
"The city is leading by example" with in-person work and hope the private sector follows, testified DCAS Deputy Commissioner Barbara Dannenberg. 
But members of the council's conservative Common Sense Caucus like Vickie Paladino and Robert Holden – fresh off their meeting with the mayor – were singularly focused on blaming the city's vaccine mandate for the city worker shortage. Dozens of former city workers who refused to get the jab rallied with them before the meeting and delivered sometimes raucous testimony. 
The mandate's a factor, but probably a minor one. The mayor's office told City & State that just 1,761 city workers had been fired for not getting vaccinated – a small portion of the roughly 24,000 unfilled positions, and a drop in the bucket of the city's 333,000 roles. As of Aug. 30, 12,074 city employees had submitted reasonable accommodation requests regarding vaccination status. Of those, 583, or 5%, were still waiting for a response. But not all workers whose requests were denied have been fired – some are awaiting a decision on their appeal.
Powered By
NEXT STORY: New polling gives Dems the edge in NY-19