Heard Around Town
Hochul and Brown announce shooting memorial the day after courts halt gun control law
The governor and Buffalo mayor's announcement of the memorial for the ten victims of the tragic Buffalo supermarket shooting comes right after a judge's decision to stop a concealed carry law in churches.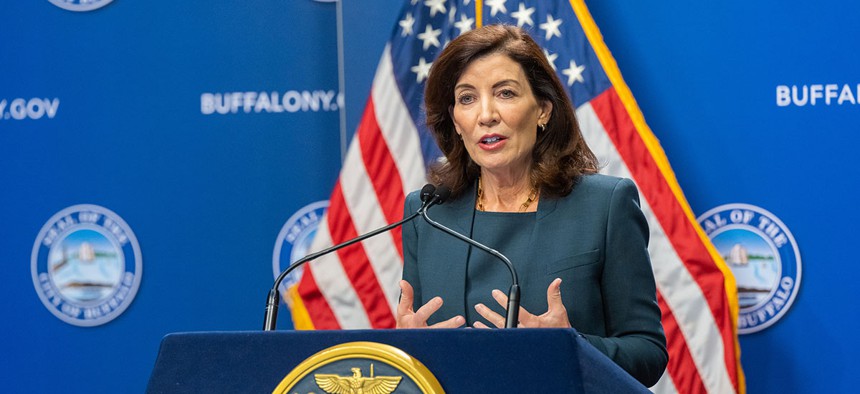 Friday, Gov. Kathy Hochul and Buffalo Mayor Byron Brown announced the May 14th Memorial Commission to commemorate the ten victims of the racist shooting at a Tops supermarket in Buffalo. The 11-member commission, many of whom are Buffalo community members, will design a memorial for those killed in the shooting.
"Five months ago, 10 Black Buffalonians were senselessly slaughtered solely because of the color of their skin, and through the May 14th Memorial Commission, we are ensuring that their lives and legacies are honored," Hochul said in a statement. While addressing the community at the time of the shooting in May, Hochul referenced her plans to address loopholes in the state's gun laws. "We are doing everything we can to ensure that our laws are tight, they're ironclad, to ensure that our law enforcement have the resources they need."
And the governor did just that. After the U.S. Supreme Court's ruling that overturned New York's century-old concealed carry law, Hochul signed a legislative package aimed at strengthening the state's gun laws by restricting weapons in "sensitive locations."
But, this memorial announcement came the day after a major development in the state's ongoing court battles involving the newly passed gun laws. Thursday, Buffalo Judge John Sinatra temporarily halted part of the state's concealed carry laws that applied to houses of worship, including churches, synagogues and mosques. Sinatra pointed to the "ample Supreme Court precedent" when making his decision. This ruling means that the law cannot be enforced until the lawsuit is resolved. Meanwhile, there are other lawsuits challenging the state's newly signed gun measures that are ongoing.
While at the memorial event, Hochul vowed to change the laws so families no longer have to deal with tragedies like the Buffalo shooting. "It's not a positive day in our history, but it is part of the Buffalo story forever going forward. We want to do something where people remember. A place to come and reflect. A place to honor. And a place to say never again."