New border policy for migrants and a shooting close to Zeldin's home
Rounding up the week's political news.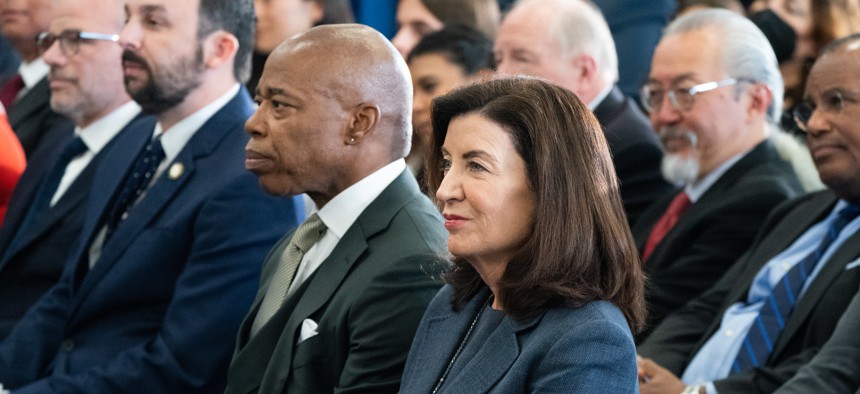 Rep. Lee Zeldin released a new gubernatorial campaign ad in which he promised that he wouldn't – and couldn't – take away New York's abortion protections. Which, realistically speaking, is true as long as Democrats have supermajorities in the Legislature. But the renewed declaration certainly hits a bit different considering it came just a day after he said he would issue executive orders to suspend criminal justice reforms eliminating most bail and ending solitary confinement. Begs the question for Zeldin: Which is it? Can he unilaterally suspend laws he doesn't like (and he certainly is no fan of abortion) or are his hands tied by legislative politics? Curious indeed. Keep reading for the rest of this week's news.
Some migrant relief on its way
President Joe Biden offered the first federal assistance for New York City as it faces a continued migrant crisis as Southern states send asylum-seekers up North. He announced a new (sort of, it's similar to Donald Trump's) border policy meant to stem the flow of migrants from Venezuela, one that would require Venezuelans – who make up a large number of the influx of migrants to the city – who enter the country illegally to get sent back to Mexico. Those seeking asylum would need to secure a sponsor and go through public safety screenings before being allowed into the country. Both New York City Mayor Eric Adams and Gov. Kathy Hochul applauded the move from the president, although it does little to assist with the nearly 20,000 migrants that have come to the city in recent weeks. Adams has asked both the state and federal government to provide financial aid and to cut through certain red tape to help his city handle the crisis that is overwhelming the shelter system. Just a day before Biden's announcement, Hochul told reporters that it was on the federal government to help and did not seem to answer Adams' pleas for emergency state funding.
Shooting outside Zeldin's home
Two teenagers were shot and injured outside Rep. Lee Zeldin's home on Long Island, leaving his twin daughters – who were home alone at the time of the incident – shaken though unharmed. Zeldin quickly used the shooting as a personal rallying cry around combating crime in the state, the cornerstone of his gubernatorial campaign so far. Although he denied politicizing the event, it easily played into his campaign messaging that New York has become unsafe as high-profile instances of violent crime increase even as overall crime remains at near record lows. Shortly after the shooting, though conducted beforehand, a new poll from Marist College showed the race for governor tightening. It placed Zeldin within 10 percentage points of Hochul, eight when undecided voters were asked to make a decision based on who they leaned toward. That's a far closer margin than the last major public poll from Siena College, which had Hochul leading by 17 percentage points. 
Gun laws to stay in place – for now
The state got a small victory when a federal appeals court ruled against a temporary restraining order that would have immediately halted the enforcement of new concealed carry gun laws in New York City. A lower court found several parts of the law unconstitutional and granted the injunction as the state appealed the decision. The state still has a long fight ahead of it as it challenges the lower court ruling, and many expect that case to wind up in the Supreme Court, but the full law will remain in effect while that battle wages.
New York's battle against Trump continues
State Attorney General Letitia James took a significant new step in her ongoing legal battle against Trump and his business dealings in New York. She asked a judge to freeze Trump Organization assets in the state and to appoint an independent monitor in her civil lawsuit. James asserted that in order to avoid legal repercussions, Trump has begun moving his New York business assets out of state and out of the jurisdiction of the court. The former president recently created a new company in Delaware also called the Trump Organization, although it filed paperwork to be recognized as the Trump Organization II in New York. James pointed to this new business formation and questioned its purpose, making the case that Trump was attempting to shift his business out of state where New York laws can't reach it.