New York City
The Yankees and Mets lobbying lineups
On the field, they want to win. In local government, the baseball teams have their own agendas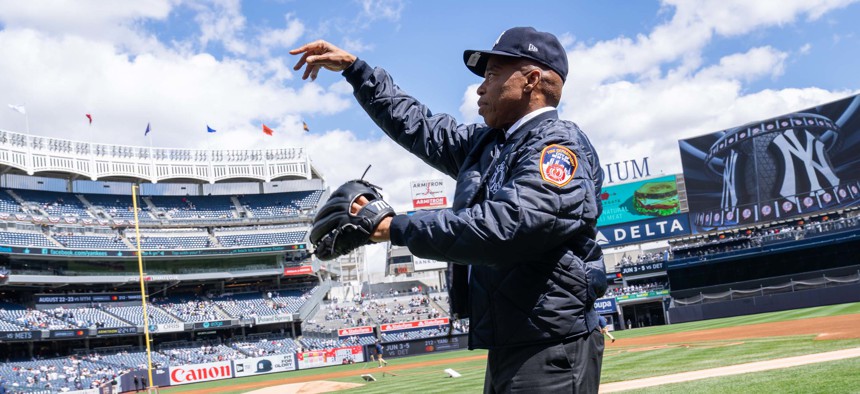 Did New York City Mayor Eric Adams curse the Mets by predicting a World Series win this year? (They lost in the wild card round.) And will his prediction of a Yankees sweep in the divisional series play out?
The mayor may be powerless over what happens on the field, but he's got a lot of political pull, and the city's Major League Baseball clubs are frequently seeking his blessing – as well as other players in government.
With the Yankees and the Mets both making the playoffs for the first time since 2015, here's a look at their 2022 lobbying lineups, and what they're playing for.
Yankees lineup
Randy Levine, Lonn Trost, Brian Smith: New York Yankees Partnership; Stanley K. Schlein: private practice; Michael Avella, Mike Avella Jr., Christina Dickinson, Eglantina Haxhillari: Dickinson & Avella; Vincent Pitta, Jon Del Giorno, Vito Pitta, Cesar Cardenas: Pitta Bishop & Del Giorno 
At-Bats:
Mets lineup
Steve Cohen, Michael Sullivan: New Green Willets; Jason Ortiz, Jennifer Sedlis, Jason Laidley: Moonshot Strategies; Michael Avella, Mike Avella Jr., Christina Dickinson, Eglantina Haxhillari: Dickinson & Avella; Julissa Ferreras-Copeland, Brian Simon, Bernadette DeVito, Andy Manshel, Shershah Akbar Khan: Hollis Public Affairs, Tal Golomb: Fried Frank, Jeff Nelson: RXR Development Services; Neil Weisbard: Pryor Cashman
At-Bats:
Casino

Building a casino at Willets Point, next to Citi Field, was the main focus of Mets owner Steve Cohen's New Green Willets, which he used to lobby for both baseball issues and his development interests. Lobbyists reported meeting with more than a dozen elected officials, as well as the Division of the Budget and the Gaming Commission. A panel will review the applications next year, but it'll help to have elected buy-in. 

Willets Point Development

A new casino on what's technically parkland is far from guaranteed, but other development at Willets Point, including residential, seems likely, so the Mets have also been meeting with Queens elected officials on "potential economic development, housing and mass transportation development." They've also been meeting with the Port Authority, while their plan to route a LaGuardia AirTrain to the Mets' No. 7 train stop is in purgatory.  

COVID protocols

Like their crosstown rivals, the Mets successfully lobbied for a professional athlete carveout for the vaccine mandate. 

Ticket sales

Easy job for Dickinson & Avella, who represents both teams in Albany, which both wanted to lobby regarding the bill regulating ticket sales. 

The Steve Cohen Military Health Clinic
The Tommie Agee School

The team lobbied the New York City Department of Education to rename an East Elmhurst public school after the 1960s Mets center fielder. Adams held a ceremony at the school in August.