News & Politics
In a terrifying shooting, a political opportunity for Lee Zeldin
The Republican gubernatorial candidate has centered his campaign around crime, and his family just experienced the clearest possible illustration of the problem.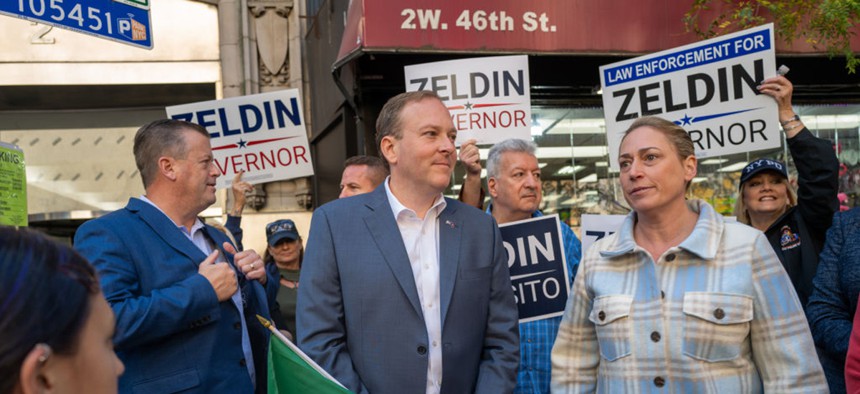 As Rep. Lee Zeldin continues to decry crime rates in New York City and around the state, some of that crime showed up right on his doorstep when a shooting took place outside his house. The brush with violence thankfully left his family unharmed, but has provided the GOP gubernatorial candidate fresh, extremely personal talking points to drive home his messaging around public safety as he lags in the polls.
Zeldin has not been shy about criticizing Gov. Kathy Hochul on crime rates and violent crimes, particularly in New York City. He frequently visits crime scenes to hold press conferences calling for the repeal of the 2019 bail laws that eliminated bail in the majority of cases and to emphasize how unsafe New York feels. NYPD statistics show that crimes across the seven major categories of felony are down in New York City in the past decade, and significantly down compared to 2000, though there has been an uptick in the past two years. But now, during the critical month prior to the election, Zeldin has fresh reason to speak about the issue of crime, not just as a candidate seeking change, but as a father whose children experienced it – in the suburbs, no less. "This is an issue that Lee Zeldin should be talking about every single day," Tom Doherty, a Republican consultant with Mercury, told City & State. "This event outside his house gives him the opportunity to keep talking about it."
Zeldin has objected to the framing of the incident as political. "As far as standing here, you're talking about politics, I didn't - I'm surprised that you or someone else might even look at it that way," Zeldin said when asked Sunday night whether his press conference politicized his family's traumatic event. 
In what police called a drive-by shooting, two teens were shot outside Zeldin's home on Sunday, where his twin daughters were the only ones home. Both emerged from the incident unscathed, but terrified as at least one bullet hit worryingly close to where the girls had been sitting. Two boys targeted had serious injuries. Zeldin wasted no time addressing the shooting at a press conference with his family outside their Shirley, Long Island, home. "There are these stories that we hear about, that we read about, and it's a family we don't know, maybe it's in an area where we don't live," Zeldin said Sunday night. "It hits really close to home when it shows up on your front doorstep." He went on to highlight a series of recent violent crimes that have occurred throughout the state, in particular mentioning instances the alleged perpetrator had been on parole or out without bail. "We cannot surrender any street, anywhere in the state of New York, to criminals," Zeldin said.
With Election Day just a month out, the bone-chilling incident couldn't have come at a better time for Zeldin politically speaking. The shooting, which did not appear to target Zeldin or his family, did not injure his daughters, a fortunate outcome that has now left the candidate in the position to hone in on crime as the core of his campaign, now with a personal touch. "It is an issue that clearly works politically in Lee Zeldin's favor to highlight that problem," Doherty said. "The fact that … it showed up on his doorsteps, again, just brings more attention statewide to what is a problem around the state right now."
Polling in the race has generally shown Hochul with a comfortable lead over Zeldin, as high as 17% according to the most recent figures from Siena College. She also holds the edge in the suburbs, which historically are home to crucial swing voters. Some political observers both in New York and across the country have predicted that white, middle class women in the suburbs will vote blue this year after the loss of federal abortion protections. Rep Pat Ryan attributed his special election victory in August to women motivated by the issue to vote. 
Democratic consultant Basil Smikle questioned how much the incident will impact voters outside Zeldin's immediate environment, but said it could sway some voters nonetheless. With Long Island an important swing region for the Republican candidate to win, any changed minds among voters will certainly be welcome. And while other issues may still dominate in other parts of the state, Zeldin closed out his Sunday night remarks with a new, personal appeal to those listening. "I just don't want to ever stand in front of crime scene tape outside of my own home, or outside of anyone else's," Zeldin said. "There's a lot to do."
Powered By
NEXT STORY: Who are the Republican candidates running for statewide office?