News & Politics
AOC and the Jan. 6 insurrectionist that doesn't have a chance of beating her
Rep. Alexandria Ocasio-Cortez is likely to cruise her way to victory against Tina Forte, a small business owner who was at the riot and helped promote the conspiracy theories that led up to that day.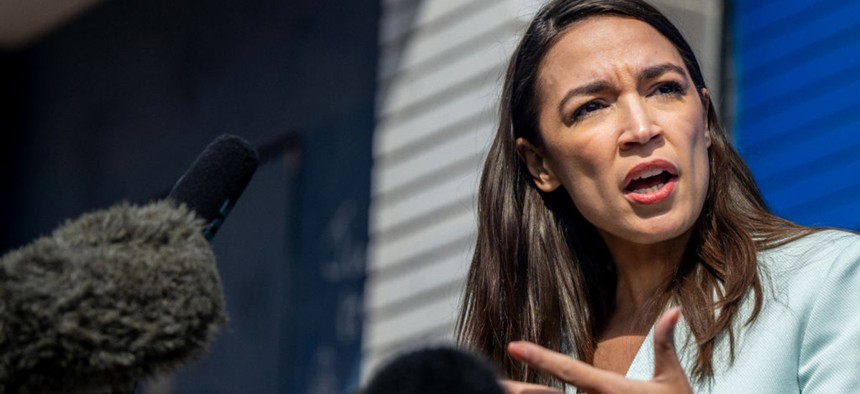 It's been 4 years since Rep. Alexandria Ocasio-Cortez pulled off a stunning upset that unseated Democratic stalwart Joe Crowley. Since then, she was challenged for the Democratic ticket in 2020, but avoided a primary this year due in part to her impressive $10.2 million war chest. That was back in July. Now, with just over $11.5 million, she'll be squaring off against her Republican opponent in the general election for New York's 14th Congressional District. Although the district has a Cook Partisan Voting Index of D+28, making it very favorable for the Democratic candidate, Republicans have nonetheless put up a candidate of their own and this year it's small business owner Tina Forte. 
For the district's moderate voters, this year's race paints itself as a contest between two candidates at opposing far ends of the political spectrum. Ocasio-Cortez, the self proclaimed Democratic-Socialist and Tina Forte who Snopes first reported as having been present at the Jan. 6 Capitol insurrection, and who was found to be promoting far-right conspiracy theories on her social media accounts. In an investigation of QAnon Facebook activity, Snopes came across Forte's own social media activity where they found that she had live streamed her presence at the insurrection and promoted the conspiracy theories that led up to that day. By no means does Forte simply maintain a casual social media presence, however. As Spectrum News NY 1 reported, she's a somewhat popular right-wing social media figure with over 500,000 followers and an online storefront that sells politically themed merchandise. According to Forte, her social media presence took off in 2020 when she began "ranting" about COVID-19 policies. It led to her gathering a large social media following from supporters of the former president, which prompted her to run in this year's election. 
In statements provided to both Snopes and Spectrum News, Forte denies being a part of the group of insurrectionists that actually stormed the Capitol, but she nonetheless openly identifies with the mob from that day, which claimed election conspiracy theories. She also denies association with far-right conspiracy groups, but nonetheless promotes their slogans on her social media and has multiple pictures with one of the leaders of these groups. Forte's official campaign website makes no mention of her sympathy for right-wing conspiracies, instead posturing her as a conventional Republican candidate that stands against Ocasio-Cortez's "radical socialism," which she claims is destroying America.  
For her part, Ocasio-Cortez is a comfy $10 million in campaign funds ahead of Forte and FiveThirtyEight puts Forte at a less than 1% chance of winning. It's unclear as to whether AOC's campaign has even acknowledged the Republican opponent, as the representative has instead used her time to help her party shore up enthusiasm for this year's midterms. There's also something to be said about the Forte-like candidates that the Republican party is putting up in elections nationwide, but in the case of New York's 14th Congressional District, it doesn't seem like it holds much significance.