Heard Around Town
Biden campaigns with Hochul, in deep blue New York
The president's visit to Westchester County speaks to Democrats' level of worry – and hope that the base will come out to vote.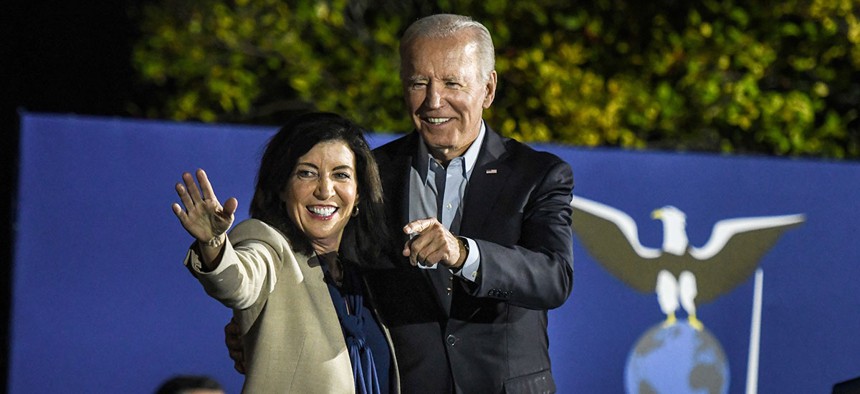 Gov. Kathy Hochul is closing out her campaign with bang, welcoming President Joe Biden to New York Sunday evening for a get out the vote rally. It marked a rare campaign appearance from the leader of the Democratic Party in the deep-blue state as Hochul attempts to hold off a challenge from Rep. Lee Zeldin in an increasingly tight race for governor.
Biden spent his roughly 30-minute speech highlighting the accomplishments of his administration and Democrats at the federal level, including the cancellation of up to $20,000 in student loan debt, the passage of the infrastructure bill and reducing the national deficit. Like many speakers before him, Biden also took aim at Republicans as "election deniers" who pose a threat to democracy. "With these election deniers, there are only two outcomes for any election – either they win, or they were cheated," Biden said.
The president drew a large crowd to the Sarah Lawerence College campus in Westchester County, with well over 1,000 people in attendance. But despite the turnout in the Democratic enclave, Biden's approval ratings are under water, standing at just over 40% nationally. That bodes poorly for his party's chances in the midterm elections, even in a state like New York where Democrats vastly outnumber both Republicans and independents. While he received applause for each accomplishment he named at the rally, he's going up against the historical precedent of the president's party performing poorly in two years after they're first elected.
Biden's visiting New York just days before the election is a testament both to the level of worry felt by Democrats, as well as the belief that an appearance from him could help motivate the base to come out. "It's about excitement; excitement in New York, excitement across the country and excitement for Democrats," Rep. Jamaal Bowman, a self-proclaimed member of the progressive "Squad" who also spoke Sunday night, told City & State. "So this is not about concern or desperation. It's about us showing our strength and not showing our unity."