Politics
NYC Buildings Commish Eric Ulrich resigns following gambling probe
City Hall announced the departure Thursday.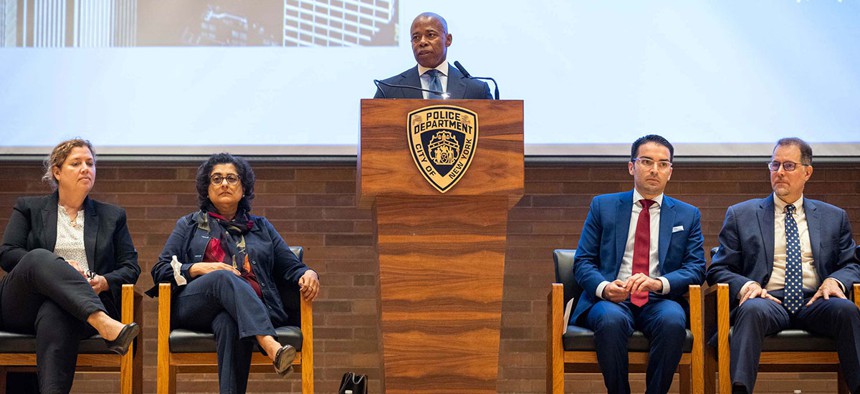 New York City Department of Buildings Commissioner Eric Ulrich has resigned from his post, City Hall announced Thursday, following reports of Ulrich being questioned in connection to an illegal gambling investigation by the Manhattan district attorney's office.
"This morning, Eric Ulrich tendered his resignation as DOB commissioner in an effort to, in his words, avoid 'unnecessary distraction for the Adams administration,'" read a statement from City Hall Press Secretary Fabien Levy. "We have accepted his resignation, appreciate him taking this step, and wish him well. We have no further knowledge of any investigation and, out of respect for his and his family's privacy, have nothing further to add."
Ulrich, a former Republican City Council member, has not commented publicly since being questioned – and having his phone seized in the probe – but New York City Mayor Eric Adams on Wednesday stood by his buildings commissioner, saying that Ulrich remained in the post and that he was reserving judgment until the results of the DA's review play out. "I really think that this is really so early for us to be saying 'Should we, shouldn't we, should we, shouldn't we, should we,'" Adams said.
The Daily News reported that Ulrich had a history of gambling prior to joining the Adams administration, and in his financial disclosure reported collecting more than $50,000 in winnings last year from the New York Lottery. The Times reported that Ulrich has not been accused of wrongdoing and that the DA's probe predates his appointment in the Adams administration.
Ulrich's resignation was greeted with disappointment by some in the real estate industry, who were optimistic about having a fresh face in the notoriously bureaucratic department. 
"He just met with the real estate industry two weeks ago and was talking about all his initiatives and ideas," a member of the Real Estate Board of New York told City & State. "There was excitement in the room once and for all that he was going to take an unruly department and tame it."  
Levy said that Kazimir Vilenchik, who had been first deputy commissioner, will serve as acting commissioner. "No city services will be impacted" by Ulrich's resignation.
The Department of Buildings is responsible for inspections and permitting of buildings and construction sites, enforcing building and zoning laws, and reviewing building plans for affordable housing projects. The department is also tasked with ensuring that buildings meet sustainability requirements, including those within Local Law 97, which sets limits on buildings' greenhouse gas emissions.
City officials who worked with Ulrich didn't see it coming. "I'm just surprised," said Pierina Sanchez, chair of the City Council Committee on Housing and Buildings, which has oversight over the DOB. "I just want to make sure we swiftly move to stabilize leadership and continue the important work of the agency."
City Council Member Joann Ariola, who succeeded Ulrich in her Rockaway Peninsula district, appreciated Ulrich's decision. "I wish him well with what he's facing in the future," she said. "I applaud him for stepping down from the Department of Buildings so it could continue without distraction. And I pray for his family."