Heard Around Town
Pending power struggle over BOE appointment in Manhattan
Manhattan Democratic Chair Keith Wright nominated Barry Weinberg. Rep. Adriano Espaillat may not like that.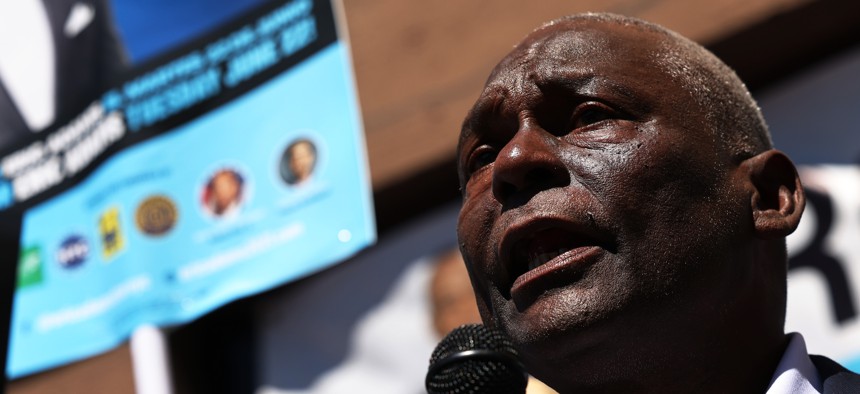 An open seat on the New York City Board of Elections may cause another power struggle in Manhattan. Democratic County Chair Keith Wright nominated on Friday night a close ally, Barry Weinberg, to fill Jenny Lam Low's seat as the Democrat representing Manhattan on the board. Low stepped down after taking a job with Gov. Kathy Hochul's administration, and has also left her job as special advisor to New York City Council Speaker Adrienne Adams. 
Weinberg is secretary of the county party, and chairs Manhattan Community Board 9. In his day job, he's a data engineer at analytics firm Palantir. He's also Wright's guy. "He's young. He's smart and he enjoys this stuff. He's a policy nerd! And he's a consensus builder," Wright said, downplaying any potential controversy. 
But insiders say Rep. Adriano Espaillat, who's built his own political machine, often in opposition to Wright, could try to block Weinberg, in the hopes of getting an ally of his own onto the powerful board.
Weinberg's nomination has to get approved by the ten-member Manhattan City Council delegation – and at least five members may be opposed to Weinberg. But he does have fans – Council Member Gale Brewer told City & State she's "a big supporter" of the "very smart" Weinberg after working with him as borough president. 
BOE nominations are often controversial, as political patronage butts up against the essential administration of an oft-criticized office. Wright and the Manhattan Dems won a lawsuit against former City Council Speaker Melissa Mark-Viverito in 2017, after she tried to appoint her own ally to the board. And in 2020, City Council Member Antonio Reynoso tried to slow down the process when Brooklyn Democratic Party Chair Rodneyse Bichotte Hermelyn nominated an ally to the board. Her pick, Rodney Pepe-Souvenir, was later approved in a near-unanimous City Council vote. Since then, good government groups have called for more transparency and accountability in the BOE appointment process.
Sunday evening, Weinberg told City & State, he didn't expect any drama "We don't anticipate that there will be any repeat of some of the more colorful episodes over the last several nominations," he said, adding that he looks forward to taking questions during the confirmation process. As for Espaillat, Weinberg said he visited the Congressman's Democratic club ahead of Election Day to discuss get out the vote efforts, but hasn't heard from him yet regarding the BOE nomination. "I don't think the seriousness of something like maintaining an election system that people can have faith in should be opposed by a congressman over a personal political feud that has nothing to do with me."