New York City
How Rep. Adriano Espaillat built the Squadriano
It was never going to be easy for the nation's leading Dominican elected official.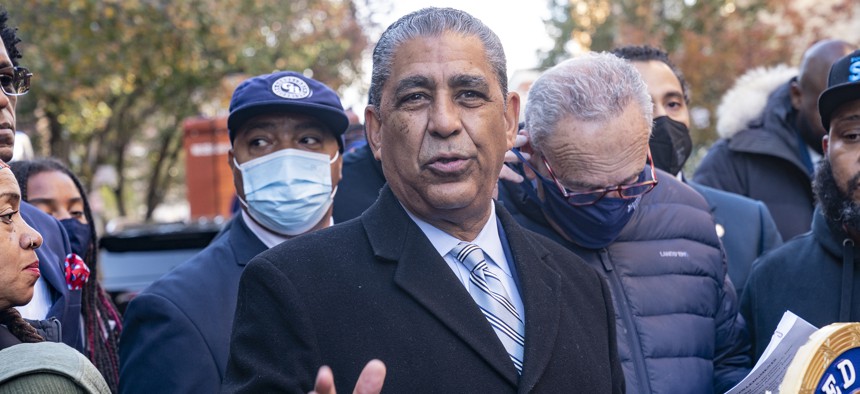 There was supposed to be a party. The word ahead of time was that Rep. Adriano Espaillat and Angel Vasquez, his newest political protege, would be celebrating on election night at Quisqueya Plaza in his Upper Manhattan congressional district. All of his political allies would be there, including the younger, Dominican American elected officials who he helped guide into office, helping secure his reputation as the preeminent political power broker north of Central Park and the leading Dominican elected official in the United States.
Instead, election night was spent in a sweaty ground floor office, under harsh fluorescent lighting, where Espaillat leaned over the shoulder of an aide refreshing the election night returns page. Vasquez would lose handily and so would another Dominican American candidate who Espaillat supported for the state Senate, Miguelina Camilo. His effort to unseat two incumbents – one Black, one Puerto Rican – had failed.
A quarter past 10 p.m., Espaillat emerged from the backroom. Some 50 people were gathered in front of the building on Sherman Avenue in Inwood, next to La Casa del Mofongo. "We've been here, we've been as a club – Northern Manhattan Democrats for Change was started back in 1993 when I was elected district leader. And it's still going strong," he said. "We tried to empower a community that at one point felt that it did not have a voice. And I think we've done a tremendous job in doing that."
Espaillat himself had just won his primary, but with only token opposition. His focus had been on electing Vasquez. That would have gotten another ally into office in state Senate District 31 and would have removed a frequent political opponent, state Sen. Robert Jackson, from office. After speaking, Espaillat walked down the street to his waiting black SUV. A man sitting on a plastic chair outside the El Bodegon deli lit up when he saw him, congratulating him – "Felicidades!" The sidewalk was littered with palm cards that featured Vasquez and Espaillat next to each other. Building up Dominican political power was never going to be easy – even if Espaillat had been making it look that way.
---
Espaillat is no stranger to losing elections. He lost his first two New York City Council races and lost two House primaries before getting elected on his third try in 2016. But his proxy losses in the August primaries were surprising: They ended what might have been the most impressive modern winning streak in New York City politics.
In March 2021, there was a special election to fill the central Bronx City Council seat that Rep. Ritchie Torres left when he went to Congress. Three other candidates had bigger endorsements and more money behind them. But it was Oswald Feliz who won, with Espaillat's backing. Three months later, three more Espaillat protégés won in crowded, competitive races for open City Council seats. Carmen De La Rosa, who served as Espaillat's campaign manager before he helped her get elected to an Upper Manhattan Assembly seat in 2016, moved to the council. Shaun Abreu and Pierina Sanchez got in too, and Feliz was reelected. In early 2022, there was a special election to fill De La Rosa's Assembly seat. Espaillat worked the inside game, and a longtime ally, Manny De Los Santos, won the Democratic Party line at the county committee meeting. He was elected comfortably. Months later came the June primaries. Candidates across the city had been plotting for months to unseat incumbents. Out of 29 Assembly primaries, Espaillat's guy, George Alvarez, was the only one to actually do it. Assembly Member José Rivera's star had dimmed considerably since his days as Bronx Democratic Party leader, but he was still an institution in the heart of the borough, someone who had held office for 40 years. Another Rivera opponent in that race, Emmanuel Martinez, had a super PAC spending nearly $1 million to get him elected. Alvarez, a consultant who had unsuccessfully run for office three times before, beat them both, with Espaillat's full support.
Six candidates in 15 months. All Dominican American, all in districts overlapping Espaillat's congressional district. Feliz, De La Rosa, Abreu and Sanchez are in their 30s. De Los Santos and Alvarez are in their 40s. All younger than Espaillat, a 67-year-old who emigrated from the Dominican Republic to Manhattan as a child. They meet for strategy sessions. They text. They go to the same events and fundraisers, work together on elections and hire the same people to work on their campaigns. It's a multipronged political partnership, the likes of which are rare in the modern day. Call it the Squadriano.
Political observers were amazed by the wins.
"He's a political animal," Torres told City & State on the day of the August primary. "He's a turnout machine the likes of which have rarely been seen in New York City politics." The two members of Congress worked together on Camilo's campaign, among other races – even after Espaillat backed then-City Council Member Ydanis Rodriguez (a Dominican representing Washington Heights) over Torres (a Puerto Rican from the Bronx) in the open 2020 primary for the 15th Congressional District. "Most elected officials are intent on clinging on to their office to the bitter end, but Adriano's thinking about the future," Torres said. "He approaches politics with a long-range perspective, and I respect it enormously. And he's willing to take chances."
In an era when Democratic county organizations have become less powerful, some see Espaillat as playing a greater role.
"I think Adriano has become a pseudo-county leader," said Eli Valentin, a political analyst with a focus on Latino politics. Espaillat's candidates have won across his district, from Manhattan to the Bronx. "There's something to that which speaks to his ability to build an organization, but also to make it work. And to make it work for others that are not named Adriano Espaillat," Valentin said. "When I consider other Latinos elected officials in New York, even over the last decade or so, I can't think of any individual Latino elected official that can say the same."
That didn't come easy. Espaillat's work ethic is legendary. Even critics give him credit on that point. "I am the only person as an elected public official in northern Manhattan that can challenge Adriano regarding a work ethic to get the job done," Jackson said, in a gloating interview with City & State after defeating Vasquez in the primary.
"He's very assiduous," said Nelson Denis, an East Harlem politico who was elected to the Assembly in 1996, the same year as Espaillat. "In Spanish, there's a word called necio. It's 'obnoxiously diligent.' … He is very often the first to arrive and the last to leave in his office. He puts in the time, puts in the work."
Candidates under Espaillat's watchful eye tell stories of nightly check-ins on how many doors were knocked on. "He would stop by subway stops, and say 'I didn't see you at the subway stop this morning,'" Abreu told City & State. "That's the kind of person he is."
And Espaillat doesn't come alone. He brings hundreds of political volunteers, many associated with his political club Northern Manhattan Democrats for Change. Building captains in the Heights' massive apartment blocks get their neighbors out to vote. Every subway stop and polling site in the district has people outside handing out flyers with Espaillat's face on it.
What's the end goal? Influence, of course. "I think it's ultimately about building his power," Valentin said. "Yes it is expanding Dominican representation, but ultimately, it goes back to Adriano."
But the decisions he makes will last long after he is retired or gone. "We pride ourselves on being the future generation of leaders, which Adriano has done very well in terms of cultivating," Abreu said of the Squadriano. But it's not power for power's sake – these elected officials are in office, holding hearings, passing laws and most importantly providing constituent services to their districts with big Dominican populations. "And that's why we are very proud to form this powerful coalition that is most singularly focussed on delivering for families," Abreu said. Put another way? "He wants us to use the power that we have for the betterment of our community."
---
There weren't always so many Dominican American elected officials in New York City. Espaillat moved to Manhattan in 1964, in the first modern wave of Dominican immigration to New York City. His grandparents were already working in the city. The community grew, particularly on the West Side, in the Heights and in the West Bronx. There are now more than 700,000 New York City residents of Dominican descent, a huge and essential part of the five boroughs' "beautiful mosaic." Espaillat was there every step of the way, rising with the diaspora. A community organizer who worked for criminal justice nonprofits, he ran and lost City Council races in 1989 and 1991 – when he was defeated by Guillermo Linares, who became the first Dominican elected to office in New York City. Espaillat won a Democratic district leader seat in 1993, then unseated Irish American incumbent John Brian Murtaugh to win an Assembly seat in 1996. He won an open state Senate seat in 2010 and an open House seat in 2016. Espaillat was the first Dominican immigrant in the Assembly and the state Senate, plus he was the first Dominican American in Congress. He was the first member of Congress to speak about once being an undocumented immigrant too.
"It's great to be the first, but it's better to be the best," Espaillat told the "Blackstage" podcast in April. A huge baseball fan since his youth, he points to Jackie Robinson. Not just the first Black major leaguer, but a star. "If I told you who was the first Dominican to play baseball – we love baseball, you know that – you won't know. Because he wasn't the best." (Ozzie Virgil Sr., for the New York Giants, Espaillat added.)
So Espaillat has been playing like an all-star for years. His political influence uptown isn't a new phenomenon. He has been deeply involved in other candidates' campaigns in Upper Manhattan for more than two decades now. Roberto Lizardo, Miguel Martinez, Ydanis Rodriguez, Gabriela Rosa, Marisol Alcantara. Remember them? Candidates for mayor, governor or district attorney have visited him, seeking his counsel, or better, his endorsement.
What's new is that Espaillat's involvement has expanded to the Bronx. And that – until August at least – he kept winning. Espaillat represents, by area, the smallest House district in the country. And he's the undisputed leader among every other elected official whose district touches its borders. There are the Dominican politicians within his inner circle, who he helped get elected, sure. But he's also built up close ties with state Sen. Cordell Cleare and Assembly Member Inez Dickens, who are Black, and New York City Council Member Diana Ayala, who is Puerto Rican. He's got a longtime ally in Jewish Assembly Member Jeffrey Dinowitz and now his son, City Council Member Eric Dinowitz. If you're not tight with him? Espaillat might back somebody to challenge you. After running against Jackson and state Sen. Gustavo Rivera, there's rampant speculation over who might be next. And the August losses did little to quiet the whispers. City Council Member Kristin Richardson Jordan could be vulnerable. Assembly Member Al Taylor is probably watching his back too.
---
As Espaillat's political power has grown, so have the rumors and gossip. There's a danger in overstating it. Opponents have accused him of having supporters vote once, twice or 10 times. (To be clear, those are just rumors – no one has actually brought a lawsuit or criminal case). True believers said if Vasquez lost, Espaillat must have wanted it that way. Maybe he didn't give him his full effort. A suspicious number of his political opponents – like Martinez, Rosa and Nelson Castro – resigned amid investigations or due to criminal charges. Did Espaillat orchestrate it? (Espaillat was reportedly investigated by the FBI in 2013 for steering significant public funding toward an economic development organization closely associated with him and his allies. No charges were ever brought.)
Espaillat's political involvement – down to the lowest levels of district leaders and judicial delegates – has earned him his fair share of criticism. He's never been one to abide by the sometimes unspoken nonaggression pacts among political incumbents. He personally challenged then-Rep. Charlie Rangel, the lion of Harlem, in two straight elections. To some critics, he's too aggressive, too confident, too proud. Some privately reveled in seeing his candidate lose to Jackson. "If he was going to flex his muscles, maybe he should have eaten his Wheaties," quipped one elected official uninvolved in the race. Jackson suggested to City & State that his win was democracy triumphing over what could be "a dictatorship" of "one person ruling northern Manhattan and the Bronx." Another Manhattan elected official called Espaillat a "Tammany Hall-type."
"One can ask whether some of his tactics have been heavy-handed," Valentin said. 
The city's progressive movement, too, has been uneasy with Espaillat's politics. Outside organizations have consistently ranked his voting record as among the most progressive in Congress. But he'll take campaign donations from corporate political action committees and conservative organizations like the American Israel Public Affairs Committee, eschewing the litmus tests expected by critics of money's role in politics. "Because I'm not a rich guy!" Espaillat told City & State. "I may be one of the poorest members of Congress. … And it's tough for me to go to a local bodega and tell them: 'Give me $1,000.'"
When it comes to elections, Espaillat is not often on progressives' side. He opposed Jackson and Gustavo Rivera, who were backed by organizations like the Working Families Party. He also backed Alcantara for state Senate in 2016, even after it became clear that she would likely join the Independent Democratic Conference in Albany, which had a power-sharing agreement with Republicans. Espaillat pulled his support for her reelection, but declined to endorse Jackson either. In the 2021 New York City mayoral race, Espaillat was an early backer of a progressive leader, then-New York City Comptroller Scott Stringer. But after his campaign lost momentum following deacdes-old allegations of sexual harassment, Espaillat and his closest allies endorsed the relatively moderate Eric Adams, rather than following the progressive exodus to Maya Wiley's campaign. Adams won the race and the vote in Espaillat's congressional district.
Some saw Espaillat's focus on ethnic politics as divisive. He – or his supporters – accused Linares of "betrayal" for backing Rangel over Espaillat in 2012. After all, Dominican candidates winning has often meant African American candidates losing. Espaillat defeated Keith Wright, who is Black, to win his congressional seat in a district including Harlem. "It's probably best if I don't comment," said Wright, who is now the Manhattan Democratic Party chair.
There are some complicating factors to the easy Black versus Dominican narrative, however. The first of which is that Espaillat, as a dark-skinned man of partially African descent, identifies himself as Black and Latino. He helped reunite the Black and Latino caucuses in Albany in the 1990s. And made waves by trying to join the Congressional Black Caucus after already being a member of Congressional Hispanic Caucus. Earlier this year, he said he was still trying to join the Congressional Black Caucus – even as Torres, a fellow Afro Latino representative, has become a member of both.
Espaillat was also eager to push back against the idea that he only supports Dominican candidates, rattling off a list of candidates he has supported – mostly outside the bounds of his district. And it's true, from Adams in the mayoral race and Tali Farhadian Weinstein in the 2021 Manhattan district attorney race, to Ayala, and then Francisco Moya in the ill-fated 2021 City Council speaker race, it's rare to find a race where Espaillat doesn't get involved. 
And of course, Espaillat was also never fully embraced by all Dominicans, even in the Heights. His local feuds with Linares have become the stuff of political legend. And with the growth of Dominican political power, supporting a Dominican candidate for office often means running against other Dominicans. Haile Rivera, an educator and longtime Dominican political activist, was just one of those candidates. Rivera campaigned for Espaillat in 2012, but when he ran for City Council himself last year, Espaillat backed Pierina Sanchez. Rivera said he understood – they're working toward the same goal of Dominican political representation. "I can hold a personal grudge, or I can say let's continue working together to build political power and the resources we need," he said. "Every other community did it. Puerto Ricans did it. The African American community. And it's only a matter of time before the Mexican community does it."
Espaillat has a way of winning over foes. Manhattan Borough President Mark Levine, now a close ally, ran against Espaillat in a state Senate primary. Assembly Member Yudelka Tapia wasn't part of his club – now she's an insider. Torres has become an ally in Congress. Even Rangel is now considered a friend.
Espaillat isn't shy about his political ambitions. City & State asked him in a September phone call why he gets so involved in local politics. What's the end goal? "Fairness. Representation. And for communities to move forward. Hopefully together," he said. "And for communities that are down and out and often don't see themselves in the boardroom or the discussion room to feel that they have a voice and can move their families forward for the future."
One of those communities, obviously, is Dominicans in Washington Heights, Inwood and the West Bronx. And they certainly get special attention, when it comes to Espaillat's political activities. But his goals are bigger than that. "I'm a progressive. I'm a practical guy. I believe that more women should be in government. I believe that race matters. I believe that ethnicity is important. And that everybody should have a seat at the table. And that's, I think, the fundamental piece of being a progressive," he said. "If you cannot wrestle with that and get it done, everything else is just window dressing." Harlem deserves to have Black leadership, he said. East Harlem, or El Barrio, deserves to have Puerto Rican leadership. 
"If you cannot understand that there's a million Dominicans in New York City and we deserve to have a seat at the table? What can be more progressive than that?"
Correction: An earlier version of this story incorrectly identified the first Dominican American elected to the state Senate.
Powered By
NEXT STORY: Confusion over NYCHA arsenic tests and school's back in session