2022 general election
Reviewing Lee Zeldin's focus on crime in New York City
A fact check on the Congress member and GOP candidate for governor's strongest talking point.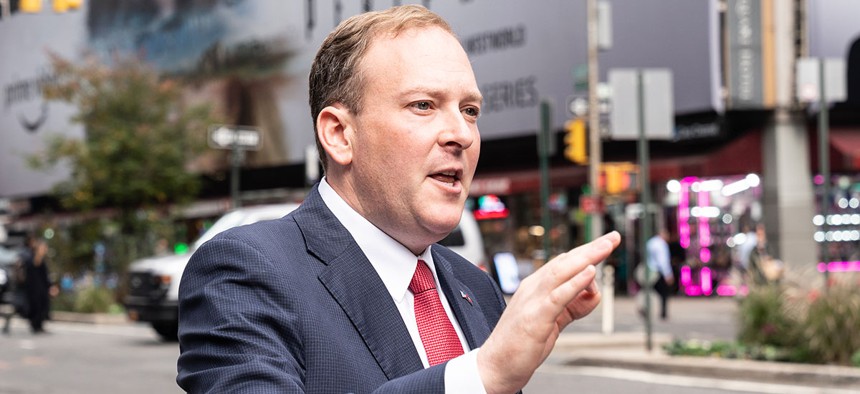 Ahead of the upcoming gubernatorial election, Republican candidate Rep. Lee Zeldin has surged in the polls – getting within striking distance of incumbent Gov. Kathy Hochul. Zeldin has tapped into a real fear in New York that's helped him get much closer to Hochul than what pollsters originally predicted. Many say that's largely due to his focus on crime – particularly in New York City.
The perpetuated talking point may be a strategically successful move. After all, crime in New York City has increased this year, by most measures, and voters consistently rate it among their top concerns in polls. But Zeldin's frenzied focus is exaggerated, at best – New York City is still really safe, compared with most places in the country.
Crime statistics from the New York City Police Department suggest there has been a notable increase in overall crime in the city over the last two years. Some police precincts saw crime reports more than double on a year-over-year basis. Overall, the number of the seven major felony offenses tracked by the NYPD is up 30% year-over-year, and all categories are now higher than pre-pandemic levels. There were more crimes reported in the first ten months of the year than the same period in any year since 2006. That's a noticeable upward trend, largely driven by the economic insecurities tied to the COVID-19 pandemic, but it is hardly the exponential increase that Republicans have suggested. 
Not all crime is equal, and numbers are on the downturn in key categories: Murders are down 32% year over year. Shootings are down 33% compared to last year as well. Those categories spiked in the last two years, however, and New York City has seen more murders and shootings this year than in recent years before the pandemic. The NYPD attributes the recent decrease to safely seizing illegal firearms. 
It's important to compare crime data over time. The city's crime rate has been on a decline over the last three decades, and despite Zeldin's rhetoric, New York City is still in a relatively safe period, historically. In 2021, the city data showed major felony reports were fairly consistent with 2010 numbers. That's when Michael Bloomberg, who was elected as a Republican, said NYC was the safest big city in America. Even amid a 30% escalation in the past year, crime is still significantly lower than where it was in 1990.
"Violent crime was twice the rate in the mid-90s as it is now," Jeffrey Butts, research professor and director of the  Research & Evaluation Center at John Jay College of Criminal Justice, told City & State. 
The Economist, in its safest cities index report, even pointed out that the city remains one of the safest cities in the United States and the world. Comparably, Kansas City, Missouri has the highest murder rate anywhere in the country. Other cities with high crime rates include St. Louis, Missouri, Jackson, Mississippi, Detroit and New Orleans. New York City was rated among the safest. 
Butts points out that according to the Centers for Disease Control and Prevention, which tracks deaths due to violence, New York's deaths per 100,000 people are much lower than other smaller rural and suburban communities. "In the Bronx  the average rate of those violent deaths over the last few years is 7 deaths per 100,000 population. In Queens, it's 3 per 100,000," he told City & State. " Now, let me take you to Jefferson County, Arkansas, with a population of 70,000 people. They have a rate of 38 – 10 times the size of the rate in Queens. In Robeson County, North Carolina, which has a population of 130,000, the rate is 24 per 100,000."
"Why aren't we talking about small counties in Arkansas and North Carolina when we're talking about violent crime and violent death? Because they suffer it at a rate way out of whack compared to New York City," Butts added. 
GOP talking points on crime have had a particular focus on subway crime – but the picture there is also more complicated than it seems. According to the NYPD, crime in the city's transit system is up by about 40% over 2021. The spike has driven concerns over safety, punctuated by headline grabbing stories of commuters that were pushed in front of trains – often unprovoked. But the overall increase there can be attributed to the increase in Metropolitan Transportation Authority ridership this year, coming out of the pandemic. While there are still fewer subway riders than 2019, overall transit crime is below steady prepandemic levels.
Zeldin's policy stances also have been undermining the efforts he's campaigning on. He's pushed for less funding for the MTA, which would mean less money for public safety measures. Plus, Zeldin has opposed basic gun safety laws, voted against the most recent assault weapons ban legislation and opposed the state's gun free zones set up in sensitive areas, including Times Square.
Zeldin voted against the American Rescue Plan, which would have helped fund public safety measures as part of the MTA's operating budget, including funding transit police. In 2011, he opposed a proposed payroll tax that would have funded the MTA and covered the cost of transit cops in the subways.   
Republicans – and many Democrats, too – point to bail reform for causing the surge in crime on the subway. "It's just a tactic that's not grounded in the evidence," Rachel Eisenberg, Senior Director for Criminal Justice Reform at The Center For American Progress tells City & State.
According to data compiled by the Brennan Center, that's not the cause of the escalation in crime. It shows that the rise in crime is a national problem. It is not isolated to New York nor is there any significant difference between jurisdictions that do or do not have bail reform laws on the books. A report from the New York City Comptroller's office found that "pretrial rearrest rates remained nearly identical pre- and post-bail reform." If anything, there was actually a small decline in rearrests. In 2019, only 5% of those awaiting trial were rearrested and after bail reform was introduced the total was at 4%. Virtually none of those rearrests were for violent felonies. While conservative-leaning outlets have endorsed Zeldin, some have still pointed to no tie between bail reform and the rise in crime in New York City.  
The race for governor remains competitive. The most recent Quinnipiac poll has Zeldin within four points of Hochul while a Siena poll had Hochul with an 11 point lead. 
Andy Hirschfield is a New York-based freelance writer. In addition to City & State his work has appeared in The Daily Beast, Al Jazeera English, Observer, CNBC, The Daily Dot and TYT Investigates, among other publications.
Editor's note: This story has been updated to clarify transit crime statistics.