Heard Around Town
At Somos, a Jewish event brings people in
Eric Adams, Adrienne Adams, Letitia James and more spoke at David Greenfield's event at the Chabad Jewish Center of Puerto Rico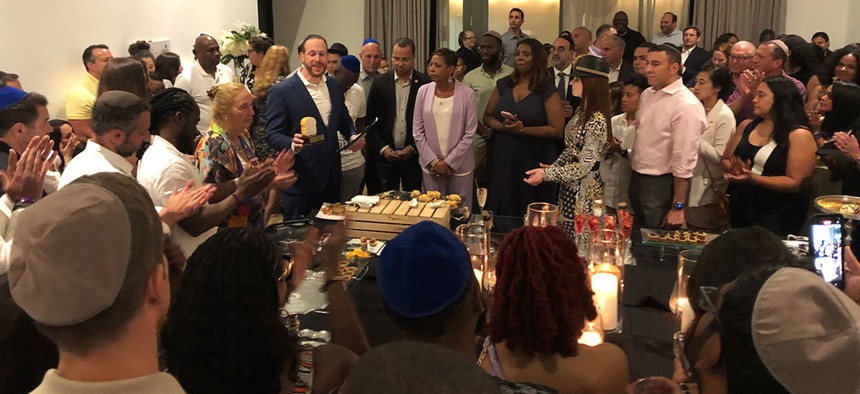 One of the most power-packed events every Somos Puerto Rico conference doesn't take place in a hotel ballroom, or by the pool, but rather down a dark street a ten minute walk away, at the Chabad Jewish Center of Puerto Rico. There, former New York City Council Member David Greenfield, now the CEO of the Met Council, hosts a Friday night event that he's made into an essential stop on the circuit. "I don't think a single elected official missed it," said one attendee – even if the interminable speeches kept the event going till nearly 11 p.m. 
There was New York City Mayor Eric Adams, making a metaphor about frogs and the rise of anti-Semitism. (The mayor is no stranger to overseas Chabad visits, having visited on his preelection trip to Ghana, too). Attorney General Letitia James introduced New York City Council Speaker Adrienne Adams, while cryptocurrency investor Brock Pierce, who was schmoozing around all weekend, looked on across the table of kosher desserts. There was Rep. Hakeem Jeffries, getting raucous applause upon walking in, when introduced as "the future speaker of the House of Representatives." And there was Rep. Ritchie Torres, "the second highest ranking Jewish elected official, after Comptroller Brad Lander," as Greenfield joked about the Bronx Congress member, who has prioritized support for Israel.
It's hard to explain to his higher-ups, Israeli Consul General Asaf Zamir joked, that he needs to fly to Puerto Rico to meet all the elected officials from New York. It may be harder to explain that they all end up in a synagogue in a conference focused on Hispanic issues.