New York State
After Santos bombshell, politicos have one question: Where was the oppo?
The Long Island Congress member-elect allegedly made up his entire resume. No one noticed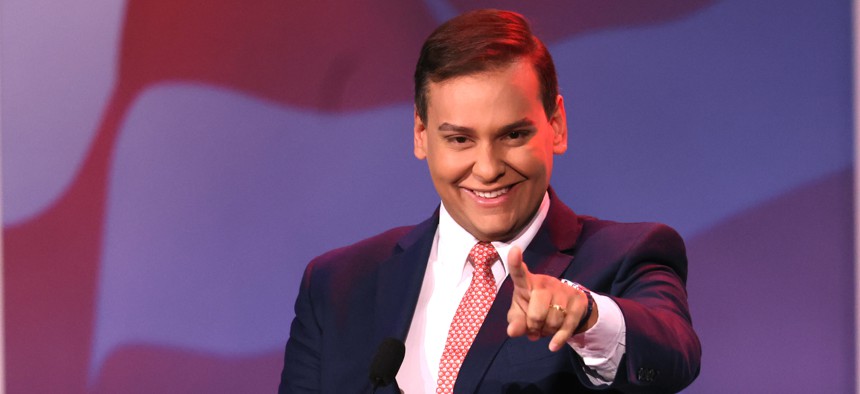 New reporting from The New York Times has thrown into question the entire professional history of Rep.-elect George Santos. And the bombshell report has left political observers in New York shocked, confused and pointing fingers about the revelations in one of the races that determined the balance of power in the House.
Santos, a Republican from Long Island, had made headlines during his race for his unusual personal identity – a Trump-loving, gay Latino – as well as for fiery, far-right statements made in public, including his praise for the Jan. 6, 2021 Trump rally that devolved into a riot at the Capitol. A staunch member of the Donald Trump wing of his party at a time when others on the right have begun to distance themselves from the former president, Santos stood apart even from other Republicans running in the state. 
Questions about Santos had been raised before the election, perhaps most notably his work for Harbor City Capital, a firm accused of ripping off investors of millions through a Ponzi scheme. He also drew scrutiny for his failure to file financial disclosures for the past two years, raising questions about his finances. But nothing alluded to the breadth of alleged lies that the Times uncovered in their new report. 
According to the Times, Santos fabricated almost his entire resume. Reporters could not even find proof that he attended Baruch College, which he claimed to have graduated from, instead finding evidence that he lived in Brazil during the time he supposedly attended the New York City school. The report also found no evidence to back up Santos' claims he worked for Citigroup or Goldman Sachs, major Wall Street firms whose names carry with them a high degree of clout. And despite Santos asserting he has a family fortune in real estate, the Times found no records of properties he owned. 
The report left many politicos asking the same question: Where was this information before the election? Some pointed fingers at the state Democratic Party, the campaign of Santos' opponent Robert Zimmerman and the Democratic Congressional Campaign Committee for a failure to vet what seemed to be a deeply flawed candidate. "They were too busy sending out one anti-Zeldin mailer and finding out how to run phonebanks!," tweeted left-wing political consultant Bill Neidhardt. "Poor (state Democratic Party Chair) Jay Jacobs was overwhelmed." Former New York City Council candidate Jaslin Kaur offered similar sentiments. "As an NY-3 constituent, not a single ad, mailer, or canvasser communicated these details to voters," she tweeted.
Others laid the blame on journalists, with people associated with the Zimmerman campaign and the Democratic Party firing back that they tried to get reporters to write about Santos, but that they were ignored. Zimmerman campaign consultant Jason Kaplan tweeted that "we've been screaming it from the rooftops since September." He and others referenced a DCCC memo that offered details about Santos' ties to Harbor City Capital, missing financial disclosures and an allegedly fraudulent nonprofit Santos claimed to run that rescued animals as evidence that proof of the Republican's purported malfeasance had been available but ignored by the media at large. 
Much of that so-called "opposition research" had appeared in various news outlets prior to the election. But no press release from the Zimmerman campaign, the state Democratic Party or the DCCC referenced the bulk of the Times reporting, which focused on the many alleged fabrications included as part of Santos' resume as well as dug deeper into the animal rescue nonprofit Santos claimed to have founded. "This story is not a shock and the New York Times' in-depth and critical investigative reporting adds many important dimensions to the story," Zimmerman said. "My campaign has been calling out George Santos' scams and lies about himself for several months." Without mentioning whether the campaign was aware of the new allegations that came to light as a result of the reporting, Zimmerman added that his campaign "worked to raise many of these issues."
Jacobs also shied away from the criticisms that have been levied against him and the state Democratic Party. "Having been the target of a lot of blame over the past four weeks for a lot of things in the campaign, I'm not going to criticize anyone else," Jacobs told City & State. "I would simply say that the focus shouldn't be on opposition research element – which was done, by the way, by the campaign. I would focus our attention on George Santos and what he did." Certainly, calls quickly began rolling in for Santos to step down or face legal repercussions after the Times' reporting came out. Those include from groups like the Working Families Party and Common Cause New York, and individuals like Nassau County Legislator Josh Lafazan, who lost in the Democratic primary to Zimmerman.
A spokesperson for Santos told City & State that the campaign would "likely be able to provide a comment at a later point." On Monday evening, Santos posted a statement on Twitter from his lawyer Joseph Murray that did not deny any of the Times' reporting, but accused the paper of "attempting to smear his good name with these defamatory allegations." A Times reporter said Santos offered a nearly identical statement over the weekend.