Heard Around Town
To Brooklyn and back again – Mondaire Jones is moving to the 17th Congressional District
The outgoing Congress member may be setting himself for a political comeback.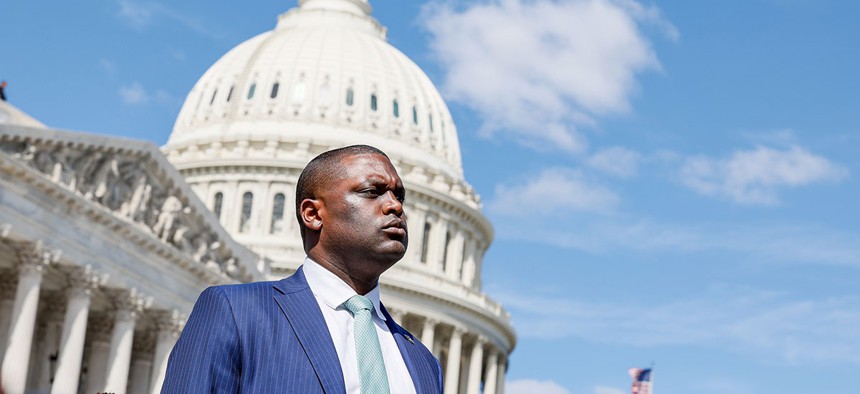 Capping off a year of district shopping, outgoing Rep. Mondaire Jones is planning yet another move – to Sleepy Hollow. Which happens to be in the 17th Congressional District, and is weeks away from being represented by Republican Rep.-elect Mike Lawler, who could have a very tough time in 2024 defending a Biden +10 district in a presidential year. Jones isn't saying he'll run just yet, but "I care too deeply to go away," from political life, he told City & State. "And you might also observe that I'm only 35 years old."
Of course, you can't guarantee Jones will stay anywhere for long. After being bigfooted by ill-fated DCCC Chair Rep. Sean Patrick Maloney, the Congress member left the lower Hudson Valley and moved to Carroll Gardens, Brooklyn, in June to run for the 10th Congressional District. He lost to Rep.-elect Dan Goldman and moved back to his White Plains home in August, immediately after the primary. Jones "learned my lesson," he told NY1 Tuesday. "That is, home for me is in the Hudson Valley." 
Jones had been a bit cheeky about his move to Brooklyn. Asked by the Times when, exactly, he had moved in, Jones said "time is a blur when you're fighting to end gun violence in America." He also said he had a special connection to the district as a gay man who had socialized in the district's LGBTQ-friendly neighborhoods like Greenwich Village. But even skeptics of Jones' move to a district where he had never lived before understood that he'd been given a raw deal in the redistricting. Instead of choosing between the district where his home was, represented by fellow Black progressive Rep. Jamaal Bowman, or the district where most of his constituents were – which was immediately claimed by the well-funded Maloney – Jones bailed, and looked to the new open seat spanning lower Manhattan and western Brooklyn. 
That NY1 appearance was just one of many recent stops as Jones kept up the media rounds on MSNBC, CNN and MSNBC again in recent weeks, as he closes out the term. Jones said he's "finishing the year strong" pointing to the "$29 million for 15 different community projects in the omnibus appropriations bill for Rockaland and Westchester Counties," that he expects to secure. 
Jones, an attorney, also told NY1 that he's going to be appointed to the U.S. Commission on Civil Rights, a part-time role on an eight member board. But that doesn't keep him from running "nothing about this six-year term prevents me from running for office in the future," he said, "and obviously, it's something that I'm considering."
The race for Congress in the 17th district could be full of intrigue. Maloney lost to Lawler in November, and is now reportedly in talks for a Biden administration job. If Maloney wants a rematch, would it spoil Jones' plans? Note that in the NY1 interview, Jones made his lasting frustration with Maloney clear – while actually calling Lawler a friend.