Politics
Hochul gambles on LaSalle, but the odds are stacked against her
The governor faces growing opposition over her controversial pick to be the next Court of Appeals chief judge.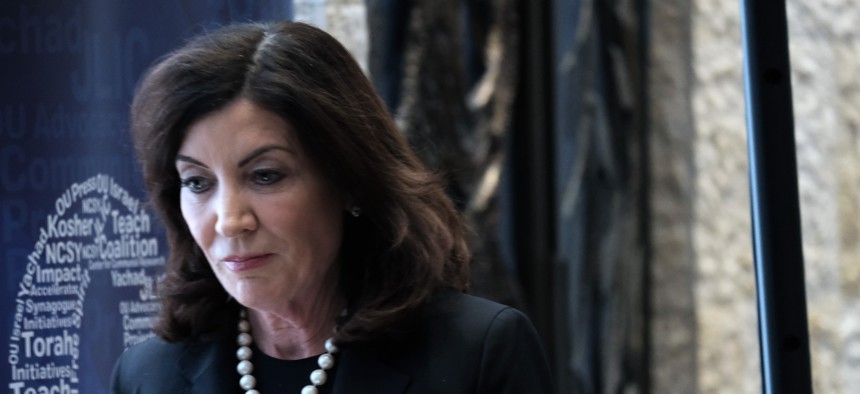 Gov. Kathy Hochul is starting the new year off on uneasy footing as she sticks by her controversial Court of Appeals chief judge nominee. Despite an ever growing number of state senators announcing their opposition – which currently stands at 13 – the newly elected governor has said she intends to push ahead with Justice Hector LaSalle. Hochul is taking a political gamble – but she may wind up a loser either way.
Not long after the Commission on Judicial Nomination put out its shortlist of chief judge candidates for Hochul to pick from, progressive activists and organizations named LaSalle as one of three conservative-leaning judges they urged the governor not to pick. When she announced her nomination, opposition was swift and strong, including from politically powerful unions. They took issue with a notable anti-labor decision LaSalle had made in the past. Yet despite this, and despite Democrats having enough votes to block the nomination, Hochul has refused to withdraw her nomination and pick someone new. 
The reason is likely a simple one: Hochul wanted to appoint a Latino chief judge and LaSalle was the only option. Some politicos have said that Court of Appeals Associate Judge Jenny Rivera would have been a better and equally qualified Latina choice, but the Commission on Judicial Nomination didn't include her for Hochul to pick from. "One of the things we've heard touted from the administration and from some of the judge's supporters, is his identity as a Latino judge and leader in that community," political consultant Jack O'Donnell told City & State. "I do think that (for) the governor's outreach to folks in the Latino community, it's important for her to stick with that."
A lack of Latino representation at the highest levels of government has plagued Hochul since taking office. Criticism hit a fever pitch when the initial speaking list for the state Democratic Convention did not include any Latinos. And Hochul's decision to choose Antonio Delgado as her new lieutenant governor, who self-identifies as Afro-Latino, went over poorly with the Latino community at large due to Delgado's lack of family history in Latin America. 
But while LaSalle has gained support from some in the Latino community – a group of officials and attorneys put out a press release of joint support that included former New York City Council Speaker Melissa Mark-Viverito – the choice did not uniformly spark the backing that was sought. Notable Latino lawmakers including state Sens. Jessica Ramos and Gustavo Rivera have publicly announced their intention to vote "no" on LaSalle's nomination, despite the fact he would be the first Latino chief judge. "Latinos deserve representation at the highest levels of the legal system, but we also need courts that respect workers and the right to organize," Ramos said in a statement on Thursday.
Political analyst Eli Valentin noted that Hochul's attempts to make inroads with the Latino community make sense given its growing population and political sway in the state, but that ultimately, she made a mistake in choosing LaSalle. "I think the governor did a terrible job rolling this out," Valentin told City & State. "I don't think that she had enough conversations around this nomination with key people, both in the Legislature and outside groups that influence the process." He also said that the nomination revealed a generational split among Latino leaders between traditional trailblazers who have fought to simply get members of the community at the table, and newer people who give ideological concerns equal weight to demographic ones.
Regardless of her reasons, Hochul now faces the uphill battle of getting LaSalle not just confirmed, but simply getting him a floor vote in the Senate. Judiciary Committee Chair Brad Hoylman recently told City & State that he doesn't believe LaSalle should make it that far if he doesn't have enough Democratic votes to confirm him. And as of Friday, he doesn't. If Hochul can't change Democrats' minds, she will have to court Republican votes and find a way to convince Senate leadership to permit LaSalle's nomination to receive a full chamber vote. As some political observers have pointed out, leadership rarely brings issues to a floor vote if they don't have enough support within the conference.
Hochul has limited leverage against an unusually strong Legislature, which has a supermajority of Democrats in both chambers. But she does have the power to block lawmakers' recently passed pay raise for the upcoming legislative session. Although Hochul has expressed support for the salary bump, she has declined to say whether she will sign the bill authorizing it. And she has until Tuesday to make that decision. "That is the bargaining chip," Valentin said. "I think, for the governor, it gives her time to get supporters, right? To organize and counteract what's been happening over the week-in-a-half." Before passing the pay raise, state Senate Majority Leader Andrea Stewart-Cousins told reporters it would not be tied to any policy. A spokesperson for the governor did not immediately respond to a request for comment on whether she would sign the salary increase.
LaSalle's nomination leaves Hochul in a politically fraught situation no matter how it ultimately turns out. On the one hand, she can continue to stand with her nominee and he never makes it to the floor. "A nomination for the Court of Appeal failing, and failing early this year as people are having budget conversations, would be a big political blow," O'Donnell said. On the other hand, she could cut her losses and pick a different nominee, but be forced to pick a non-Latino judge instead since LaSalle was the only one who made the shortlist. Perhaps most explosively, Hochul could throw her weight around and force a confirmation vote with Republican support, likely destroying whatever working relationship she still has with the Senate Democrats for the rest of the year, if not the rest of her tenure. "I just think she played it wrong from the beginning," Valentin said. "I don't see this playing out for the governor, and it would be her first major loss in 2023."
With reporting by Shantel Destra.
Powered By
NEXT STORY: Senate Judiciary chair says prospects are dim for Hochul's chief judge pick