Heard Around Town
Meet the Orthodox Jewish woman trying to unseat Inna Vernikov in NYC
Democrat Amber Adler, who now has a Netflix cameo, is using her community activism in defense of women stuck in unwanted marriages as a launchpad.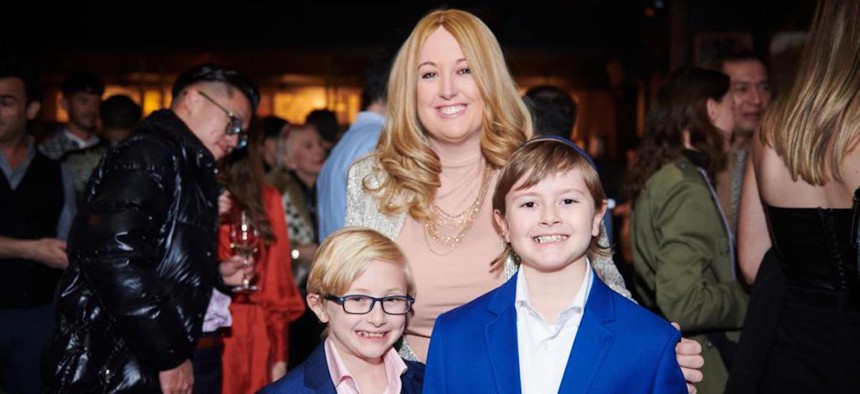 New York City Council candidate Amber Adler is no stranger to finding ways to connect with others amid public pressure to go away. As an Orthodox Jewish woman running for the southern Brooklyn District 48 seat, Adler weathered a barrage of messages attempting to discredit her campaign as she ran in 2021. When a group of men protested outside her home, she took her two sons to a local mall for the day. When local news refused to publish her photo for religious reasons – a fairly common trend in Orthodox neighborhoods to not share photos of women and girls in the press – she had someone drive a billboard around the community featuring an image of herself and her children instead. Now, with Adler running to represent the largely Orthodox Jewish community a second time in 2023, she's also once again finding non-traditional ways to get her name and work into the world – this time with a role in the Netflix reality series "My Unorthodox Life."
"I've been attacked for being a woman, I've been attacked for being an Orthodox woman, I've been attacked for being a single mother," Adler said. "I've come to accept that this is a part of the job that I signed up for when I stepped out and said 'I'm going to help' … I'll see what comes at me this time, but just like last time I'm going to be creative, I'm going to move with dignity and grace and I'm going to keep going to help the people of the district."
"My Unorthodox Life" centers around the life of fashion mogul Julia Haart, who fled Monsey, New York's Haredi community after her marriage ended and quickly achieved sweeping success in the secular business world. While the Netflix series has billed itself as an empowering feminist tale of liberation, it's also garnered criticism for what critics say inaccurately paints Monsey and the lives of Ultra-Orthodox women as repressive.
While the series itself is dominated by no shortage of sprawling subplots, Adler's role is firmly focused on advocacy work. She collaborates with Haart to plan a safehouse for Jewish and non-Jewish women who are trying to leave abusive marriages, appearing only a handful of times throughout the season to discuss her advocacy work and share her experience of going through a divorce in the Orthodox Jewish community. Adler's mission on the show is a personal one – one tied to a very painful chapter of her life. 
Having once spent an agonizing two years as an agunah – a "chained woman" who is essentially trapped under Orthodox Jewish custom in a dead marriage because their husband refuses to grant a divorce – Adler has dedicated much of her time and political involvement to advocating for women in similar circumstances, combating antisemitism, and "helping women break the chains of dead marriages." She said she decided to appear on the Netflix series to spread awareness and in doing so hopefully help open new doors for other women.  
"I was an agunah for two years and I know there are many agunahs that are trapped for far more years than that, but it was a horrific experience and it influences me a lot in how I do things and how hard I fight," she said. "This means a lot to me … If it's two years, if it's eight years, if it's this way or if it's that way it doesn't matter – if I start something, I finish it and I get the result that's needed."
Adler has also long been a strong supporter of a bill in the state Legislature that she says would help Orthodox women in these situations by making "coercive control" a felony.
She hopes to win the chance to face incumbent Republican City Council Member Inna Vernikov, who is also an observant Jew. District 48 is one of the city's few purple districts and was long held by a conservative Democrat before voters elected Vernikov in 2021. The Democratic primary will be held June 27, 2023.
Correction: This article has been updated to reflect that Adler was not the first Orthodox Jewish woman to run for City Council District 48. Irma Kramer ran in 1999.
Powered By
NEXT STORY: Brian Benjamin partially cleared on federal charges