Politics
New York senators sign onto their staffers' unionization effort
The New York State Legislative Workers United circulated a letter of solidarity among their bosses in the state Senate, garnering bipartisan support.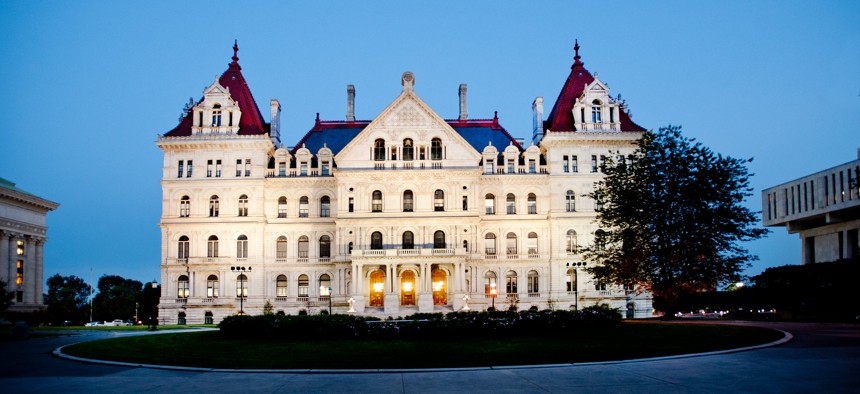 Staffers in the state Senate have started to lock up support from their bosses for their unionization efforts as they move closer to filing for recognition. In a letter shared exclusively with City & State, over 20 state senators from both sides of the aisle have pledged not to engage in any sort of retaliation against staffers who are part of New York State Legislative Workers United and urged state Senate Majority Leader Andrea Stewart-Cousins to voluntarily recognize the union. If Stewart-Cousins chooses not to recognize the union when it asks for it, the decision goes to a vote among staffers with the Public Employment Relations Board.
Union organizers have circulated the letter among lawmakers for the past two weeks, first sending it out on Nov. 23. Since then, 25 current and incoming state senators have signed their support. "We are heartened to see a bipartisan cohort of Senators recognize our right to organize and commit to their obligation not to interfere with our efforts to form a union," the staffers' organizing committee said in a statement. "With this statement of solidarity, they are emphasizing their commitment to the sentiment that every worker deserves a union."
Signatories include some usual progressive names like Jessica Ramos, chair of the Labor Committee, Gustavo Rivera, Julia Salazar and Jabari Brisport. "I was once a staffer, and I see how hard our staff work to serve our constituents," Ramos said in a statement to City & State. "Recognizing their right to organize and refusing to retaliate is a simple ask, and one that just strikes me as common sense." Incoming state Sens. Kristen Gonzalez and Iwen Chu also offered their support, as well as the outgoing state Sen. Alessandra Biaggi. "When NYSLWU is ready to request voluntary recognition, we will support them as we have supported other union efforts," the letter reads. "And we will encourage the Majority Leader to work with them in good faith to negotiate a fair contract that will help the legislature retain our passionate, hard working staff, who are committed to serving the people of New York."
Most of those who signed on had previously stated their support in public. But it's still missing a number of notable Democrats, including Zellnor Myrie, Jamaal Bailey, Neil Breslin and Joe Addabbo. Although Stewart-Cousins is unsurprisingly absent given her leadership, her deputy Michael Gianaris is also missing from the list. A spokesperson for Gianaris could not immediately comment about whether his leadership position meant he could not offer his support at this time.
The bipartisan group of supporters also included several Republicans, an indication that the unionization effort won't split along party lines. Those names include Mario Mattera, Patty Ritchie, Alexis Weik and Mike Martucci, as well as incoming state Sen. Dean Murray. "Proud of this new effort & hope my staff signs on," Martucci tweeted back in July when staffers first went public with their organizing.
When organizers first announced their unionization efforts over the summer, 75 staffers – or roughly 10% of the state Senate workers – signaled their support at the time. Since then, members have continued to quietly organize in the shadow of the elections, and have not yet released a list of demands. But with the election season over, the new letter of support from lawmakers signals that staffers are ready to move ahead with their plans as the new legislative session approaches.
Correction: A union vote for state Senate staff would be held with the Public Employment Relations Board, not the National Labor Relations Board.
Powered By
NEXT STORY: New York's political turncoats