Heard Around Town
NY Republicans really don't want a raise – and they love landowners
During a special session on lawmaker pay, the GOP was loud and proud.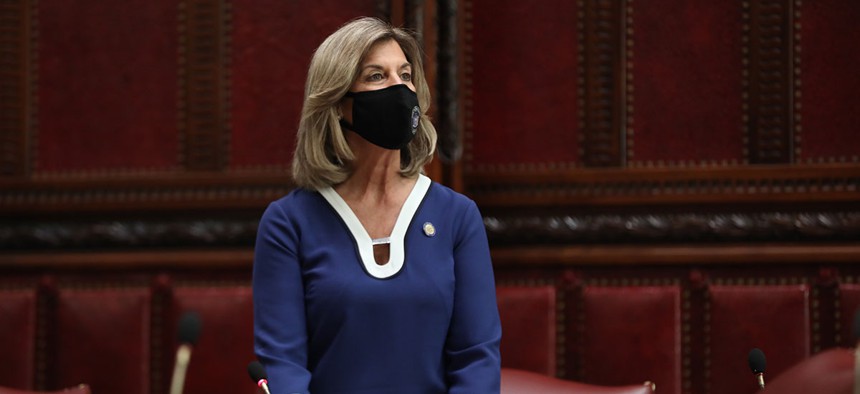 State lawmakers Thursday voted to give themselves a $32,000 pay raise, bumping their salaries up from $110,000 to $142,000 for the upcoming session. But not every legislator was on board with the increase, which was coupled with a limit of $35,000 in outside income starting in 2025. Republicans in both chambers lamented what they considered the death of the "citizen legislator" while lambasting Democrats for calling a special session to give themselves more money rather than pass legislation to help their struggling constituents. "Today, we take a big, giant step backwards, a giant step backwards in ensuring that we are in touch with the needs of the people we represent," Republican state Sen. George Borrello said. Assembly Member Andy Goodell said that the bill would lead to a "professional class of politicians." And state Sen. Andrew Lanza said that he saw a head of iceberg lettuce that cost a whopping $9 as an example of the kind of financial suffering that lawmakers were failing to address for the average New Yorker.
Outgoing state Sen. Daphne Jordan took things a step further in her opposition. After saying that the legislation "leaves no room for a citizen legislator," she offered some hypotheticals about how to "redefine who should be a legislator" that would take the state back to the 1700s. "Maybe we should turn today's bill around and say that a legislator must have a family, must be in business or have another profession, must own property that they pay taxes for," Jordan said. "What do you think of that?"
State Sen. Liz Krueger, a Democrat who handled the defense of the bill for the majority, used her time to counteract arguments about the "citizen legislator," a concept that the founding fathers had originally proposed. "Guess what? They all needed to be a white men who own property," Krueger said. "Not women, not people of color, not people who had actual other family responsibilities." She responded to an argument like Jordan's by saying the only qualifications that a person should meet to be in the state Legislature are caring about the state, being a citizen and convincing the people to vote for you. "Each of us in this room have met those standards."
The pay raise bill passed the Senate 33-23, with seven Democrats voting against. They were James Gaughran, John Liu, John Brooks, Elijah Reichlin-Melnick, John Mannion, Tim Kennedy and James Skoufis. Democrats Luis Sepúlveda and Anna Kaplan were absent and excused for the vote.