This Week's Headline
NYC involuntary hospitalization policy and NY electeds try to address immigration court backlogs
Rounding up the week's political news.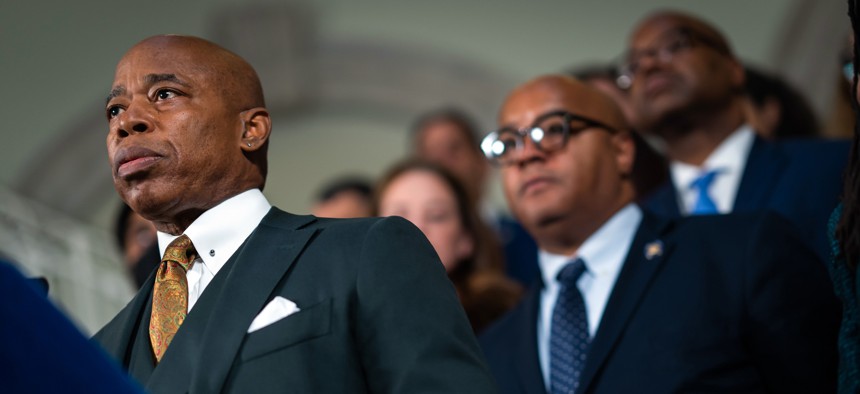 Do you have the ability to tackle the impossible? A hatred for vermin? Experience in urban planning and government? And of course, "the drive, determination and killer instinct needed to fight the real enemy – New York City's relentless rat population?" If so, New York City has a newly created position that might be just the job for you: the director of rodent mitigation. Ideal candidates possess virtues like "somewhat bloodthirsty," "innovative," and "highly motivated," according to the city's job listing. Whoever lands the role will face no small task in beating back the city's robust rat population, but at least they won't have to do it alone – the rat czar will begin their work on the heels of a series of initiatives from the Department of Sanitation specifically aimed at vermin mitigation. And hey, no need to be disappointed if you apply and don't end up getting the job. You can always buy one of the DSNY's new "The Rats Don't Run This City – We Do" t-shirts for just $48 instead.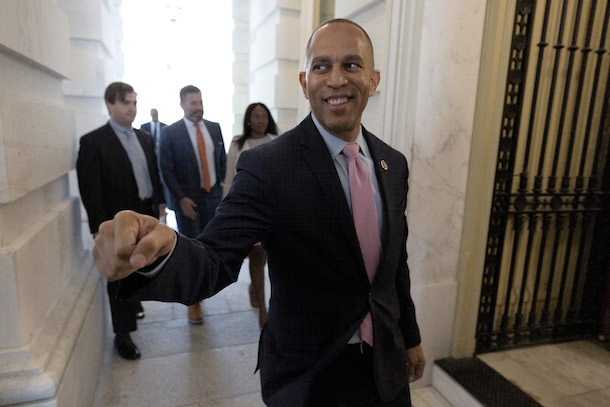 Brooklyn in the House
With Brooklyn's very own Rep. Hakeem Jeffries officially set to become the next House minority leader – also becoming the first Black lawmaker elected to lead a Congressional chamber in U.S history, the borough is officially having a moment. For the first time in history, Brooklynites hold all three citywide elected positions, and with Jeffries' election, they now lead Democrats in both the House and Senate. Senate Majority Leader Sen. Chuck Schumer lives a mere mile away from the Bed-Stuy representative. Jeffries, a moderate, faced very little pushback leading up to his election, easily clinching the position without a single challenger. Gov. Kathy Hochul and Adams both offered their congratulations, the latter lauding Jeffries as a "good friend" and expressing his excitement that "two Brooklyn kids" will soon be helming both Congress and New York City. 
Adams announces new involuntary commitment policy
More seriously mentally ill New Yorkers are likely to soon be taken to hospitals for psychiatric evaluations without their permission – a shift that's been met with a myriad of emotions as advocates, impacted individuals and elected officials have digested what this might mean. New York City Mayor Eric Adams announced the new citywide policy Nov. 29 in a rare public address, laying out a series of proposed reforms and initiatives while urging compassion for people experiencing homelessness. His directive clarifies that emergency responders can transport people who are presumably suffering from severe, untreated illness to hospitals involuntarily if they are unable to meet their "basic human needs" to the point that they pose a danger to themself. The decision has garnered mixed responses.  Some civil liberties and mental health experts view the shift as a welcome step away from incarcerating mentally ill people, while others worry about police involvement. The New York City Police Department was also reportedly caught off guard by the announcement, and have since begun scrambling to implement the plan, according to the New York Post.
A right to counsel
With immigration courts facing a historic backlog of over 184,000 cases and more than 27,000 asylum-seekers having recently arrived in New York City, some elected officials are eyeing legislation to guarantee statewide legal representation in deportation proceedings. A coalition of impacted migrant families, immigration advocates and politicians recently rolled out a campaign in hopes of securing legal proceedings for all low-income migrants facing deportation. They believe the proposed legislation, the Access to Representation Act, would go a long way in helping the more than 55,000 people who don't have legal representation as of October. Some migrants won't need to wait until the next legislative session for a little relief though – Hochul plans to administer an additional $3 million over the next three years through the state Office for New Americans to give immigrants free legal services.
The MTA's ongoing woes
Taking public transportation and driving through New York City tunnels could soon become even pricier. Facing a yawning budget deficit due to dwindling ridership, the Metropolitan Transportation Authority plans to raise fares and tolls by 5.5% starting in June – a larger increase than the 4% increase the system has implemented nearly every two years since 2009. That would bring subway fare to $2.90 next year. Leaders of the sprawling public transportation system recently laid out the figures as part of the MTA's 2023 budget proposal which will be voted on next month. The proposal comes as the MTA faces a projected $1.6 billion in deficits by 2024. With ridership remaining low and federal coronavirus aid running out, the system has reeled since the onset of the pandemic and now faces the prospect of service cuts and even steeper fare increases. State Comptroller Tom DiNapoli underscored the MTA's budget woes in a recent report, urging officials to expand their efforts to save costs. Time will tell whether officials decide to adopt the 5.5% increase, but even if they do, more will still need to be done in order to plug the budget deficit. Experts argue that it's time for Hochul and state lawmakers to increase aid to the MTA in the coming legislative session.