Politics
Adams and Hochul ARE ON GREAT TERMS OK
The mayor and the governor are presenting a united front, we get it.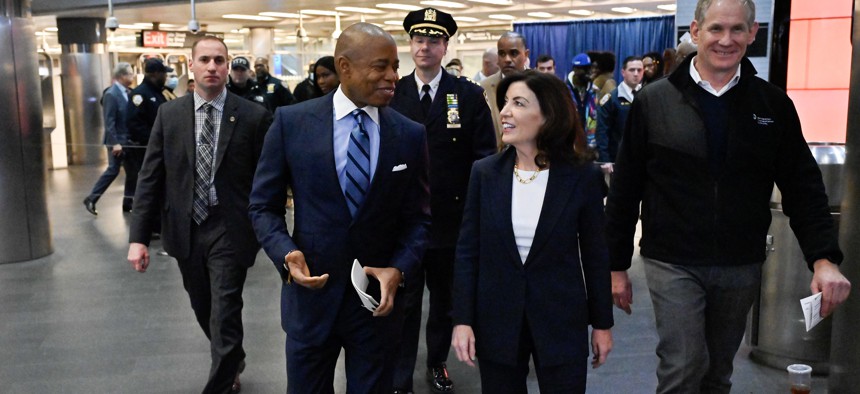 Gov. Kathy Hochul continued her public safety tour ahead of her executive budget presentation, this time joining Mayor Eric Adams to tout subway safety and a reduction of crime on New York City transit on Friday. The pair presented a united front on crime once again, a day after Adams repeatedly sang Hochul's praises during his State of the City address – even as the governor has remained largely silent on the migrant crisis facing the city.
At a press conference in Manhattan, Hochul celebrated the return of near-pre-pandemic levels of crime in the subway as evidence of the success of actions taken by her and Adams to address homelessness in the system and increase police presence. "We've been making real progress," Hochul said with the caveat that "as long as there is any crime being committed, we will never say 'Mission accomplished.'" 
Roughly a year ago, Hochul and Adams announced an initiative to get unhoused New Yorkers out of the subway system and into shelters where they can also receive mental health care. Some homeless advocates criticized the announcement for tying those experiencing homelessness with the spike in crime on public transit and the enforcement methods the plan involved. Since then, Hochul said that about 600 people have been placed in shelters thanks to the initiative.
The two executives also came together again in October last year – when Hochul was in the middle of a costly and competitive election fight – to announce the "Cops, Cameras and Care" program to address crime and the mentally ill homeless population, with Hochul pledging more money to increase police presence in the system. Since the announcement, the governor said that all crime is down 16%, and major crimes are down 28%, on the subway. "That's not over a year, that's just in a very short time showing the success of when you work together, pool our resources, city and state, approach this in a collaborative way," Hochul said.
The subway crime victory lap marks the second time in a week that the governor has highlighted her public safety agenda. On Tuesday, she touted the success of the Capitol Region Crime Analysis Center that the state had invested in to expand, while again making note of plans from her State of the State address to expand state police presence, increase funding for prosecutors and give judges more discretion to set bail for serious crimes. Public safety played a major role in the November elections, with Republicans campaigning on the issue and attacking Democrats for failing to tackle it successfully. In Congress, it helped the GOP win control of the House with a series of key victories in New York. And Hochul held off her Republican opponent by the closest margin in a governor's race in decades after he made crime the cornerstone of his campaign, starting her off in a weaker position heading into budget negotiations with legislative leaders.
Hochul still seems to have an ally in Adams, though, who has lobbied to roll back bail reform and other criminal justice reforms like "Raise the Age," which increased the minimum age for teens to get tried as adults. In fact, he mentioned her over a dozen times in his State of the City address on Thursday, praising their working relationship and thanking her for work as governor.
But with a poor relationship with the state Legislature, Adams only stands to gain by staying in Hochul's good graces so that he can have an advocate in Albany. He has continued to sing her praises even as she has declined to offer specific aid in solving the migrant crisis in New York City, and even failed to mention it in her own agenda for the year. Adams said that there is "a real synergy of partnership" between himself and Hochul during his State of the City address, a partnership the pair clearly wanted to broadcast with the Friday press conference on subway crime. How much either of them will ultimately gain from it will become clearer once talks over the state budget begin earnest next month.
Shantel Destra contributed reporting.
Powered By
NEXT STORY: Al Taylor has come around on New York's Equality Amendment