Politics
George Santos' awkward first day, legal weed and NY judicial drama
Rounding up the week's political news.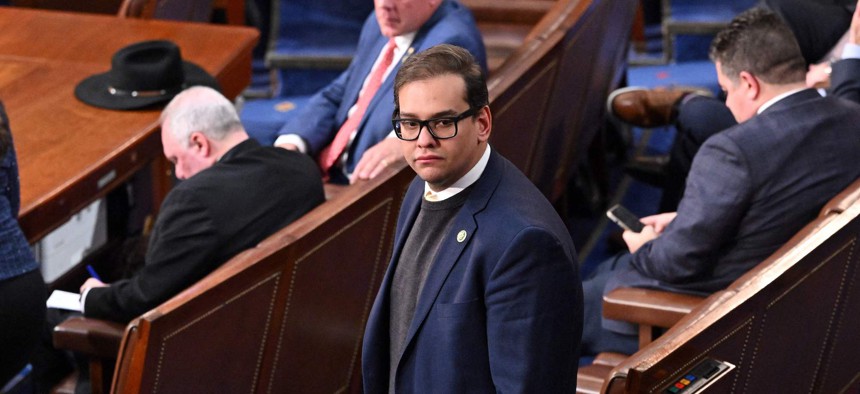 New York City's most humble and abundant star, the rat, has long plagued Mayor Eric Adams both professionally and personally.  On repeated occasions, he's proclaimed his hatred and fear of them. His war has grown increasingly personal too as the battle has come to his front door. While Adams successfully challenged a summons from the city health department last month over rat-related issues at his Brooklyn property, he's once again been hit with fines for apparently failing to eliminate the infestation. But has a hero risen up to help the mayor defeat his longtime foe? Curtis Silwa, Adams' Republican opponent for mayor in 2021, rolled up to the Brooklyn property with two of his beloved felines and a suggestion: releasing a colony of feral cats to help mitigate the rodent problem. He also offered to serve as the city's rat czar for free.
Adams' response to the press came later that day. "Tell Curtis to come be my rat czar. OK, and he's going to realize this is not a Tom and Jerry playful commercial here. This is real stuff," he said. Read on for more of this week's biggest headlines.
First day jitters
There's a new kid on campus, and he's not popular with his peers. George Santos, the Republican representative-elect from Long Island, arrived for his first day at Congress Jan. 3 with a cloud of ever growing controversy hanging overhead. Questions and concerns have circulated for weeks now about claims he's made – a growing list of accusations and dishonesty including lying about his resume, his education, his background, finances and his connections to Wall Street firms. Both federal and local investigations have been launched into whether Santos committed any crimes. Fellow New York Rep. Ritchie Torres has even said he will introduce legislation to make it illegal for congressional candidates to lie about their biographies. But House Republicans had bigger problems as they floundered to elect a speaker. Santos consistently voted for Rep. Kevin McCarthy – who ultimately prevailed. 
They're back in Albany
As New York state lawmakers returned to Albany for the first day of a new session, a high-profile battle may already be underway. Gov. Kathy Hochul's decision last month to nominate Hector LaSalle to be the next chief judge of the Court of Appeals swiftly drew a swell of backlash from the left. Pointing to LaSalle's conservative judicial record, a host of powerful progressive groups urged state senators to reject his nomination. A variety of left-leaning groups had urged her to choose someone else before Hochul made her announcement, citing concerns that his appointment would tip the court's power balance toward its conservative faction. In the days since, more than a dozen Democrats, including Deputy Majority Leader Michael Gianaris and Judiciary Committee member state Sen. Jessica Ramos, have publicly said they wouldn't vote in favor of confirming him. Hochul has continued to voice her support for LaSalle, who would be the first Latino to lead the Court of Appeals. Several Republican senators have unexpectedly offered support, arguing that he should be given a fair chance. 
Nurses strike
New York nurses, perhaps more than any other profession, have been under immense strain in recent years. While many sang their praises as heroes in the early days of the COVID-19 pandemic, chronic understaffing and burnout has become an increasingly big issue among their ranks over time. Things intensified Dec. 30 when nurses from the New York State Nurses Association at seven hospitals and health systems submitted 10-day strike notices for Jan. 9. Three of the hospitals, New York-Presbyterian, Richmond University Medical Center and Maimonides Medical Center managed to avoid the strike by reaching tentative contract agreements, but the threat remains at four other medical centers. Around 10,000 nurses would still strike if negotiations stalled. In preparation for this possibility, the Mount Sinai Health System announced plans to divert most ambulances from four of its facilities as well as transfer babies from intensive care units to other systems.
First legal marijuana shop makes its debut
Droves of New Yorkers turned up to the Village to celebrate the opening of New York's first recreational marijuana storefront. Demand was high and the air was thick with more than excitement – the dispensary, Housing Works Cannabis Co, served over 500 people on its first day. Some patrons even reported waiting more than an hour to get inside. It was a historic moment in New York's battle to roll out an adult-use recreational marijuana industry. Elected officials have emphasized that the process needs to be as equitable as possible and should prioritize aiding communities that have been disproportionately criminalized because of old policies. The state's first licenses are being awarded to nonprofits like Housing Works that work with formerly incarcerated people as well as others who've been harmed by marijuana enforcement. But while Housing Works Cannabis Co. opened with roaring success, a long road lies ahead before the cannabis market can fully bloom.