Heard Around Town
'I want to be in motion too': UFT brings contract negotiations to the public
New York City public school teachers, like almost all city employees, are working under an expired union contract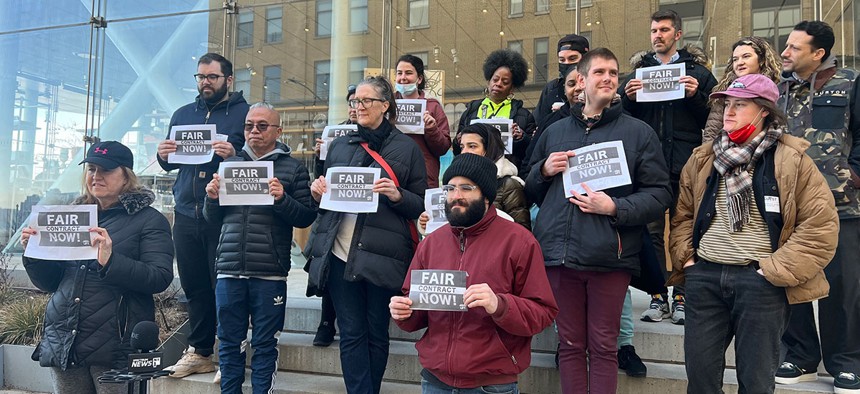 Teachers at hundreds of New York City public schools laid the groundwork for a contract bargaining process with a series of "teach-ins" across the city Monday. Members of the United Federation of Teachers gathered before and after school and during their lunch breaks to chart their priorities, make signs and bring attention to educators' plight. Educators came to school wearing the union's trademark blue. Someone brought a cake with the words "fair contract now" to an East Village elementary school. It was an expansive effort – underscoring the union's attitude amid the first time that public school teachers will negotiate raises and benefits since the start of the COVID-19 pandemic. 
"People at this moment are paying attention to the world around them and we see a lot of workers in motion," said Amy Arundell, UFT borough representative for Queens and an organizer for Monday's teach-ins. "People are saying I want to be in motion too, I want to participate in my own survival as a worker and as an educator and make things better for myself and for my students." 
UFT leaders began the bargaining process with the city in October, although neither has submitted their list of demands yet. The vast majority of the city's 300,000 employees, including teachers, are working under an expired collective bargaining agreement.
The last UFT contract agreement, struck in 2018, provided 7.5% in raises over 43 months. It's no secret that the pandemic significantly complicated educators' work over the last couple of years as they've been forced to continuously adapt and even put their own health at risk at times. Many teachers hope those efforts will not go unrecognized and were especially motivated to throw themselves into the negotiating process.
"If educators just sit back and let things happen to them then at the end of the day they might not be happy," said Jennifer Immello, a teacher who organized teach-in meetings at P.S. 112 in Queens. "but the more we stand together the better."