Politics
Labor leaders from 3 unions rally against LaSalle at the Capitol
Some unions have come out against the nominee due to a 2015 decision they consider to be anti-labor.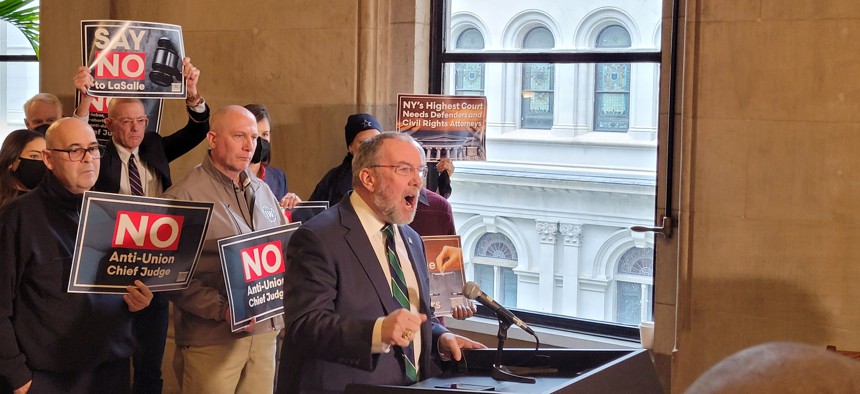 Despite growing opposition to her Court of Appeals chief judge pick, Gov. Kathy Hochul has continued to vehemently defend Justice Hector LaSalle. But her unwavering position has pitted her against some of her strongest allies in labor. Leaders of three unions rallied in the Capitol on Monday to let the governor know that if she doesn't make things right, she can't count on their support.
LaSalle, a former prosecutor who would be the first Latino to lead the state's highest court, initially faced opposition from a coalition of progressive groups called The Court New York Deserves. Since his nomination, 14 state senators have spoken out against him.
So far, about half a dozen labor unions have announced their opposition to LaSalle, citing an opinion he joined as an appellate judge they considered anti-labor. In the 2015 case Cablevision Systems Corp. v. Communications Workers of America District 1, LaSalle joined the majority in ruling that two union leaders could be sued by their employer for defamation. Among the unions opposing LaSalle are the large and politically powerful 32BJ and AFL-CIO. and. Others include the Communication Workers of America, the International Association of Bridge, Structural, Ornamental and Reinforcing Iron Workers Union and United Auto Workers, who joined with progressive senators, reproductive rights advocates and criminal justice activists in Albany. 
Labor representatives had a clear message for the governor on Monday: LaSalle's nomination represents a betrayal after unions helped her over the finish line in November. Hochul won the closest gubernatorial race in decades – former Rep. Lee Zeldin came within 7 points. Many political observers credited organizing by unions and progressive groups with Hochul's narrow victory. "We were promised a seat at the table," said James Mahoney, general vice president at the Ironworkers Union, adding that Hochul called labor incessantly asking for their support during the tough election. "She put us on the menu." 
Few organizations are more powerful in New York than labor unions, with their support often instrumental in Democratic officials' elections. Although they have not always seen eye-to-eye with Democratic governors, they have generally lent their support and resources to get them elected when the time comes. In fact, an election post-mortem put out by the state Democratic Party said Democrats plan to "institutionalize" the party's relationship with labor. But Hochul's decision so soon after a close election to nominate LaSalle runs the risk of costing her that crucial backing in the future. "She's got time to patch the relationship," Democratic consultant Basil Smikle told City & State in a text. "But still not good." State Democratic Party Chair Jay Jacobs did not immediately return a request for comment about how LaSalle's nomination – which he supports – impacts that goal.
Of course, not every union has abandoned Hochul. Transport Workers United International President John Samuelsen said in a statement Monday that LaSalle deserves to have his nomination move ahead. "The venue to determine the pros and cons of Judge LaSalle must move from the Twittersphere to a formal hearing," he said. Other prominent unions like the New York Nurses Association and the Retail, Wholesale and Department Store Union have avoided commenting publicly on the nomination. 
At least some unions are indicating that Hochul can't necessarily count on their support. "If there were an election this year, let's just say I hope she gets primaried," Mahoney told City & State. As of the relationship the governor has with the Ironworkers, Mahoney, whose union represents iron-working construction workers was blunt: "She has no relationship with the Ironworkers of New York state."
Deborah Wright, political director of UAW Region 9A, decried the lack of communication with labor prior to Hochul's decision to nominate LaSalle. UAW Region 9A signed on to a letter with other progressive groups urging Hochul to pick a different nominee. "There was no discussion with organized labor whatsoever in terms of who you could possibly pick, or if we even thought that Justice LaSalle would be a good idea," Wright told City & State. She said her union "would like to have a good relationship" with Hochul going forward, but that the governor chose "one of the worst she could have picked." Wright said that if Hochul were to face a primary this year, UAW's support would not be guaranteed.
For her part, Hochul has said that she still believes that LaSalle is the best pick to lead the state's court system and that he'll make it through the confirmation process. "We'll have the support we need," she told the New York Post on Friday after praising LaSalle at an unrelated event at El Museo Del Barrio in Manhattan. Hochul further described the opposition to her nominee as "mischaracterizations" and "character assassination" to the Post.