Policy
NY lawmakers argue over crime data in hourslong hearing
There was a fair bit of subtweeting the New York Post.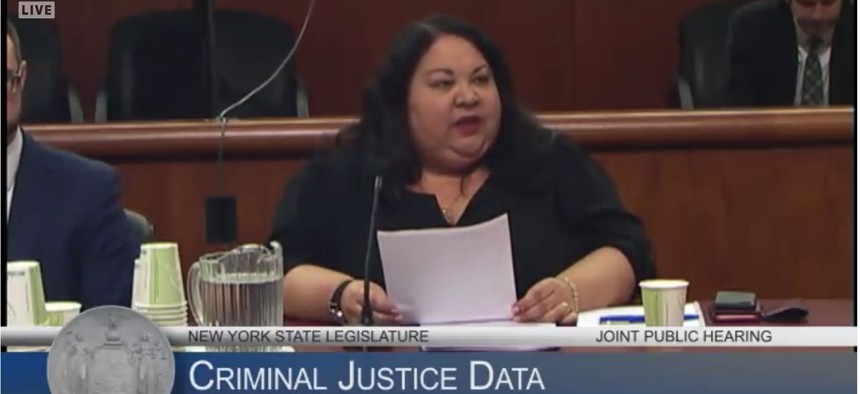 Democrats in the Legislature seemed to wish the New York Post had come to testify about crime statistics Monday, instead of the Division of Criminal Justice Services. Yes, the crime coverage of a certain unnamed tabloid was a major topic for the first couple hours of the joint legislative hearing on "Improving Criminal Justice Data Collection and Reporting."
"Here's what I don't understand," said Assembly Member Jeff Dinowitz, after reading out the rates of people rearrested within six months of pretrial release. "I keep reading in some newspapers that rearrests are skyrocketing – but this data shows the exact opposite. Do you have any idea why –" DCJS Commissioner Rossana Rosado jumped in: "I just want to confirm that this data is available to newspapers as well," she said (Rosado would know – she used to run El Diario).
State Democrats have always felt that the numbers are on their side when it comes to their bail reform laws. But their case has been muddled by the rising rate of most major crimes in New York in the past couple years. Bail reform isn't likely to blame though, since crime is up nationally, explained Democratic state Sen. Brad Hoylman-Sigal. But that set up an oddly defensive tone for the hearing, which was really a public effort in defending the state's bail reform laws from further changes. 
And that tone included some media criticism. 
The rearrest statistics remained stable from 2019 through 2021, Assembly Member Charles Lavine confirmed with Rosado. "Based on the data, yes," she said. Lavine fired back: "Now, reliable data doesn't sell tabloids, does it?" he said with a smirk. "I will withdraw that question, I will respectfully withdraw that question."
The hearing, which included the Codes, Crime and Judiciary Committees from both chambers, represented the first time the Legislature has heard testimony on 2019 criminal justice reforms since the state released data on the impacts of bail reform last year. The marathon hearing, which started shortly after 10 a.m., was still going on well into the late afternoon as lawmakers from both sides of the aisle questioned a series of speakers that included state and New York City officials, prosecutors and criminal justice advocates.
Dinowitz's criticism of tabloid headlines that can sensationalize standalone crimes represented the heart of the political battle that Democrats are facing, and have been since the implementation of bail and other criminal justice reforms. For many New Yorkers, the perception of crime does not always align with New York City's and state's statistical safety. Republicans ran on crime first and foremost in the 2022 midterm elections in New York, picking up four seats in the House. In 2021, Republicans used crime to coast to electoral upsets on Long Island.
Monday's hearing seemed to do little to change the hearts and minds of lawmakers, and further confirmed the criticisms lobbed by both sides of the debate. Since the first data on the impacts of bail reform in 2020 came out, both supporters and opponents of the reforms have used the data as evidence of their own correctness. Absent comparable datasets from 2019 and years prior, information gathered in 2020 lacked context to draw reliable conclusions about the direct impact that changes to bail had on crime rates among  recidivists, those released pretrial and more generally.
The highly anticipated hearing came as Gov. Kathy Hochul is once again pitching a change to the 2019 bail laws after rollbacks in 2020, 2021 and 2022. The governor proposed as part of her State of the State address giving judges greater discretion to set bail for the most serious crimes by removing a standard in law that requires jurists to impose the "least restrictive" means of ensuring a defendant returns to court. Criminal justice advocates immediately criticized the proposal even as Hochul pledged her support for the original intent of bail reform. 
Neither state Senate Majority Leader Andrea Stewart-Cousins nor Assembly Speaker Carl Heastie would offer an opinion on Hochul's latest bail change proposal. Both said they want to follow the data and will take appropriate steps if there is a need. Stewart-Cousins specifically said the Monday hearing would offer "context" to have discussions about whether further tweaks are needed.