Heard Around Town
PBA President Pat Lynch is getting a challenge from Corey Grable
The longtime NYPD union president is being criticized for not reaching a contract deal and for endorsing Donald Trump.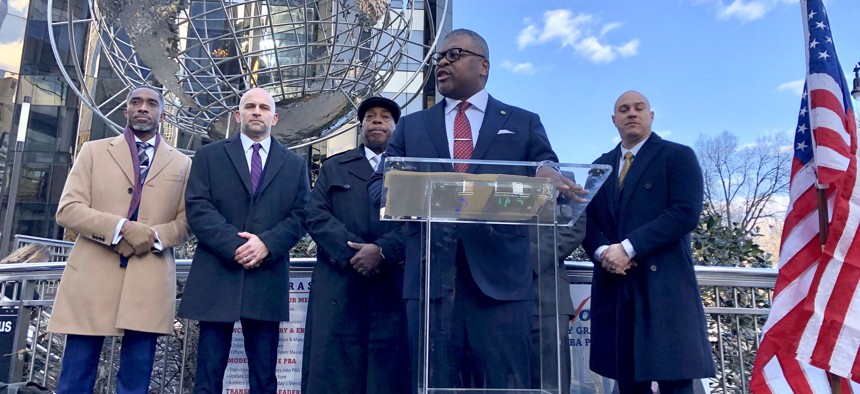 New York City police officers have been working under an expired contract for six years – and that's reason to boot the union president Pat Lynch. That was Corey Grable's message and he launched his campaign to lead the Police Benevolent Association Tuesday afternoon at Columbus Circle in Manhattan. "Patty forgot," Grable said. "New York City cops can't pay their bills. I have guys struggling to put food on the table. Guys who have a problem buying baby formula. And it's been silence from the organization." Starting salary for an officer is just $42,500 a year, but that rises quickly, and many cops are paid significant sums in overtime. Still, the NYPD has seen a wave of resignations, with many reportedly leaving for better pay in other cities' departments. 
But there's more at play than just contract talk here. Lynch, who has led the PBA since 1999, is white, and had the union endorse Donald Trump for president in 2020. Grable is Black, and was asked if he would bring change to the organization long criticized for upholding racist systems. "I don't think Pat Lynch is racist," he said. "Pat Lynch has served this organization well. But after 23 years it's time for change." Does Grable support Trump? He wouldn't say. "It wasn't an issue about whether I support Donald Trump or not, the concern that I had was whether or not it was a good business decision for the organization. And it wasn't," Grable said. "Presidents just don't help unions. Local politicians on the state and local level (do)."
Lynch may be hard to beat. He defeated Brian Fusco in a landslide in 2015, and was unopposed for reelection in 2019. Grable is coming from the inside – he's the transit bureau financial secretary for the PBA, and is excused from service to do union business full time, rather than patrol. Grable's campaign, which was first reported by Politico, is serious, but he acknowledges that the challenge could push Lynch to reach a deal on the union's contact. "The reality is, hopefully after this announcement there will be some headway on it," Grable said. 
Hank Sheinkopf, a political consultant and retired Port Authority police officer, noted Lynch's leadership has never faced a real challenge, but he's not ruling Grable out. "All union presidents are vulnerable depending on the conditions of the day," he said. "It's a difficult time for police unions. The demands by members are particularly high."