NYPD
Protests over the police killing of Tyre Nichols are expected in NYC tonight. Can the NYPD do better this time?
Mayor Eric Adams and Gov. Kathy Hochul said police were prepared to monitor protests.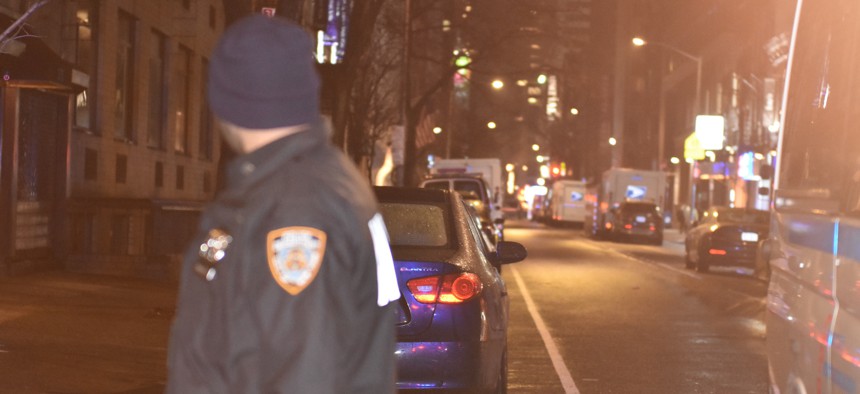 One of the biggest questions as New York City anticipates possible protests over the police killing of Tyre Nichols is whether the New York City Police Department will better handle demonstrations in the wake of its excessive enforcement used against protesters during the summer of 2020.
Police forces across the country are bracing for protests once video is released on Friday evening showing five police officers in Memphis, Tennessee brutally beating Nichols, a Black 29-year-old father, during a traffic stop earlier this month. New York police are preparing too. A spokesperson for the NYPD said the department is monitoring the situation, as did New York City Mayor Eric Adams who confirmed that Police Commissioner Keechant Sewell has been briefing officials. At least one protest is already scheduled in Times Square on Friday night.
Shortly before the expected release of video footage of the arrest, Adams said in a streamed address that he had just been briefed by The White House alongside other mayors across the country, and had communicated with over 125 local elected officials to discuss the video. "It will trigger pain and sadness in many of us. It will make us angry," Adams said. "My message to New Yorkers is to respect the wishes of Mr. Nichols' mother. If you need to express your anger and outrage, do so peacefully." Adams said that he's also delivered a message to the NYPD to "exercise restraint."
State police are also ready to be deployed if needed, according to Gov. Kathy Hochul, who also urged New Yorkers to protest peacefully. 
The officers in Memphis, all of whom are Black, have been fired and charged with Nichols' murder. Officials have described the bodycam footage as gruesome and distressing, but important to release for the sake of transparency.
Adams, a retired police officer, also reflected on his own history with policing. "It's a personal and professional painful moment for me as a victim of police abuse as a child. I know the impact of it, and I know that the years I've spent recruiting, encouraging different groups to be part of the noble profession of policing. And what it appears is that these officers tarnished much of the work that many of us attempted to accomplish," Adams said on Friday.
It's been nearly two years since investigators found that the New York City Police Department badly mishandled protests against police brutality in wake of the police killing of George Floyd in 2020. As of last March, the city's Civilian Complaint Review Board substantiated allegations of misconduct against more than 100 cops for their actions during those protests. 
"The department has examined, adapted and adjusted our response to protests and is prepared to protect the Constitutional right to peaceful protest, and works to ensure public safety for every New Yorker exercising their First Amendment rights," an NYPD spokesperson said in a statement.
Just earlier this week, a City Council oversight hearing on the NYPD's Strategic Response Group, which responds to protests, was postponed. Police reform advocates have called for the unit to be disbanded because of its aggressive tactics.
Some activists and lawmakers are unsure how much the NYPD's protest response has changed. "I think this administration is definitely not wanting this to blow up like how things did in 2020," said City Council Member Chi Ossé, who was active in the Black Lives Matter movement before joining the council last year. "But depending on what this video looks like, I'm not sure what to expect. I obviously hope violence does not break out in any means. But I think that a lot of organizers, a lot of protesters, a lot of individuals that have been working and advocating since 2020 – and even before that – are not happy with the state of policing today."
The Legal Aid Society is also working to distribute information to protesters about their rights through one of its guides. Jennvine Wong, a staff attorney with the Legal Aid Society's Cop Accountability Project, said the NYPD's response to the 2020 protests in wake of Floyd's death is still fresh on everyone's mind and people remain wary about units like the Strategic Response Group. Still, protests on Friday could be an opportunity for police to demonstrate their actions match the claims leaders like Adams have made about reform. 
"Whatever trust there might have been between the NYPD and the public when it comes to protest and with respect to their ability to facilitate peaceful demonstrations and First Amendment activity, they really damaged that," Wong said. "This is an opportunity to rebuild that trust."
Correction: An earlier version of this story mischaracterized the postponement of a City Council oversight hearing.
Powered By
NEXT STORY: Adams and Hochul ARE ON GREAT TERMS OK