New York State
Shelley Mayer will join state Judiciary Committee
The state senator is the second new committee member to have publicly announced that she would not vote to confirm Hector LaSalle as chief judge.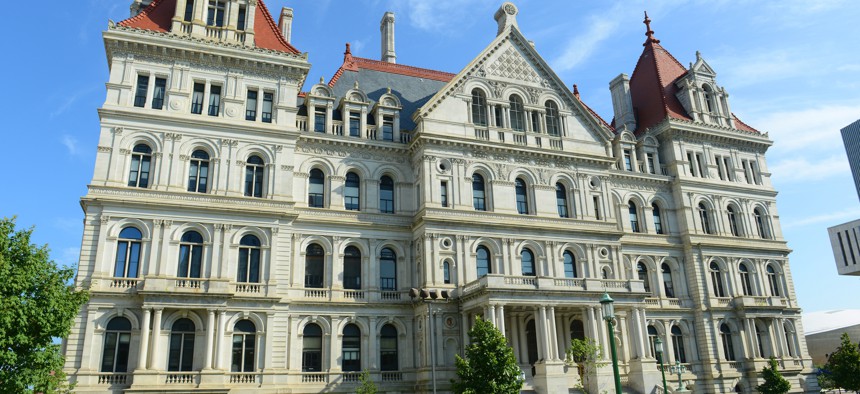 State Sen. Shelley Mayer is joining the state Senate Judiciary Committee for the 2023-2024 session, her office confirmed to City & State. Mayer is one of 14 Senate Democrats who have publicly announced that they plan to vote not to confirm Hector LaSalle as chief judge.
Senate Democratic leadership announced this week that due to increased interest, the committee's size will be expanded from 15 members (10 Democrats, five Republicans) to 19 members (13 Democrats, six Republicans).
The full list of committee members has not yet been released, but City & State has learned that in addition to Mayer, Democratic Sens. Toby Ann Stavisky and Jessica Ramos will also be joining the committee this session.
Both Mayer and Ramos have said that they plan to vote against LaSalle's nomination. 
"After my review of the decisions of Presiding Justice Hector LaSalle, and a respectful and frank personal meeting with PJ LaSalle yesterday, I have decided to announce publicly that I will be voting 'no' on any vote to confirm PJ LaSalle to the position of Chief Judge," Mayer tweeted on Dec. 31.
"After reviewing Justice LaSalle's record and speaking with unions and my constituents, I have concluded that I will vote "no" if this nomination is brought to a vote," Ramos tweeted on Dec. 29.
In a statement on Friday, Stavisky noted "serious concerns about his record" but stopped short of saying that she would vote against his nomination.
"I recently met with Justice Hector LaSalle and discussed, among other issues, what I believe to be a very disturbing rightward shift of the Court of Appeals in recent years," she said in the statement. "While I deeply respect both the Governor and the historic nature of Justice LaSalle's nomination, I grew up in a union household and am proud to have been a union member. Because of that perspective, the concerns raised by many unions about Justice LaSalle's decisions are particularly troubling to me. As with all nominees there will be a Judiciary Committee hearing and Justice LaSalle must address serious concerns about his record that have been raised by several of my colleagues and many other New Yorkers."
Gov. Hochul nominated LaSalle to be chief judge on Dec. 22. If confirmed, he would be the first Latino chief judge in state history. But progressive activists and labor unions have called on the state Senate to reject his nomination, pointing to a number of controversial court decisions that he was involved in.
A total of 14 Democratic state Senators have since publicly announced their opposition to LaSalle's nomination: Mayer, Ramos, Kristen Gonzalez, Julia Salazar, Jabari Brisport, Gustavo Rivera, Robert Jackson, Samra Brouk, Michelle Hinchey, Rachel May, Cordell Cleare, Lea Webb, John Liu and Senate Deputy Leader Michael Gianaris. Still more Democrats have indicated privately to colleagues and the governor's office that they plan to vote against his nomination.
"A very steep hill to climb"
In order for LaSalle to be confirmed as chief judge, the committee must conduct hearings and then vote to advance his nomination to the floor of the Senate, and then a majority of the 63-member Senate must vote to approve it. The Senate has said it will hold hearings, though they have not yet been scheduled.
Both Senate Judiciary chair Brad Hoylman and Senate Majority Leader Andrea Stewart-Cousins have suggested that LaSalle has little chance of being confirmed.
"This nominee has a very steep hill to climb given the public opposition by 12 of my colleagues at this point," Hoylman told City & State late last month (before Liu and Mayer had released statements opposing LaSalle). "That doesn't include those who have made their opinions known privately, several of whom sit on the committee and out of respect for the process, haven't stated their positions."
"Because I've had 14 members come out publicly and say they were not going to confirm the nominee, and I've had a number tell me privately they are not going to confirm the nominee, I do not see this ending in the way that the governor wished it would," Stewart-Cousins told Gotham Gazette this week.
But Hochul has refused to throw in the towel on LaSalle, insisting that senators would come around to supporting him once they hold hearings on his nomination.
Meanwhile, Senate Republicans have indicated that they may back LaSalle.
"As we return to Albany for a new legislative session, I am deeply disappointed to see so many of my colleagues outright reject Judge Hector LaSalle's appointment without a single hearing," Senate Minority Leader Rob Ortt tweeted on Jan. 3.
With Republican support, it remains possible, albeit unlikely, that the Senate could confirm LaSalle as chief judge. 
Two Democratic members of the Committee, Luis Sepúlveda and Kevin Thomas, have publicly praised LaSalle's nomination and said they plan to vote for him. Multiple sources told City & State that most of the rest of the Democrats on the Judiciary Committee have privately indicated that they oppose the nomination.
Before the Committee was expanded from 15 to 19 members, LaSalle might have been able to squeak through with Republican votes. He needed eight out of 15 votes on the Committee; if he received the support of all five Republicans, plus Sepúlveda and Thomas, he would only need one more Democratic vote to get out of committee. 
The expansion of the committee's size has made his path out of committee slightly narrower; he now needs 10 votes to get out of committee; with the support of all six Republicans, plus Sepúlveda and Thomas, he would still need the support of at least two more Democrats.
Even if LaSalle's nomination made it out of the Judiciary Committee, it is not clear that Senate Majority Leader Andrea Stewart-Cousins would allow his nomination to be brought to the floor for a vote. 
A spokesman for Senate Democratic leadership told New York Focus on Friday that LaSalle is "very unlikely" to get a full floor vote.
Still, if the nomination did somehow make it to the floor of the Senate, LaSalle could theoretically be confirmed as chief judge with the support of all 21 Republicans and just 12 Democrats.
Correction: An earlier version of this story had the wrong link on state State Sen. Shelley Mayer's Dec. 31 tweet.
Powered By
NEXT STORY: NYC leaders acknowledge 22% increase in overall crime, while pointing to signs of progress