Campaigns & Elections
Who might be eyeing George Santos' congressional seat?
Whether an election comes in 2024 or sooner, all eyes are on the 3rd Congressional District, amid Santos' many scandals. So we looked at some of the prominent possible contenders.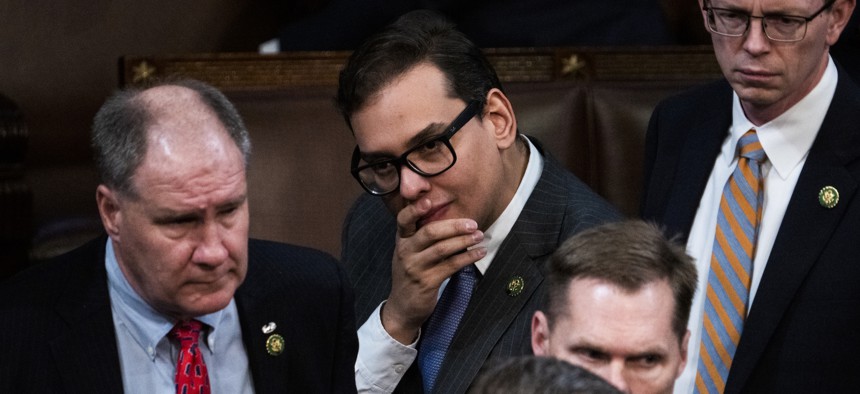 It's unclear what the future holds for Rep. George Santos. The newly elected representative has been under fire for embellishing his resume – forging everything from his education to his work experience and family history – as well as irregularities in his personal financial disclosure, and his campaign finance filings. 
Santos spent last week like any other member, sitting at the Capitol and voting for a speaker 15 times – even as he faces local, federal and international criminal investigations. Fellow Republicans have criticized him, but they also need his vote in the closely divided house. So Santos has been firm in interviews that he's not stepping down, and will continue to serve. After all, lying about where you went to college isn't a crime. 
However, Santos has also reportedly said he has no intention of running for reelection in 2024 and the Nassau Republican Party Chair Joe Cairo said the party would not support Santos running. If Santos isn't telling the truth about that, political experts agree Santos would face an uphill battle if he did want to run again. Larry Levy, executive dean of suburban studies at Hofstra University, underscored that sentiment. "The political reality is Santos will not only have the Democratic Party lined up against him, in what is shaping up to be a good Democratic year, but he will also have his own party against him – one that is particularly powerful when it comes to special elections and primaries," Levy said.
Somehow, it's still early in the Santos saga. If he were to leave office before June 2024, whether by choice or as a result of a court case, Gov. Kathy Hochul would call a special election to fill the seat, and the local Democratic and Republican county committees would pick a candidate for their party. If Santos stays in office, voters in the district spanning the northern half of Nassau County and parts of eastern Queens will have the chance to choose again in November 2024. City & State compiled a list of candidates who could be vying for the embattled congress member's seat:
Robert Zimmerman
Santos' 2022 Democratic opponent, Robert Zimmerman has been vocal since the start of the scandal and has even challenged Santos to a rematch. "George, if that's even your real name, if you're so convinced that #NY3 voters still trust you - resign & run against me again in a special election. Face the voters with your real past & answer questions about your criminal history. Let the voters decide," Zimmerman wrote in a tweet. While Zimmerman did invite Santos to run in a special election, a spokesperson clarified to City & State that Zimmerman's focus is "holding Santos accountable" for now. On Saturday, Zimmerman joined a press conference outside of Santos' district office calling on House Republican Leader Kevin McCarthy to launch a House Ethics Committee investigation into Santos' misconduct.
Even though Zimmerman won a competitive open Democratic primary in 2022, he may have a harder time winning over the Democratic establishment to run again. He was roundly criticized for not publicizing more about Santos' lies and more before the election. Team Zimmerman claims they were ringing the alarm, but they didn't seem to know about some of the most damning evidence against Santos, leading one Democratic consultant to call the campaign "a national laughingstock."
Tom Suozzi
All eyes are on former Rep. Tom Suozzi, who represented the 3rd congressional district for six years and even beat Santos once before, in the 2020 general election. While Suozzi has not made any public indication of his interest in taking over his old seat, and declined comment to City & State,, the former congress member wrote an impassioned op-ed in the New York Times referring to his successor as a "con man" now representing his district. "If we are going to subdue the tyranny of unchecked liars and their lies, then Mr. Santos must be held accountable: He must be removed by Congress or by prosecutors, because there is no indication that he will be moved by conscience to voluntarily resign," Suozzi wrote. 
Daniel Rosenthal
The Assembly member in eastern Queens has been encouraged to run by power brokers like Met Council CEO David Greenfield, and is considering it. While Rosenthal isn't speaking publicly about it, he's got eager backers like Tusk Strategies CEO Chris Coffey. "Dan would be a phenomenal candidate. He's in touch with the future of the party on Long Island. He knows how to campaign well … he has an intuitive feel for the electorate," Coffey said. Rosenthal doesn't live in the district, but a portion of his Assembly district overlaps the 3rd. 
Jon Kaiman
Jon Kaiman, who is Deputy Suffolk county executive,  got second place in the Democratic primary for the seat in 2022. In a statement to City & State, Kaiman confirmed his interest in running again. "I remain interested in running for Congress in the 3rd Congressional District and have expressed as much to Jay Jacobs directly. I have also reached out to Hakeem Jeffries' office," Kaiman wrote in a text to City & State. The former North Hempstead Town Supervisor also affirmed his interest in exploring local options for continued public service. "In today's fractured polity, meeting the issue of the day at the ground level through public service might be where I can do the most good and have the greatest impact," Kaiman wrote.
Melanie D'Arrigo
Melanie D'Arrigo ran as a progressive insurgent in the Democratic primary for the 3rd Congressional District in both 2022 and 2020. In an interview with City & State, D'Arrigo said that her main priority was ensuring the residents of the district knew their options through organizing. "I'm an organizer. I'm going to continue organizing and getting this district ready to not only defeat Santos, but hopefully prevent the next George Santos wherever that type of candidate may pop up," D'Arrigo said. When asked about her political plans, D"Arrigo said she hasn't thought about whether or not she'd be interested in joining a race for the congressional district yet.
Joshua Lafazan
Joshua Lafazan placed third in the Democratic primary in last year's election and has been publicly critical of Santos. As reported by CBS News, the Nassau County legislator protested outside Santos' vacant district office last week. "Of everything deceitful that he did, the worst thing that he is doing is not show up to do the job that you lied to get," Lafazan told reporters. In a statement to City & State, Lafazan said his focus was serving his role as Nassau County Legislator. "I fully intend on serving my term and running for re-election in this position. That is the only election I am thinking about," Lafazan wrote.
Reema Rasool
Reema Rasool got a distant fifth place in the 2022 Democratic primary in June. While Rasool said she would like to run for political office again, she notes Zimmerman's primary win with 36% of votes puts him in the best position to be the democratic candidate for the district again. "The people of NY-3 chose who they wanted. In a very grand fashion, they chose Robert Zimmerman," Rasool said. Along with Zimmerman, Rasool wants to hold Santos accountable and has been rallying for an investigation in front of the Congress member's district office.
The Republicans
Democrats are eager to put the embarrassment of losing to Santos behind them and have been talking a lot more. But the Republican Party will be trying to hold on to the seat as well, and some of the names raised among insiders include state Sen. Jack Martins, Nassau County Comptroller Elaine Phillips and former Assembly Member Mike LiPetri.
There has also been speculation about Nassau County Executive Bruce Blakeman running to represent the congressional district, but the Republican told City & State he had no interest. "I am definitely not interested in running for Congress," Blakeman said. "There are probably a long line of very qualified candidates and it's up to the county chair to make a decision on what direction the Republican committee would want to take." The Nassau County Republican Party, which will have the biggest role in anointing a candidate, will likely keep its cards close to the vest, said a Republican consultant who's worked in the county. "They probably have someone they're thinking about, but they're not going to tell anyone."
Sure enough, a spokesperson for the Nassau GOP told City & State that "It's premature to have the discussion because the vacancy does not exist."
Correction: This article has been updated to reflect that while Zimmerman spoke at a press conference calling for a House investigation into Santos, he did not host it.
Powered By
NEXT STORY: Nassau Republicans call on George Santos to resign