MTA
Bronx to state leaders: Fix the MTA
As borough officials rallied in support of free buses, MTA officials warned of the agency's dire fiscal circumstances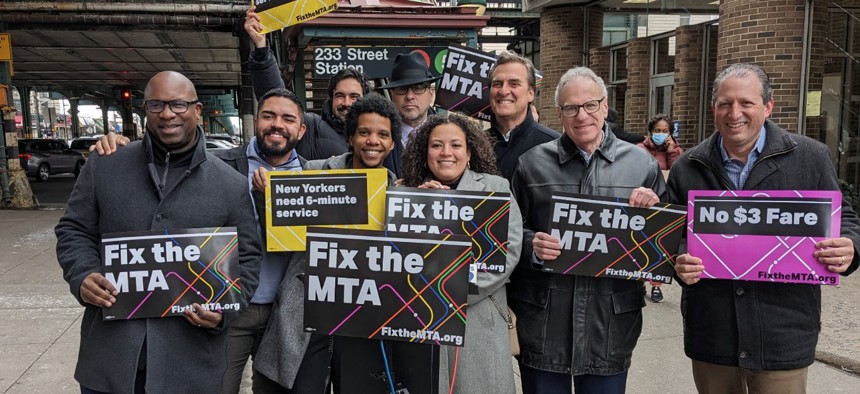 State lawmakers took their Fix the MTA campaign to the Bronx on Friday as Metropolitan Transportation Authority officials rang the warning bells over what will happen if they don't get the cash they need in the next state budget.
Headed by Assembly Member Zohran Mamdani and state Sen. Michael Gianaris, the Fix the MTA campaign consists of a package of bills that would freeze fares, phase out fares completely on New York City buses and institute six-minute service on subways. They've proposed raising taxes on the state's wealthiest residents to pay for it. In the Bronx on Friday, they were joined by several other lawmakers from the borough notorious for its transit deserts. "I was constantly waiting far too long to get my butt on a train and get my butt to work," Rep. Jamaal Bowman said at the rally, speaking about his time as a school principal.
Improved bus services was also a priority for Bronx lawmakers there. "If you live in the Bronx, yeah, maybe you take the train," Assembly Member Jeffrey Dinowitz said. "But not all roads lead to Manhattan. If you're going from Riverdale to Co-Op City, you're not taking a train." Under the proposal, free bus service would start in the Bronx before expanding out to the other boroughs.
What's more, the MTA's plans to bring Metro-North service to Penn Station, and in the process build four new stations in the Bronx, is facing new delays of at least six to eight months, further putting on hold critical new transit investments in the borough.
But the plan from lawmakers and transit advocates is vastly different from what Gov. Kathy Hochul has proposed in her executive budget. A hike in the payroll mobility tax, an extra $500 million in cash from New York City, a $300 million one-time boost would fund a $1.3 billion bailout for the beleaguered agency. That would close the current $600 million budget gap the MTA already has, and help address outyear gaps officials predicted to get into the billions as soon as next year.
MTA Chair Janno Lieber has expressed support for the governor's plan and warned about what would happen if lawmakers reject it. "If we don't get out of Albany what we need, very quickly we have to start moving on the fronts we don't want to," Lieber said on Thursday. "Major fare hikes, major service cuts, and layoffs." Fares were already expected to rise to about $3, something that would remain true under Hochul's plan, but Lieber said that things could get worse. He testified before the state Legislature earlier this month that it would take another $350 million annually on top of everything the governor has already proposed to avoid that fare hike. 
Hochul's plan has not come without opposition, both from supporters of the Fix the MTA campaign and from suburban lawmakers. Transit advocates say that new fare hikes are unacceptable while New York City officials pushed back against the prospect of dishing out even more cash than they already do for the MTA. And in the suburbs, state lawmakers have demanded that the governor exclude the Hudson Valley and Long Island from the proposed payroll mobility tax hikes.