Heard Around Town
City Council Members facing harassment and intimidation for drag story hour support
Anti-LGBTQ protests have been happening with regularity across New York City.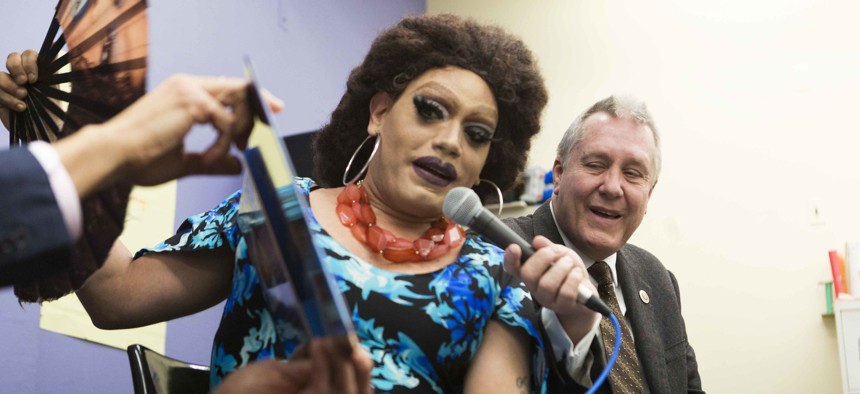 Protests against drag story hours – and the New York City Council members who support them – have been happening with regularity, and not every incident gets press coverage. "They've come to my district 11 times in the last six months," Council Member Shekar Krishnan said of the anti-LGBTQ activists. "Four times at my district office, twice at my house, four times at the library, and another LGBT event that we had, too." 
Krishnan and Council Members Crystal Hudson and Erik Bottcher got together at City Hall Thursday to talk about being targeted by far right hate groups, including the Proud Boys. Hudson, who like Bottcher, is gay, said it wasn't protesting, but "harassment and intimidation" for supporting and funding the popular programs where drag artists read to children. "It was ringing my neighbor's bell saying 'is she in there, bring her out,' screaming all sorts of things for hours." Two people were arrested in December after trespassing into Bottcher's building and tagging his home with homophobic graffiti.
The politicians called on the NYPD, which usually monitors the protests outside drag story hour events, to take the situation more seriously. "These are individuals that have a documented history of engaging with extreme violence and white supremacy. And they can't be escorted out with a free pass on the subway," Krishnan said, referring to a viral video of officers escorting far right protesters into a train station without having them pay the fare. The department said the decision was made to get them away from an escalating situation. Drag events often also draw counter protesters hoping to drown out any hate speech. 
Crafting a legislative response is difficult to do without infringing on free speech rights, but Krishnan expected the events to get even more funding in the budget this year. "Every time this hate group shows up, there are even more Council members that say, 'We want to support drag story hour next budget,'" he said. "We're going to make sure to do so."
Of course, not all their colleagues are on board. Republican Council Member Vickie Paladino was widely criticized for calling the events "grooming" and "degeneracy" last June. She doubled down and refused to apologize. Krishnan, Hudson and Bottcher all said that the Queens Republican had not personally talked to them about the story hours or the protests at their homes.
Paladino sent a statement to City & State: "Political vandalism and threats are unfortunately something we all face as elected officials, and it's always unacceptable. Last summer (after her comments attacking drag story hour) I had NYPD parked in front of my office for weeks at a time due to threats. But my position on Drag Queen Story Hour is unchanged – it is a deeply harmful program which has no place in our schools, and I will continue to oppose it in the strongest possible terms."