Heard Around Town
Eric Adams recalls his past, under surveillance by the NYPD
The mayor who has, at times, shown support for civil liberties, appointed attorney Muhammad Faridi to an NYPD oversight role.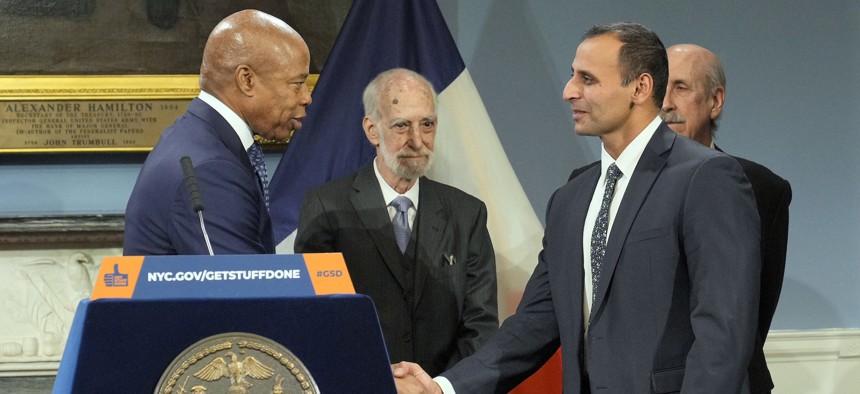 Appointing a member to a board overseeing NYPD surveillance Tuesday, New York City Mayor Eric Adams took a minute to burnish his own credentials: He was once under police surveillance himself. 
Adams was the rabble rousing founder of 100 Blacks in Law Enforcement Who Care when a deputy chief admitted under oath that the department had been investigating Adams in 1998 and 1999, staking out locations, tailing allies and reviewing phone records.
Adams created the group as a forum for Black officers outside the department's official structures. And in its investigations, the NYPD was looking into Adams' association with Black nationalist Omowale Clay, who had been convicted on weapons charges in 1985. The two attended the same protest, and Adams gave him a ride home, the then-candidate explained to The City in 2021. The department was also looking into an allegation that members of 100 Blacks harassed another Black officer. 
Nothing came of the investigations, but Adams was pissed, and accused the department of trying to chill his activism. "'It is confusing to find out that there is an 11-month period of your life that was no longer yours. It was shared by an unwelcome guest," he told the Times in 2000. 
Adams sued, and the case featured prominently in an incredible time capsule in the form of a 2001 Village Voice profile: "Eric Adams for Police Commissioner." Sample quote: "the bald-headed Adams is sometimes referred to as 'the laughing policeman' because of his ebullient giggle."
But a federal judge shot down Adams' case in 2003, saying he made "baseless" claims, like that the department tapped his phone. He appealed later that year, and a higher court affirmed the decision. 
Twenty years later, Adams announced that lawyer Muhammad Faridi would be his civilian appointee to the Handschu Committee, which was formed in 2017 to help regulate the NYPD's policies and practices on investigations of political activity. Faridi, a commercial litigator, is the first Muslim to serve on the committee. The New York Civil Liberties Union, in a rare point of agreement with Adams, praised the decision.
More recently, the NYCLU has been critical of the mayor for his commitment to involuntarily hospitalizing the severely mentally ill, and his desire to "reassess" the right to shelter as it applies to recent migrants. But decades ago, Adams was standing with the NYCLU to sue the NYPD for jailing protesters, pressuring the Civilian Complaint Review Board to dole out punishments and filing an amicus brief to support Muslims suing to stop NYPD surveillance. The mayor has often selectively highlighted his own complicated history with the police to suit the moment. He was beaten by cops as a kid, became a cop himself and served for two decades, helping to implement CompStat while criticizing the department's racism. He crusaded against the abuse of stop and frisk, but proudly defends its use as a policing tool. Tuesday, Adams was focused on his support for civil liberties.  
"We have a mayor that's not going to allow us to violate what Handschu stands for," Adams said, referring to the 1985 consent decree the committee was born from. "I don't know how, all of a sudden, my historical advocacy around that has been rewritten. I have been a leading voice in this city and country about protecting the rights of people."