Police officer mayor's first day on the job
Eric Adams' New Year's Day was all about crime and policing.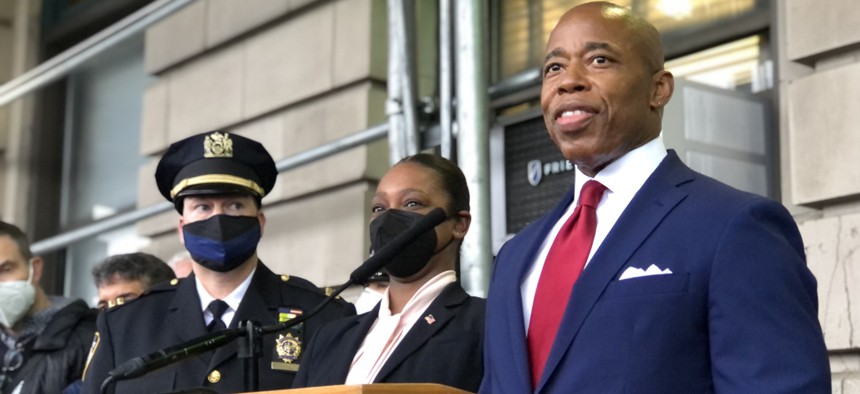 New York City Mayor Eric Adams started his first day of work by calling 9-1-1 to report an assault in progress he was seeing from the subway platform. Once a cop, always a cop.
And the mayor ended his public schedule for the day talking about releasing the trauma that police officers caused him. Adams took questions outside an NYPD precinct in Jamaica, Queens – the same one that he was brought to as a teenager after being arrested for criminal trespass. There, he says in the oft-told story, cops beat him until he peed blood. When he grew up, Adams became a police officer himself, working for 22 years before starting his political career. 
"I finally leave the demon right here on these streets. No longer living the trauma I experienced in this precinct," Adams said. "I'm back as the mayor, in charge of the entire police department."
Therein lies the complexity of New York's cop-turned mayor, who defies simple generalities around the hot-button topics of crime and policing. He wore that bullet-proof vest, he'll be the first to tell you, but he was also an outspoken critic of racism in the department. Now he'll please the tough-on-crime crowd by talking constantly of public safety, but his solutions sound like fewer arrests and more social services. He shuns the term "defund the police," while showing an openness to reducing the police budget to combat wasteful spending. Time will tell what approach Adams takes to public safety, but one thing was clear Saturday: crime and policing defined the cop mayor's first day on the job. 
Adams called the police while waiting for the J train at the Kosciuszko stop in Brooklyn. It was in the midst of his commute-as-P.R., drawing a not-so-accidental contrast between himself and former Mayor Bill de Blasio, who rarely took the subway. But while waiting on the elevated platform and chatting with reporters (and an Amazon union booster, who Adams promised to meet with at City Hall) the mayor noticed men fighting on the street below and called it in to the police on his cell phone. By the time officers arrived minutes later, the fighting men, who apparently all knew each other, had gotten into a car. When a police car showed up, the New York Post reported, it drove past without stopping.
Adams had walked to the subway from the townhouse he owns in Bedford-Stuyvesant without a police detail, explaining to reporters that he wanted a softer touch than previous mayors, a "non-traditional" detail and never an "over-the-top type presence." It's a theme he's discussed before, like when he said he'd decline a security detail and would carry a gun himself. Asked Saturday, Adams said he was not carrying a gun. And when he walked along Jamaica Ave. later in the afternoon, greeting New Yorkers and dropping in storefronts, it looked like a return to mayoral form. A security detail followed him at a distance, and two large, Black SUVs trailed behind.
But earlier in the day, Adams had only journalists and a few aides with him, as he rode the J train to City Hall. Reporters on the train said that an apparently drunk man was ranting, and trying to talk to Adams. At a stop, the group switched subways cars – to find an apparently mentally ill man addressing the train car, while another man was sprawled out sleeping on the seats. "We're seeing another person with a problem," Adams said. "So that tells me we don't have an on-the-ground outreach of going out and finding people who need help." The Bowery Residents' Committee has a contract with the city for homeless outreach in subway stations, though the organization has been criticized for financial waste and poor performance. BRC did not respond to a request for comment Saturday. But Adams endorsed that exact kind of outreach in an interview with reporters on the train, saying that in his administration, mental health professionals are going to do "midnight tours." They're going to "partner with police officers," but he discouraged arrests. "How do we give people the services they need before they do something that is criminal in nature or violent in nature? If the police is engaged," he said, we already lost the battle."
After the subway ride, the new mayor walked through the gates surrounding New York City Hall at 8:31 a.m. – just a minute after his public schedule said he'd show up. After a short press gaggle, he made it through the doors at 8:34 a.m. It was a Saturday, and New Year's Day – a national holiday in its own right, but Adams wanted to send a message. "New Yorkers should get their money's worth," said the famously sleep-averse mayor, who took the oath of office in Times Square just after midnight that same morning. "I'm going to put in long hours. No one in the city is going to outwork me."
So Adams kicked off a cabinet meeting at City Hall, flanked by First Deputy Mayor Lorraine Grillo and Chief of Staff Frank Carone. Some 33 staff members joined on New Year's Day for the roughly two hour meeting. Some who were in attendance told City & State that the COVID-19 pandemic was the main focus. 
Then, his first address as mayor was a speech heavy on the poetry – "we are a city of nine million dreams, and we are about to wake up" – as well as the practiced quips from the campaign trail – "if I can borrow from the great owners of Snapple soft drinks – we're going to win, because we're made of the best stuff on earth." COVID was the overarching focus, but public safety made an appearance, saying "dysfunctional" government was to blame for "crime-ridden communities" as well as "economic inequality" and "racial injustice."
Are communities crime-ridden? According to crime stats compiled by the NYPD, New York City saw a 6% increase in major crimes in 2021, compared to the year before. While crime is still near historically low levels, 2021 had the most crimes reported in any year since 2015. And some categories of crime saw more notable increases. New York City's nearly 500 murders was the highest recorded total since 2011, mirroring a nationwide spike in the murder rate last year. And there were 1,857 shooting victims reported in 2021 – more than any year since 2006. 
So Adams went to visit one of those victims, rushing from City Hall to an Upper East Side hospital where a police officer was recovering after apparently being shot in the head while sleeping in his car outside the precinct in East Harlem. Details were scarce – officials said it seemed more like an errant bullet than a targeted shooting – but this was gun violence nonetheless. "We must find those who believe they are going to destroy our city with gun and gang violence," Adams said at a press conference, flanked by NYPD Commissioner Keechant Sewell and other police officials. "I am clear on my mission to aggressively go after those who are carrying violent weapons in our city." 
From there, Adams was driven out to Queens, to the 103rd Precinct, near the South Jamaica neighborhood where he grew up. Adams, once an officer himself, addressed the cops at roll call before their shifts began, then camef i outside to address the press. The police will know that "we have their backs," Adams said. "We will give them the tools and the support that they need. But we are also going to hold them to a high standard. We are not allowing abusive officers to remain among our ranks." 
It's a balance that every mayor tries to strike. And one that most critics would say de Blasio failed to find. So maybe Adams was in denial when City & State asked if policing was his main focus for the day. "Would you say once a cop, always a cop?"
 "This was not a police-focused day," Adams responded, saying that COVID was front and center. But the cop-turned mayor couldn't escape it if he tried. The next three questions from the press were about policing, and he answered them gamely.