Politics
NYCHA tells state legislators what their districts owe in rent
The public housing authority is hoping to get funding for rent that hasn't been paid during the pandemic.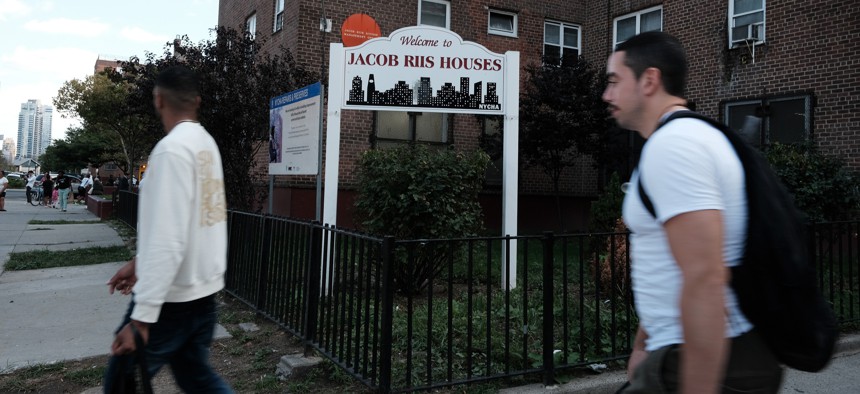 The New York City Housing Authority says it's short $447 million on rent. And unlike private landlords, the public housing authority didn't get emergency funds to cover tenants who couldn't pay during the pandemic. 
So now NYCHA is sending personalized letters to each state legislator from New York City listing how much public housing tenants in their districts haven't paid in rent. And the authority is asking for $330 million in funding from the Emergency Rental Assistance Program to cover the unpaid rent that has accrued since the beginning of the COVID-19 pandemic.
In the letters, New York City Housing Authority interim CEO Lisa Bova-Hiatt is framing that money as an equity issue, so that "public housing residents will be able to receive the same assistance that was afforded to other New Yorkers."
NYCHA shared the rent calculations by district exclusively with City & State. Assembly Member Eddie Gibbs' District 68 in East Harlem has the most so-called rent delinquents, with 6,519 households owing a total of nearly $40 million – an average bill of $6,070 each. Assembly Member Stacey Pheffer Amato's District 23 around Jamaica Bay in Queens has just one tenant that owes money, $3,446. On the state Senate side, NYCHA said residents of state Sen. José M. Serrano's District 29 had the most unpaid rent, totaling more than $70 million across 11,084 tenants. Serrano's district overlaps with Gibbs' in East Harlem, and also includes much of the South Bronx.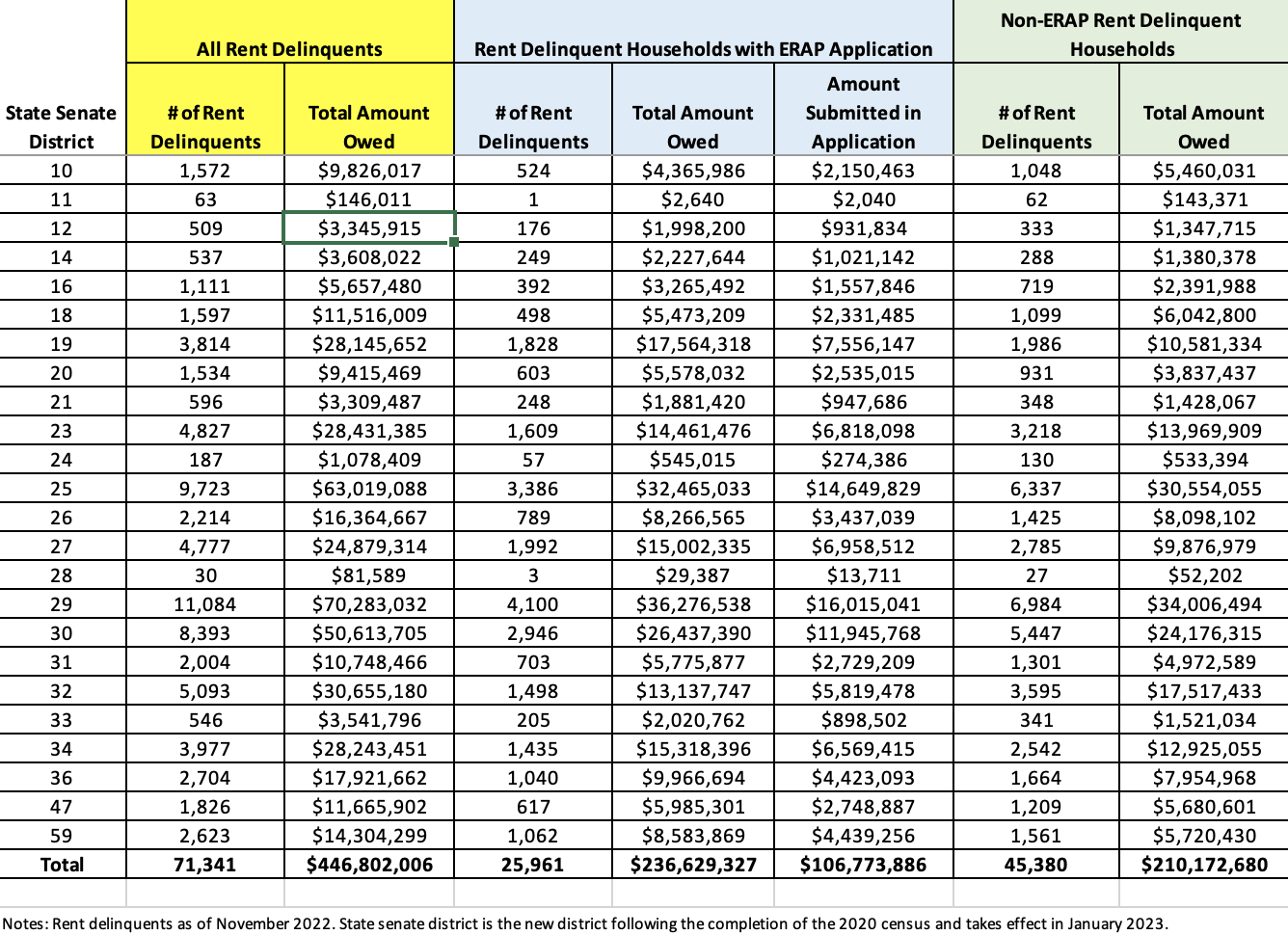 Above, NYCHA rent owed per state Senate district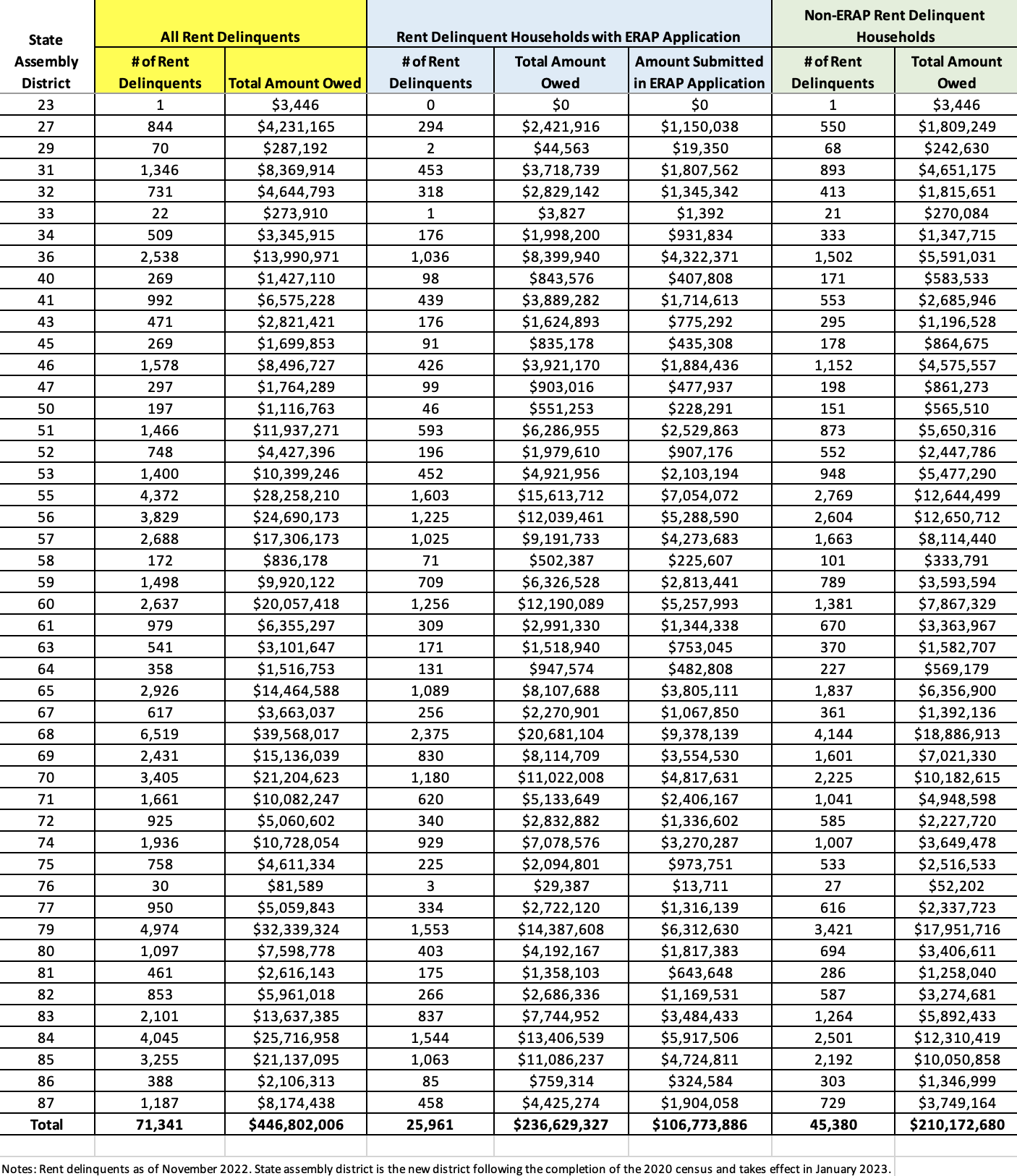 Above, NYCHA rent owed per Assembly district
Rent for NYCHA tenants is generally set at 30% of household income. And they're on the hook for what they don't pay. About one-third of the 71,341 total households that owe some unpaid rent have submitted applications through the Emergency Rental Assistance Program to get public funds. But since the law prioritizes private tenants, they're not expected to get paid out.
Bova-Hiatt's letter doesn't mention the possibility of eviction, but the personalized totals could be read as a warning that their constituents are in trouble. People who applied for rent assistance are legally barred from eviction, but there are still more than 45,000 NYCHA households with some unpaid that are vulnerable. To be clear, NYCHA is not making a move toward mass evictions – that doesn't make sense from a political or policy perspective, and some housing analysts like Iziah Thompson of the Community Service Society of New York have credited the authority with being "very good about not trying to evict people affected by the pandemic."
NYCHA's rent collection was devastated by the COVID-19 pandemic. While it had about $125 million in rent arrears before that pandemic, that total has nearly quadrupled. NYCHA said it collected a record low 65% of rent in the 12 months before December. And the longer that stays low, the murkier the future looks for tenants who owe money. But for now, housing leaders seemed to be focusing on appealing to the state for aid. "Our goal is (to) house people, so it's really not in our prerogative to try and evict everyone," NYCHA CFO Annika Lescott-Martinez said in December, as City Limits reported, "but we really do need the revenue."
Thompson agreed with NYCHA's call, that lawmakers needed to step up. "Our state Legislature put us in this situation to a degree," he said. "Massachusetts and Maryland prioritized public housing residents. Our legislators chose to deprioritize the families most in need, the families most affected by inflation."
A bill that would have directed emergency rental assistance to public housing residents passed the state Senate last year, but not the Assembly. Assembly Member Linda Rosenthal cosponsored that bill, and credited NYCHA for the targeted campaign. 
"I think it's smart! It's smart on their part," said Rosenthal, who is now the Housing Committee chair. "People want to know what the situation is in their districts, in their developments. This is a more proactive way of getting the message out."
But NYCHA may not get the funding it wants – an all too common refrain across the years. Emergency funding for public housing tenants went unmentioned in Gov. Kathy Hochul's executive budget. A spokesperson for the governor told The City in December that the office remained "in ongoing communication" about the issue, but neither the governor nor legislative leaders made any commitment to find funding.