Heard Around Town
NYC to work with private funders to serve migrants
City Council Speaker Adrienne Adams said she's teaming up with private philanthropy to cover expenses on legal services, food and more.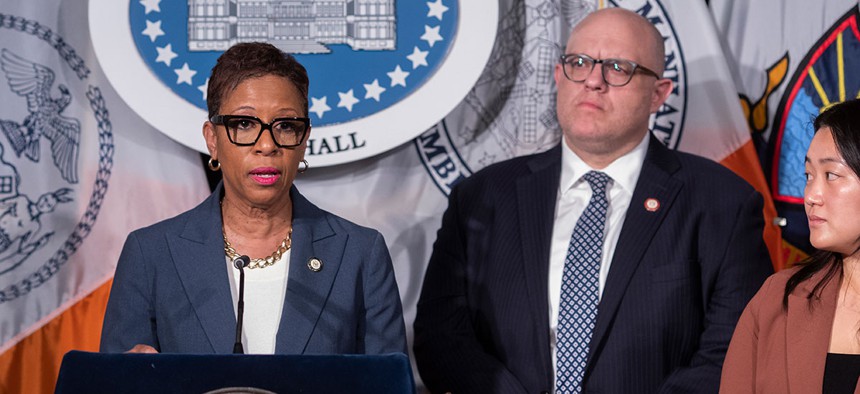 The New York City Council and several private philanthropic foundations unveiled a $2.2 million dollar initiative called "Welcome NYC" Wednesday afternoon to fund organizations currently providing migrants and other communities with legal services, workforce development training, literacy programming, youth services, food assistance and faith-based services. 
For eight months, many New York City charities, nonprofits and other local organizations have been united in helping thousands of asylum-seekers carve out a new home and navigate city life. Volunteers have rolled out a breadth of resources, providing new arrivals with fresh food, metro cards, legal services, clothing, housing and much more.
"From the very beginning our local nonprofits and community-based organizations have shouldered the heroic work of supporting migrants," New York City Council Speaker Adrienne Adams said. "To me, it was reminiscent of the start of the pandemic when so many of the city's community based organizations were on the ground, providing lifesaving support to our neighbors – often without any additional resources."
Over 47,000 immigrants seeking asylum have arrived in New York City since spring. The council is allocating $1.2 million to the initiative by diverting funding left over in this year's fiscal budget – a "finite opportunity" that members hope to sustain for as long as possible, according to Adams. While that's more than half of the $2.2 million sum, it's a small slice of the City Council's multibillion fiscal year 2023 budget. Still, that budget was signed in June – long before most city leaders realized just how many migrants would be arriving in the months to come. Since then, the body has helped steer the city's response, although New York City Mayor Eric Adams has criticized members for not doing enough to advocate for state and federal support. In December, he also asked the City Council to voluntarily give up some of its discretionary funding to help the cause.
"As the mayor said months ago, it will take all levels of government to solve this crisis, that we expect will cost the city $4.2 billion over this fiscal year and the next. We appreciate the council's announcement putting $1.2 million in funding toward this," a City Hall spokesperson said in a statement. 
Some of the participating philanthropic foundations include the Robin Hood Foundation, New York Community Trust, Bronx Community Foundation, New York Women's Foundation and Brooklyn Community Foundation.
Community organization leaders present at Wednesday's press conference thanked the council for supporting their work.
"Many of the folks who've arrived in New York City come with nothing or very little other than the clothes on their backs and traveling thousands of miles by foot and leaving behind dangers and hardships in their home countries," said Murad Awawdeh, executive director of the New York Immigration Coalition. "Building a new life in a new country is incredibly hard."
Update: This post has been updated with comment from the mayor's office.
Powered By
NEXT STORY: Anthony Cannataro gives State of the Judiciary in front of Hector LaSalle