Heard Around Town
Dems target GOP Rep. Anthony D'Esposito on Medicare, Social Security
The Long Island member says he'll fight for the programs, but an internal poll suggests the critical messaging may be working.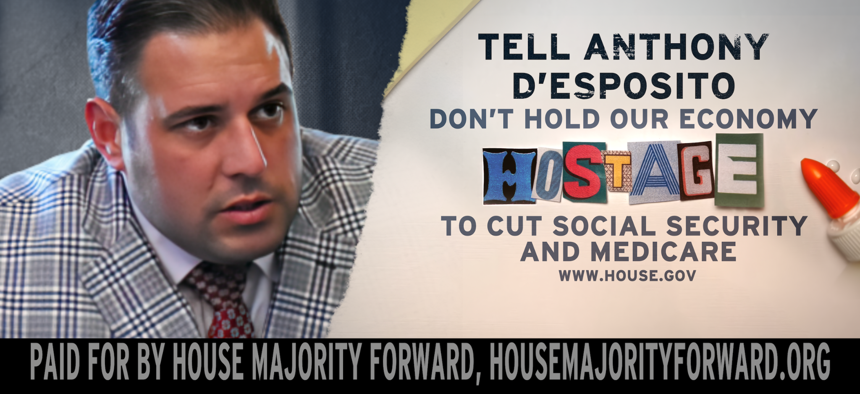 A nonprofit political arm of the House Democratic caucus is attacking first year Republican Rep. Anthony D'Esposito for his party's policies on Social Security and Medicaid – and it may be working. House Majority Forward exclusively told City & State that internal polling showed his overall approval rating in the 4th Congressional District on Long Island went from +15 in February to -3 April, and the numbers were even worse when asked specifically about the economy, Medicare and Social Security.
Take it with a grain of salt, or more – it's a partisan group. But it's notable that House Dems and their allies are already slamming New York's swing seat freshmen – including Reps. Nick LaLota, George Santos, Mike Lawler, Marc Molinaro and Brandon Williams. In this case, HMF says they spent six figures on a digital ad and billboard campaign telling D'Esposito "don't hold our economy hostage to cut Social Security and Medicare."
The member knows it's a pain point, as the first Republican to hold the seat since 1996. D'Esposito promises to "always fight to FULLY FUND Social Security, Medicare and Medicaid and NEVER support cuts to these vital programs," in a pinned tweet on his congressional account, and he's got a page about it on his campaign website too. But House Democrats argue it doesn't matter what an individual member says if the Republican majority can be forced to answer to a few members who do want to cut entitlement programs, or at least raise the age of eligibility.  
HMF isn't the only Democrat aligned to start going after D'Esposito, 18 months before the next election in November 2024. The Working Families Party fundraised off the fact that D'Esposito planned to attend Florida Gov. Ron DeSantis' April speech on Long Island and EMILYs List put him "on notice," targeting him for anti-abortion votes.
An HMF spokesperson said the 577 voters in the congressional district were polled by the firm Public Policy Polling, half by landline and half by text. They say 34% approved of D'Esposito's job performance in April, and 19% disapproved. But in April, just 27% approved and 30% disapproved. Asked this month if they approved of the job he was doing when it comes to Social Security and Medicare, just 24% approved and 32% disapproved.