Heard Around Town
Home care workers target Adrienne Adams
The council has not moved on a bill that would ban 24-hour work days, amid oppositions from New Yorkers with disabilities and 1199 SEIU.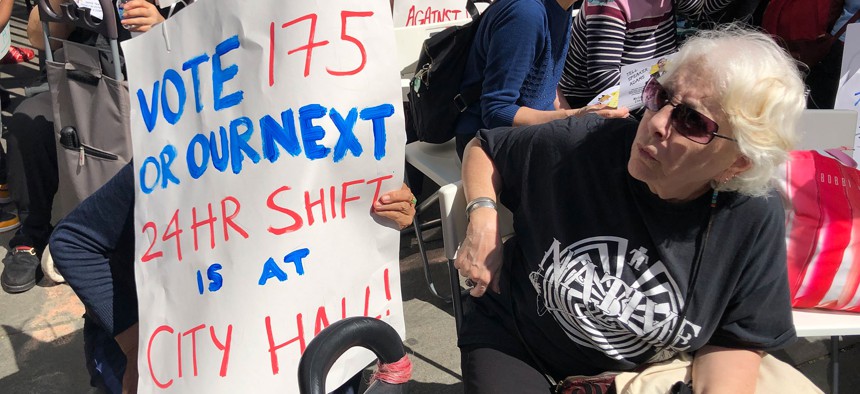 Supporters of home care workers threatened to bring the fight to New York City Council Speaker Adrienne Adams' house at a rally outside City Hall Wednesday, escalating their workers rights campaign that has taken special aim at the leader of the council. More than a hundred people called on Adams to pass a bill that would end 24-hour shifts and limit home health aides' work days to 12 hours. "Speaker Adams, we don't want to be out here again because the next time is going to be in front of your house," said Amazon Labor Union President Chris Smalls, a supporter of the effort. 
The "Ain't I A Woman" campaign organized the trilingual rally, with many Spanish and Chinese speaking workers in attendance. The campaign has recently targeted Adams in a way that she has largely avoided as speaker, since she has often been more understanding to progressive advocates, playing the foil to the more stubborn Mayor Eric Adams. But the campaign has taken an aggressive stance before, targeting City Council Member Sandra Ung and 2021 council candidate Jenny Low. 
Int. 175-2022 has 16 sponsors, mostly from the Progressive Caucus, but only Council Member Chris Marte, who has not been afraid to openly disagree with Speaker Adams, appeared at the rally. It reportedly had as many as 29 sponsors at one point, before the council held a public hearing in September, where disabled New Yorkers and the powerful union 1199 SEIU expressed opposition to the specifics of the bill. 
"This specific bill had one hearing and is going through the Council's legislative process," a spokesperson for Speaker Adams said as part of a longer statement shared with City & State. "New Yorkers with disabilities, among other important stakeholders in our city, have raised significant concerns about this bill that need to be resolved. The speaker and this council have also prioritized efforts that support people with disabilities, and have no interest in pitting groups against one another. The expectation for this bill, like any other, is for the sponsoring council member to both advocate and to engage all stakeholders in good faith discussions toward a resolution."