Heard Around Town
So, which bus routes should be free?
Levine and Richards give up their picks for Hochul's fare-free bus pilot program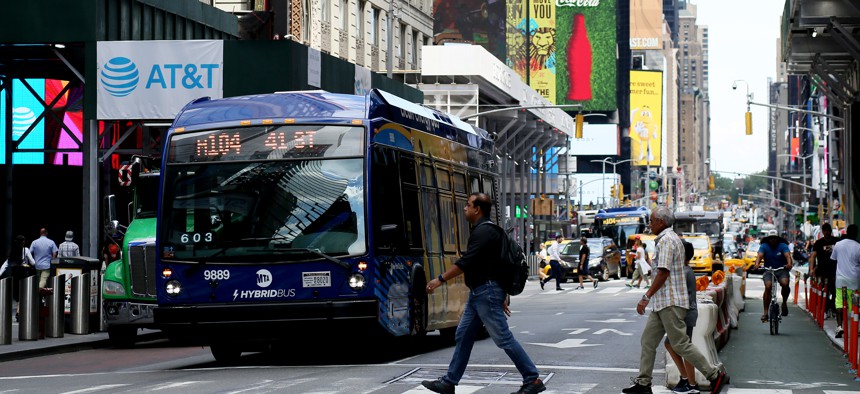 There's going to be one free bus route in each of New York City's five boroughs – and some borough presidents are already weighing in on which line it should be. 
"Hard to choose!" Manhattan Borough President Mark Levine told City & State Thursday night. "But I am going to say M101 because it connects all the neighborhoods uptown, and goes all the way down to St. Marks Pl."
Gov. Kathy Hochul announced last night a two-year pilot program for fare-free city buses will be funded in the state budget. The deal is chock full of policies and programs, some of them highly technical like Medicaid reimbursement rates. But free buses is likely to break into the mainstream discourse, as it has in cities like Boston, which has three free routes. 
"It's easy to digest," said Queens Borough President Donovan Richards. He didn't have a specific line, but he knows how the Metropolitan Transportation Authority should choose it – "a place that's reflective of some of the highest number of summons and arrests for fare evasion." Overall, he thinks it's a "forward thinking proposal" that responds to both the cost of living, and overpolicing. 
Other route ideas came from Assembly Member Zohran Mamdani, a lead booster of free buses, who shared a TikTok Thursday with Assembly Members Emily Gallagher advocating for the B62, John Zaccaro Jr. for the BX12 and Jessica González-Rojas for the Q66, among others.
Don't expect a universally positive response to the pilot, though. Just as fare evasion gets people debating, so does free fares, with some saying the focus should be on paying for better, more frequent service more than further subsidizing riders with current service levels.