Campaign Confidential
Inez Dickens has moved to evict a tenant while running for office
The Assembly member said the tenant hasn't paid rent in years, but she has been criticized as a "slumlord" before.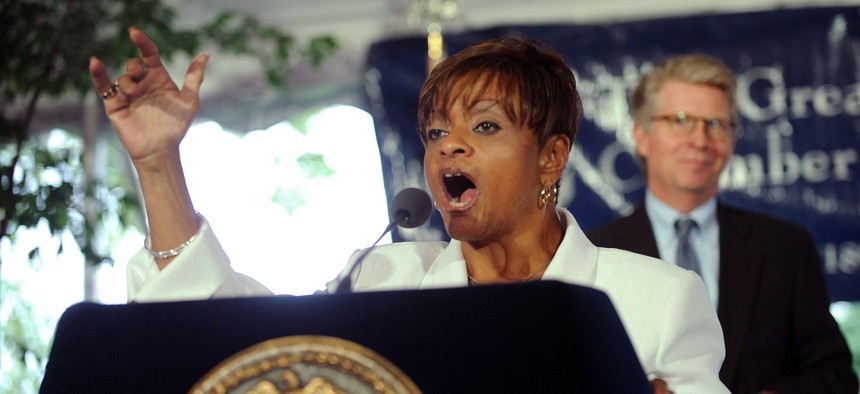 This story is from the Campaign Confidential newsletter, relaunched for 2023. Want it in your inbox? Sign up here. And check out the whole email here.
Assembly Member Inez Dickens is trying to evict a tenant at the same time she's asking Democratic voters in Harlem to get her back into the New York City Council. Dickens is the president of 1389 Construction Corp., which sued Albert Anderson in January, claiming he hasn't paid rent since June 2018 for his apartment on the famed Strivers' Row at West 139th Street and Adam Clayton Powell Jr. Boulevard. The parties are due in Manhattan Housing Court on June 5, just three weeks before primary day – where Anderson is eligible to vote, as a registered Democrat in District 9.
The Dickens campaign said after years of nonpayment, Dickens' company applied for Emergency Rental Assistance Program money on his behalf in 2021 – but that only covered $11,250 of the total, and Anderson still owes $41,850. Anderson didn't respond to phone calls from City & State, but he disagreed with his landlord's claims in a February court filing, arguing among other things that the $750 a month charged isn't the legal rent, and that Dickens actually owes him money.
"Out of the 34 tenants that Inez has, Mr. Anderson is the only one experiencing this issue," said Dickens campaign spokesperson Sofia Quintanar, adding that almost all of Dickens' units are rent stabilized, "and she does not make a profit off of them. She provides well maintained and affordable housing for her tenants, most of whom are able to live in Manhattan for under $1,000/month."
Court documents suggest this is the only recent eviction proceeding Dickens or her company are involved in, and the 16-unit building Anderson lives in doesn't have any open housing complaints or violations. However, Dickens was criticized as a "slumlord" a decade ago for racking up nearly 200 city infractions in her buildings – conditions so bad that some tenants declared a rent strike.
Dickens has also sided with landlords like herself on some of the biggest housing issues before the legislature. She has also opposed the "good cause" eviction bill and criticized a package of tenants rights laws. 
"Whoever sent this story to the press is more concerned about landing a political hit than the sensitivities of someone who may not want their financial situation publicized," Quintanar added.