Heard Around Town
Sarah Hughes, Olympic figure skater, files to run for Congress on Long Island
Now a lawyer, she's taking aim at GOP Rep. Anthony D'Esposito in the 4th Congressional District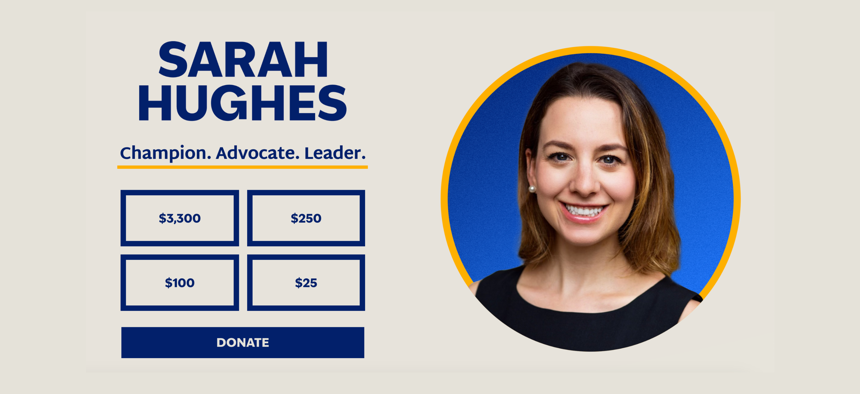 Sarah Hughes, who won an Olympic gold medal for figure skating in 2002, filed to run for Congress on Long Island today.  Hughes, a Democrat, filed for the 4th Congressional District, currently held by Republican Rep. Anthony D'Esposito. He's a first-year member in a South Shore district where President Joe Biden defeated Donald Trump by nearly 15 points, and national Democrats see it as a pickup opportunity. 
Hughes is now a lawyer, most recently working as a corporate associate at Proskauer Rose in Manhattan, according to her LinkedIn. She left last August and is now pursuing graduate degrees in both business and education at Stanford University. Hughes, 38 years old, was raised in Great Neck, a village on Long Island in the neighboring 3rd Congressional District. That seat, currently held by Republican Rep. George Santos, has seen a flurry of action this month as Democrats hope to win back the seat from the internationally notorious liar. Hughes does not seem to have any clear ties to the 4th district, but it's possible she sees a clearer path in what's likely to be a lower-profile race. Hughes' campaign didn't immediately respond to a request for comment. 
In fact, her campaign seems to be launching very quietly. Hughes' website is live with a fundraising link, but her candidacy has not yet gotten any press coverage, and she hasn't tweeted about it yet. 
And Hughes isn't the only one in the race. Laura Gillen, the former Hempstead Town Supervisor who lost to D'Esposito 52% to 48% in 2022, just announced last week she's planning to run again. Democrats Patricia Maher and Lawrence Henry have also filed to run. 
But a Long Island-based political consultant, who asked for anonymity to discuss a campaign that hasn't launched yet, said the Olympic pedigree means Hughes could be a contender. "People who are older know who Sarah Hughes is. It does give her a little cachet, and it's super interesting that (her campaign) hasn't put anything out. I'm curious to see what she's got," they said. "If she's got juice, it makes the primary a real deal."
Hughes is no stranger to New York politics. In 2011, she briefly dated Andrew Giuliani, the son of former Mayor Rudy Giuliani who himself ran for governor as a Republican in 2022. And in 2012, she was part of a development group that tried to convert the Kingsbridge Armory in the Bronx to a massive ice skating center. That particular project was finally killed in 2021, after a decade of little progress, though Hughes' LinkedIn says she left the project in 2015. 
Hughes is far from the first Olympic skater to slide into politics. Michelle Kwan, who skated with Hughes for Team USA in 2002, is currently the U.S. Ambassador to Belize.