Politics
At state Dem meeting, progressives push for tenant protections and LGBTQ+ curriculum
State Democratic leadership offered some resistance to the resolutions, arguing that the state committee should not "dictate" policy to state leaders.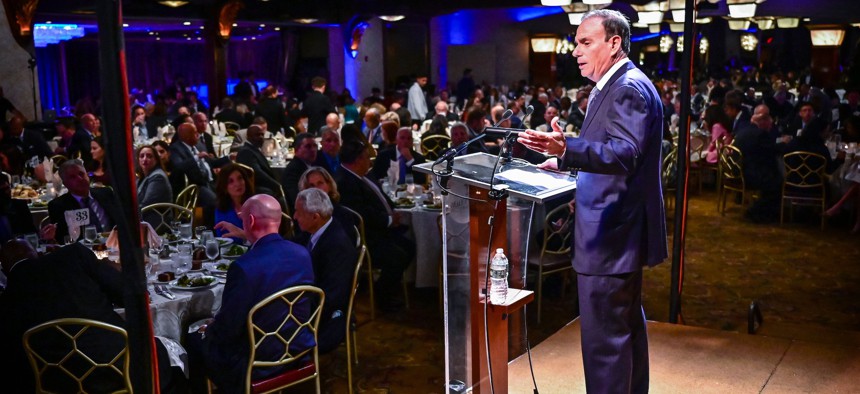 State Democratic Committee members convened in Albany for their annual spring meeting on Thursday. As discontent with Chair Jay Jacobs' leadership continued to simmer, progressive members won dual victories with resolutions calling on Gov. Kathy Hochul and legislative leaders to approve tenant protections and a bill to establish an LGBTQ+ curriculum in public schools before the end of session. 
John Scott, a state committee member from Queens, introduced the resolution related to creating a curriculum that focuses on queer issues. "What we're seeing across the country is a wave of targeted attacks on LGBTQ+ people," Scott told City & State. "And I think the battlefield that's being fought in is our public schools." 
Last year, Florida infamously enacted what has been dubbed the "Don't Say Gay" bill, which greatly limits any discussion of gender and sexuality in schools, and the law was expanded this year to apply to all students in grades K-12. Conservative lawmakers in other states have also pushed for, and in some cases succeeded in passing, anti-trans laws curtailing access to gender-affirming care for young people. And the right has begun a targeted, national campaign to win local school board seats in an effort to stop education about so-called "woke" issues including racism, Black history, gender identity and queer rights.
But Scott said these issues aren't limited to Republican-controlled states. "We've seen Proud Boys and neo-Nazis show up at Drag Story Hour in Jackson Heights, which is one of the queerest communities in the state," Scott said. "So this is huge, this is a huge victory for the queer community here in New York state." In addition to helping to ensure that kids can see themselves in their education, Scott said, the resolution established New York as a bulwark against conservative policies in other states. "The New York Democratic Party really stood up and said we are the foil, we are the counter to Ron DeSantis, we are the counter to these far-right, extremist attacks," Scott said. "And we here in New York say 'We say gay.'"
The party also adopted a resolution pushed for by the New Reformers group calling on state leaders to pass tenant protections and approve measures to increase the stock of affordable housing. A key leader in organizing that effort was Émilia Decaudin, a committee member from Queens. "It took a little bit to get here, but I'm really proud to say that we ORGANIZED to get the NYS Democratic Committee to recognize that we are in a housing crisis, that we need affordable housing, and that tenants need PROTECTIONS from unjust evictions," Decaudin tweeted during the meeting after the resolution passed.
The resolutions did not pass without some prodding, however. "Émilia kicked ASS today… and this was in the face of Jay and leadership saying we shouldn't be moving (resolutions) that are about state legislation," Erica Vladimer, a Manhattan state committee member and leading voice in the campaign to replace Jacobs as chair, wrote in a text. Assembly Member Latrice Walker, who serves as the secretary of the state Democratic Committee, in particular argued that the committee should not try to "dictate" what legislators do. 
But some longtime committee members said that the state committee has frequently addressed policy issues in the past, albeit not in recent years under the current leadership. "It's not legislating, it's not dictating," Queens state Committee Member Brian Romero told City & State. "It is simply saying if we are the arm of the party that's supposed to put boots on the ground, supposed to create strategy… we need a message. And to have a message, we need a platform." Romero, who works as Assembly Member Jessica González-Rojas' chief of staff, said that he decided to run for state committee after Gonzalez-Rojas – who was on the committee two decades ago – said that the committee often worked on policy issues."It seems like the organizing that we've been doing, the pushing of leadership and the call for our party to be bold, to take stances, to actually stand for something, is resonating with a lot of state committee members," Romero said.
Jacobs told City & State that he worked with progressives to broaden the resolutions beyond specific policy asks so that they could be passed by the committee. The resolution concerning tenant protections, for example, originally called on Hochul and legislative leaders to support "good cause" eviction, which state Democratic leadership considered too specific in terms of policy. During the meeting, Jacobs suggested an amendment that removed the specific language about "good cause" eviction, so that the resolution could pass in some form rather than being killed completely.
In a text to City & State, Decaudin said the fact the final resolution included the phrase "tenant protections" represented a "clear step past what (Hochul) has been willing to advocate for" that implicitly translates to calling for "good cause" eviction. And while she didn't deny that Jacobs shepherding a compromise allowed the resolution to pass, Decaudin said that it only made it that far to begin with because of progressives' ongoing organizing efforts within the state committee.
A resolution related to mental health was similarly broadened, but the LGBTQ+ education resolution passed as written since it did not mention a specific bill.
Update: This story has been updated to include comments from state Democratic Party Chair Jay Jacobs and Émilia Decaudin.
Powered By
NEXT STORY: Team Cuomo cheers Percoco SCOTUS decision