Politics
Team Cuomo cheers Percoco SCOTUS decision
The Supreme Court overturned a 2018 bribery conviction from then-federal prosecutor Preet Bharara.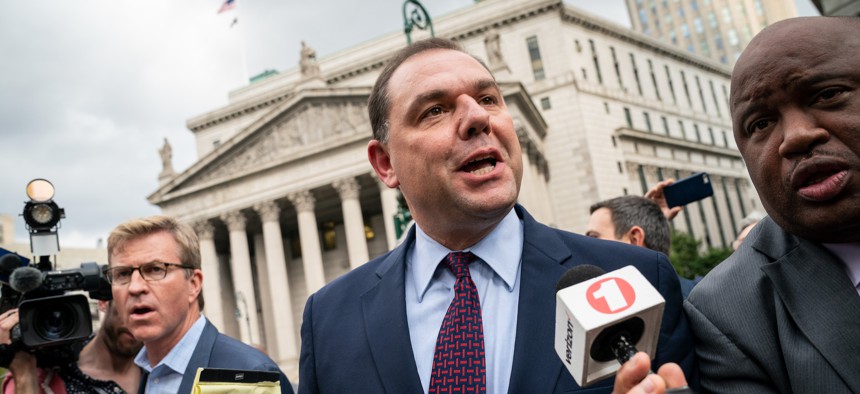 And that's the way the ziti crumbles. 
After years of trials and appeals, Joe Percoco – former Gov. Andrew Cuomo's one-time enforcer – is officially off the hook for the Buffalo Billion bid-rigging scandal that initially landed him in prison in 2019. In a unanimous decision, the U.S. Supreme Court overturned his 2018 bribery conviction on Thursday.
Initially, a jury found Percoco guilty of accepting over $300,000 in bribes related to a Buffalo-area economic development plan from Cuomo dubbed the Buffalo Billion, as well as a handful of other state projects. In return for the payments, the jury initially found, he illegally steered state business to two companies in the state. A judge sentenced Percoco to six years in prison, of which he served roughly half before getting released late in 2021. 
However, the Supreme Court wrote in its decision that since Percoco was not employed by the state at the time he received the payments, the conviction was improper. Percoco said he was working for Cuomo's reelection campaign during the period of time in question. The Court wrote that maintaining a "special relationship" with the governor did not serve as a sufficient standard for determining whether he engaged in honest services fraud, and therefore overturned the conviction. 
Other former top aides of Cuomo lauded the decision while also criticizing former U.S. Attorney Preet Bharara, who prosecuted the case against Percoco and others involved in the scandal. "Personally, I'm happy for Joe and his family and this unanimous ruling lays bare what this all was: Preet Bharara and Joon Kim's abuse of the system and prosecutorial overreach in order to advance a political vendetta," former top Cuomo adviser and current rep Rich Azzopardi said in a statement. He referenced attorney Joon Kim, now in private practice, who served as Bharara's deputy and more recently investigated allegations of sexual harassment against Cuomo that led to a bombshell state attorney general report and the ex-governor's resignation.
Cuomo's former second-in-command Melissa DeRosa also used the opportunity to take aim at Bharara and Kim, as well as members of the press who covered both scandals. "The press facilitated it – not only by never questioning Preet's tactics/motive, but by actively cheering him on as he leaked to them," she tweeted. "Same goes for his bff Joon Kim and carried through August 2021 unabated."
In addition to Percoco, the Supreme Court also overturned the convictions of two others originally found guilty as part of the Buffalo Billion scandal in a separate decision: Buffalo developer Louis Ciminell and Alain Kaloyeros, the former head of the SUNY Polytechnic Institute.
The decision in the Percoco case marks the latest high-profile corruption case involving a political official – both in New York and beyond – to get overturned on appeal, and the most recent of Bharara's convictions specifically to get overturned. 
Legal experts point to the 2016 Supreme Court decision in the case of McDonnell v. United States, which vacated bribery and corruption convictions of former Virginia Gov. Robert McDonnell, as the reason. The case set a new precedent that narrowed the definition of public corruption and made it harder for prosecutors to pursue charges against political officials. The case was cited in the partial overturning of corruption charges against former Assembly Majority Leader Sheldon Silver and former state Senate Majority Leader Dean Skelos.