Politics
We asked the NYPD for all correspondence on Lisa White's controversial hiring. They sent us 15 emails.
The NYPD deputy commissioner for employee relations is a longtime friend – and former landlord – of Mayor Eric Adams.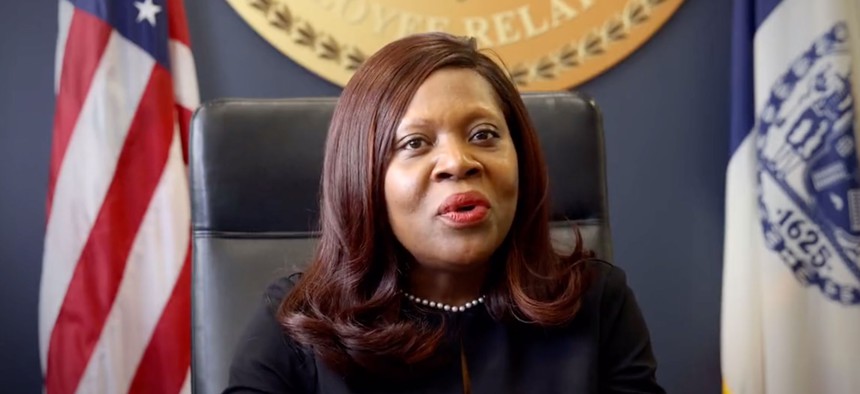 In May 2022, Lisa White, a longtime friend of New York City Mayor Eric Adams who City Hall said used to rent him a room in her Brooklyn apartment, was appointed to a six-figure post in the New York City Police Department as deputy commissioner for employee relations. The hiring raised eyebrows because of the close personal relationship with the mayor and the apparent lack of qualifying experience for the job. White previously worked as a 911 operator at the NYPD, retiring with a salary of around $53,000 in 2019 after more than two decades with the department, The City reported last year. As deputy commissioner for employee relations, White's salary is now $241,116. City Hall has said that Adams had nothing to do with her hiring.
To confirm that, in November of last year, City & State filed a Freedom of Information Law request asking for "any emails, texts, or communications between the NYPD and the mayor's office, or any other outside entities, regarding the hiring of Lisa White as deputy commissioner for employee relations."
The NYPD's full response to that request last week included just 15 emails between NYPD officials and White. They do not include any communications from Adams' office with White, and do not include any emails between staff at the mayor's office and the NYPD. Communications between city government officials, without any civilians involved, are generally exempt from FOIL requests, however, so even if Adams' office did communicate with the NYPD about White, it is unlikely the city would provide those records. 
But the emails that were provided suggest the decision to hire White was quick.
In the earliest email returned in the records request, dated April 8, 2022, an NYPD supervisor in the Civilian Hiring Unit requested that White receive building access at the NYPD headquarters for a meeting on April 11, referring to White as a "new hire." On April 13, an assistant commissioner in the department's human resources division requested a resume from White, the first mention in the emails of White being asked to submit a resume.
Later that day, White was sent information about an appointment with the civilian hiring supervisor, with details about forms White had to fill out, like a background investigation questionnaire, prior to her "start date" with the NYPD. Several days later, on April 17, White told the assistant commissioner in NYPD human resources in an email that she would come by to give them her application. In an email on April 18, the human resources assistant commissioner referred to White as "our candidate for the Deputy Commissioner, Employee Relations replacing Robert Ganley." Ganley previously held this position, but was let go at the start of Adams' term.
The emails reference phone calls and at least one in-person meeting between White and NYPD officials, but several of those took place after White was already referred to on April 8 email as a "new hire." If earlier phone or in-person conversations between White and the NYPD took place, they were not mentioned in the emails provided to City & State.
According to city records, White's appointment was effective as of May 8, 2022. 
Even if the emails did not show the entire hiring process, a high level city staffer familiar with agency hiring who reviewed the messages provided to City & State said the process felt expedited. "Is this the on-boarding process or the hiring process? If this is the hiring process, this is weird, and skipping a lot of steps," they said. "This feels like somebody told them that this is your candidate, and you have to hire them… as far as government goes, this skips all the steps that we require."
Since the start of his administration last year, Adams hasn't shied away from hiring personal friends and allies to top positions. Adams' routine justification? That he always hires the best people for the job.
Though the clearest cut example of this trend may be hiring his brother Bernard Adams as a senior security adviser – a position Bernard has since left – other appointments have been criticized. That list includes Timothy Pearson, a friend of Adams who was hired as a senior adviser for public safety and COVID-19 recovery, and who simultaneously kept a job at the casino company Resorts World until last year.
Earlier this year, the New York Post reported that more than 10 officers working under White had transferred or asked to be transferred, reporting odd behavior and concerns that she didn't have the necessary background for the job, which includes seeing to officer health and morale, as well as supporting families of fallen officers. City officials have said that White is the best person for the job. "Her hiring was in line with the NYPD's standards for identifying those best suited for their roles within the department," a department spokesperson said in a statement to The City last year. City Hall spokesperson Fabien Levy told The City that Adams did not have a role in White's appointment, and that they previously had a professional relationship in addition to being friends. She was the spokesperson for 100 Blacks in Law Enforcement Who Care, Adams' police group, and was the treasurer for Adams' One Brooklyn Fund nonprofit. 
A spokesperson for City Hall did not immediately provide a comment on the timeline of White's hiring when asked this week. When asked about the timeline and whether there were any additional communications that were not disclosed in the Freedom of Information Law response for any reason, a spokesperson for the NYPD simply wrote over email, "Hire date of 5/9/22."