Politics
Update: How New York members of Congress voted on the debt ceiling deal
The House voted to raise the $31.4 trillion federal debt ceiling on Wednesday night, sending the bill to the Senate.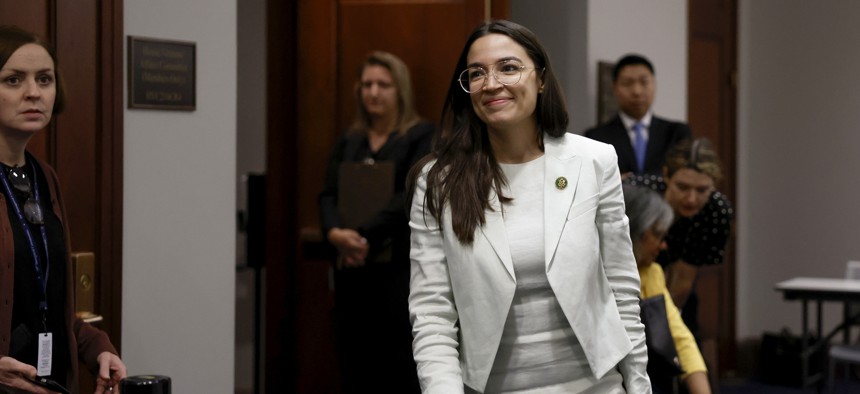 After weeks of speculation over whether or not the U.S. will default on its debt, President Joe Biden and House Speaker Kevin McCarthy unveiled a bipartisan agreement on the debt ceiling over Memorial Day weekend.
If enacted, the Fiscal Responsibility Act of 2023 would lift the $31.4 trillion federal debt ceiling, implement spending cuts in fiscal year 2024 and approve Republican policy proposals. The House voted 314 to 117 to advance the bill on Wednesday, sending the bill for consideration in the Senate on Thursday. U.S. Senate Majority Leader Chuck Schumer said in a floor speech that the Senate would stay in session until they "send a bill avoiding default to President Biden's desk." He added, "Time is a luxury the Senate does not have if we want to prevent a default."
The bill advanced out of the House Rules Committee on Tuesday with a 7-6 vote – amid fears that Republican members would block its progress. Treasury Secretary Janet Yellen sent a letter to Congress warning that failure to raise the borrowing limit would be catastrophic and expected the government to run out of cash by June 5.
All New York Republican members of Congress voted in favor of the bill, except for one: Rep. George Santos. Upstate Democrats and Reps. Hakeem Jeffries and Greg Meeks voted for the deal as well. Of the 46 Democrats in Congress who voted against the deal, nine were from New York. Those included progressives like Reps. Alexandria Ocasio-Cortez, Jamaal Bowman, Ritchie Torres and Nydia Velázquez. The "no" votes also included moderate Democrat Rep. Daniel Goldman. Here's more about how New York's representatives voted and their thoughts in the days leading up to Wednesday's vote.
New York Republicans
Leading up to the vote, most New York Republicans had positive things to say about the agreement. Rep. Elise Stefanik, the third-ranking House Republican, praised the debt ceiling agreement on Tuesday and said it was a "win for the American people and future generations." She also asserted the bill was the largest debt reduction bill in the country's history. Rep. Marc Molinaro also supported the deal and said it would help working-class families. "It significantly cuts federal spending, will slow inflation, and prevent our children from being saddled with exorbitant amounts of debt," Molinaro tweeted. Rep. Nick Langworthy also praised the deal in a tweet. "No one thought [House Republicans] would be able to secure a deal that cuts spending & reduces the deficit. In a divided government, no deal is perfect but this is more consequential than any in recent history," Langworthy wrote. Both Langworthy and Rep. Claudia Tenney declined to join the conservative rebellion against the deal late last week.
Rep. Nicole Malliotakis celebrated the final deal on Wednesday ahead of the vote, saying that it would change the country's "fiscal trajectory." She said, "While no deal is perfect, this is only the beginning and we simply cannot allow perfect to be the enemy of good."
Reps. Nick LaLota, Anthony D'Esposito and Mike Lawler proposed including the SALT Fairness and Deficit Reduction Act to the House Rules Committee as an amendment to the bipartisan Fiscal Responsibility Act on Monday. But, as reported on Tuesday, the closed rule on the debt ceiling bill meant no amendments could be made.
Embattled Long Island Rep. George Santos was the only New York Republican to vote against the deal. On a Twitter Spaces audio chat on Wednesday night, Santos said he was "very proud" to vote "no" on the agreement. "(If the vote was) to be my very last action as a congressman, I can tell you, I would do it with peace," he said.
New York Democrats
Notably, it was largely the progressive members of New York's delegation who opposed the debt agreement, including Rep. Alexandria Ocasio-Cortez. She told reporters ahead of the vote that her fellow progressive congressional members should also vote "no." Meanwhile, House Minority Leader Hakeem Jeffries, who voted in favor of the deal, told reporters on Monday that he planned to "have a family conversation" about the debt resolution. He also thanked Biden for working to avoid a default with an agreement that protects "incredibly important Democratic interests," such as Medicaid, Social Security and care for veterans.
Rep. Jamaal Bowman also voted "no" and in the days leading up to the vote had expressed frustration over Biden's ongoing attempts to negotiate the debt ceiling. "I mean, we don't negotiate with terrorists globally. Why are we going to negotiate with the economic terrorists here that are the Republican Party?" Bowman told CNN last week.
Hudson Valley Rep. Pat Ryan voted to lift the debt ceiling, as did many of his Democratic colleagues outside of New York City, including Reps. Brian Higgins, Joseph Morelle and Paul Tonko.
Reps. Yvette Clarke and Ritchie Torres each opposed some of the GOP's policies that made it into the final deal, criticizing stripping "benefits from the most vulnerable Americans," and defunding "enforcement against tax cheating," respectively. They both voted against the deal, as did Rep. Adriano Espaillat, who said a few days ago on MSNBC that the deal would take away nutrition assistance from 126,000 families in New York. "They're really holding the American economy hostage," he said.