Campaign Confidential
Could a white guy win in a City Council district meant to unite Asian voters?
Neither Republican candidate in New York City Council District 43, Vito LaBella and Ying Tan, live within its borders.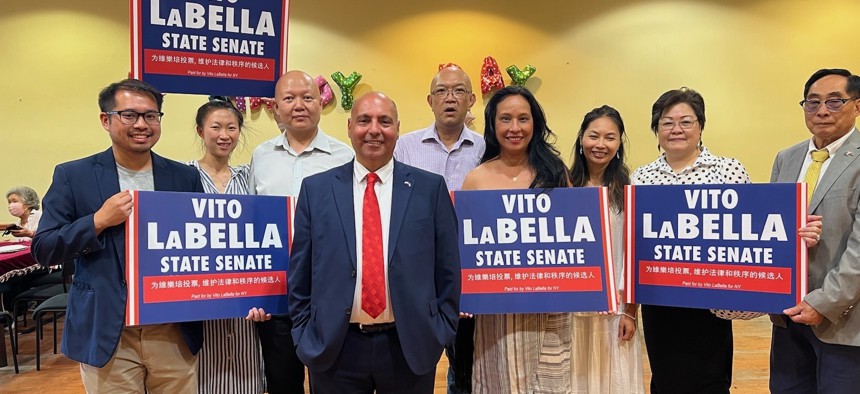 This story is from the Campaign Confidential newsletter, relaunched for 2023. Want it in your inbox? Sign up here. And check out the whole email here.
A white guy who lives outside the district may be in a good position to win New York City Council District 43 – even though it was specifically drawn to group residents in the growing Asian community together. That's Vito LaBella, who lives in nearby Bay Ridge. But his opponent in the Republican primary, Ying Tan, can't really criticize him too strongly – "Last year, I was the biggest contributor of Vito's campaign," Tan said, adding that she gave him office space, hosted events and recruited campaign volunteers for him when he was running in the Asian opportunity state Senate district that he also did not live within.
Now, she has turned on LaBella, saying he isn't conservative enough and is too soft on vaccines and "critical race theory" in schools. LaBella said that's bullshit. He thinks the government wasn't honest about the COVID-19 vaccine, so he'd never mandate it, and that actually he gets called racist online specifically because he does oppose "the negative parts of CRT." The retired NYPD lieutenant joined the race late, subbing in for Jack Ho who dropped out after submitting petitions. LaBella said Tan left him no choice. He wanted to defer to her, but she refused to even meet with the local Republican Party and Conservative Party chairs, and they needed a candidate.
LaBella said his kids went to school in the district, where he's active in the PTA and the Community Education Council, and he lives close by. "And in this country, you don't have an ethnicity test or a racial test to take part in anything. And you shouldn't." Tan, by the way, is Chinese, but she lives far away in Rego Park, Queens. But family members live in Brooklyn, where they run a senior day care center, and while Tan said she doesn't have a job, she is an active volunteer in the district. 
All three Democratic candidates are Chinese too, but just one lives in the district. The general election is expected to be competitive no matter who wins, with Democrat Susan Zhuang allegedly saying she's got Republican ideas.
LaBella's running a shoestring operation, co-managing his own campaign with his wife and reporting just $4,427 in campaign spending so far to Tan's $137,324. But he's likely favored among the approximately 9,000 registered Republicans in the district since he just ran for state Senate last year – and did well. But Tan said she was in the race first and has been working to grow the Republican Party with Asian voters. "Let them know, you have your right to vote," she said. "And this is the chance for you to get somebody elected to represent you."
Powered By
NEXT STORY: Republicans spent over an hour debating…coyotes