Heard Around Town
Eric Adams endorses Inez Dickens at fiery rally
The mayor praised the veteran Assembly member, who is running against activist Yusef Salaam and Assembly Member Al Taylor: "You don't need a GPS to get around Harlem."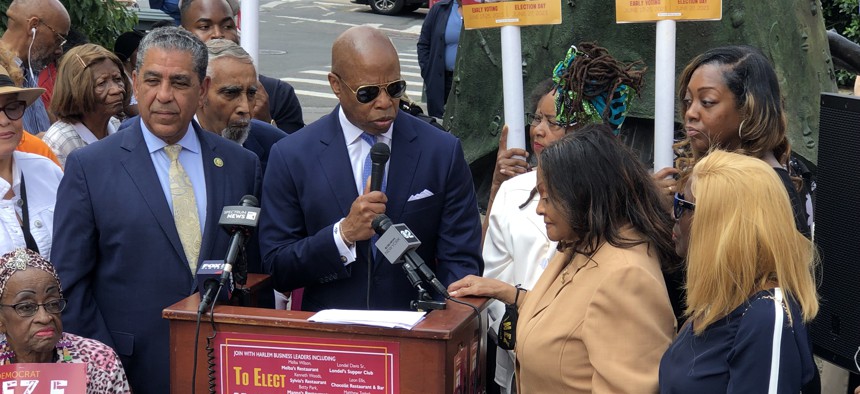 New York City Mayor Eric Adams endorsed Assembly Member Inez Dickens for City Council Thursday, as part of a fiery rally responding to her opponents co-endorsing each other as their No. 2s in ranked choice voting. 
"These are days when you need experienced leadership," Adams said in front of the Harriet Tubman memorial in the heart of Council District 9 in Harlem. "It's not what you do when you tweet, it's what you do on the streets." 
The mayor pledged to walk the streets of Harlem with Dickens to get her elected, adding "The beauty of walking the streets with you is you don't have to introduce yourself to anyone. You don't need a GPS to get around Harlem."
Dickens herself took aim at criminal justice advocate Yusef Salaam, one of the wrongly imprisoned, exonerated Central Park 5, and Assembly member Al Taylor. On Tuesday, Salaam and Taylor allied themselves against Dickens in the Democratic primary. 
"I can call the mayor. I have his cell," Dickens said. "Tell me what candidate got his cell? Not one other. Certainly not the one that moved from Georgia. And certainly not the one that flip flopped and flop flips. On more than just a women's right to choose. On more than just for same sex marriage. But also on housing. Flip flop, flop flip."
Salaam lived in the state of Georgia until recently. And Taylor, a Christian pastor, has recently changed his position on legislation opposed by social conservatives. 
But some of the criticism from Dickens' allies was insensitive. Former Rep. Charlie Rangel, who is 93 years old, recalled when Salaam called him to tell him he was running for City Council. "He had a foreign name," Rangel said, and told him that his qualifications were that he had "successfully negotiated the criminal justice system.'' Rangel quipped that "I'm in my 90s, I have too." 
Salaam took offense at the "foreign name" comment, responding in a tweet, "I am a son of Harlem named Yusef Salaam. I went to prison because my name is Yusef Salaam. People looked at me funny because my name is Yusef Salaam. I am proud to be named Yusef Salaam. I am born here, raised here & of here - but even if I wasn't, we all belong in New York City."
Dickens also took aim at Manhattan Democratic Leader Keith Wright, a strong supporter of Salaam's candidacy, who helped recruit him to run. Dickens said that she herself supports young people in the community, and "not going out in foreign territory, to a fabulous mansion, and say, 'Come back and save my career. Because you're going to be my Nelson Mandela.' Because Nelson Mandela is in each and every one of us."
Salaam got more than $7 million from the city in a legal settlement after he and the other members of the Central Park 5 sued over the case. 
Other Dickens supporters on hand included the United Federation of Teachers, the New Majority NYC, anti-violence advocate Jackie Rowe-Adams, and Dominique and Ashley Sharpton of the National Action Network.  Many speakers criticized Salaam and Taylor for teaming up against a woman, while emphasizing Dickens' experience and record advocating against gun violence. Dickens served in the City Council from 2006 to 2016 when she resigned after winning an Assembly seat, which she has held since. 
"Stay safe. God bless," Dickens said, closing the rally. "And know that there is a fight – a fight – a fight ahead of us. And they're mean and they're nasty and there's two men against a woman that say a woman can't serve."
City Council Member Kristin Richardson Jordan will also be on the ballot for the June 27 primary, but has ended her campaign. As one of only two open seats in the city, it's a hotly contested race.