Policy
Eric Adams, NYC health officials warn of poor air quality risks
New York City health and emergency officials urged all New Yorkers– especially those with underlying medical conditions – to limit outdoor activities.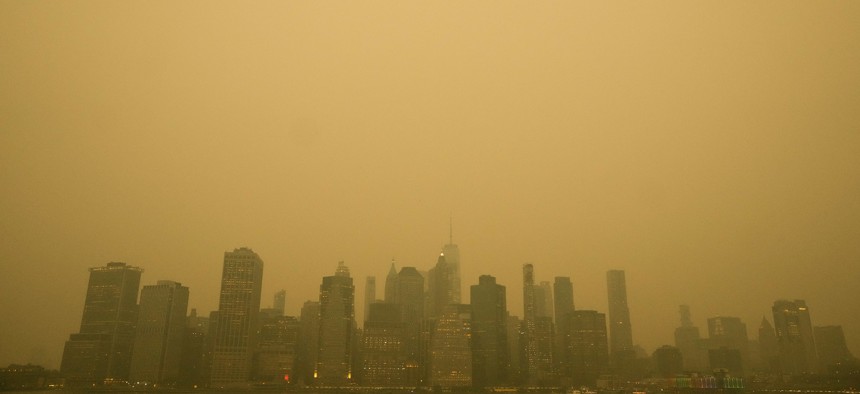 New York City Mayor Eric Adams and a team of top city officials urged New Yorkers to limit outdoor activity whenever possible Wednesday as an eerie cloud of smoke from wildfires in Canada blanketed the skies for the second day in a row.
The smoke traveling from wildfires burning in Canada has floated over a large section of the northeast United States, and for a period on Tuesday, New York City ranked the worst of any city in the world for air quality, according to the IQAir World Quality Index. The state Department of Environmental Conservation began releasing warnings about poor air quality due to the smoke on Monday, and an air quality health advisory for much of the state was extended through 11:59 p.m. Thursday. The advisories note that exposure to the smoke can cause short-term health effects including coughing, shortness of breath, and irritation to the eyes, nose and throat. Older adults, children and those with underlying conditions are especially at-risk.
As of Wednesday, New York City schools have canceled outdoor activities and Gov. Kathy Hochul recommended that other localities follow suit.
Adams was joined by New York City Health Commissioner Ashwin Vasan, Emergency Management Commissioner Zach Iscol, Department of Education Chancellor David Banks and others at a Wednesday morning press conference to announce steps that New Yorkers should take to limit exposure to the smoke. "Our health guidance to all New Yorkers is to limit outdoor activity as much as possible. This is especially true for older adults, people with underlying chronic medical conditions or issues with their immune systems, and young children who all may be at elevated risk," Vasan said. "Avoid going outside unless you absolutely have to. For people who must be outdoors, a high quality mass like an N95, KN95 or a KF94 is recommended." Officials also recommended keeping windows closed and using air purifiers for homes that have them.
Officials called the air quality conditions in New York City "unprecedented," with Iscol noting that it's not normal for the air quality to surpass 150 on the Environmental Protection Agency's Air Quality Index – a level rated as "unhealthy." In a statement on Tuesday night, Adams noted that the Air Quality Index across the city reached 218. "This time of year, it's very normal to have a rating over 100. You have pollen in the air, you have different weather events, the heat pollution, so it's sort of normal to hit 100. What's not normal is to go above 150," Iscol said. "I think you have to go pretty far back to find a time when we were ever above 200. It may never have actually happened in New York City. We're sort of looking at historical data to see what the precedent is for this." 
But city officials warned that these unhealthy conditions could persist in the coming days and near future. "We expect this to be a multiple-day event, so we expect that that advisory to remain in place for the next few days,"  Iscol said of the state advisory, which is currently in effect through at least 11:59 p.m. on Thursday, though he said it's difficult for forecast these events.
Iscol added that globally, wildfires have become increasingly common due to rising temperatures and drought. "Canada has 9% of the world's forests and this year's fire season has actually occurred early in Canada," he said. "The intensity as well as the number of fires is far higher than usual. Usually, it peaks in July. So this is something that we can continue to see, possibly, over the next few months."
"While this may be the first time we've experienced something like this, of this magnitude, let's be clear – it's not the last," Adams added. "Climate change has accelerated these conditions. We must continue to draw down emissions, improve air quality and build resiliency."
Around noon on Tuesday, the city Department of Health started sending communications via social media about the haze, and Adams said City Hall officials soon began convening city agencies to coordinate a response.
But at the Wednesday press conference, the mayor was asked whether the city had responded quickly enough as the poor air quality became evident on Tuesday. Adams released a statement on the air quality conditions at 11:30 p.m. on Tuesday which also noted that outdoor school activities would be canceled on Wednesday. 
"What we should really try to prevent doing is to give any indication that this administration did not proactively respond and did not move in the right direction to let New Yorkers know," Adams said, adding that there's no "playbook" for these kinds of issues. "There were no late notifications. We started in the early afternoon and we continued throughout the day. Our role as an administration is to make sure that we give good information but don't create panic. That's what we're doing. That's what we did yesterday. And that is what we're doing now."