Campaign Confidential
The super PAC fundraising for George Santos' could-be opponents
The emails may have Anna Kaplan's name on them, but American Bridge PAC said she didn't know about their outreach.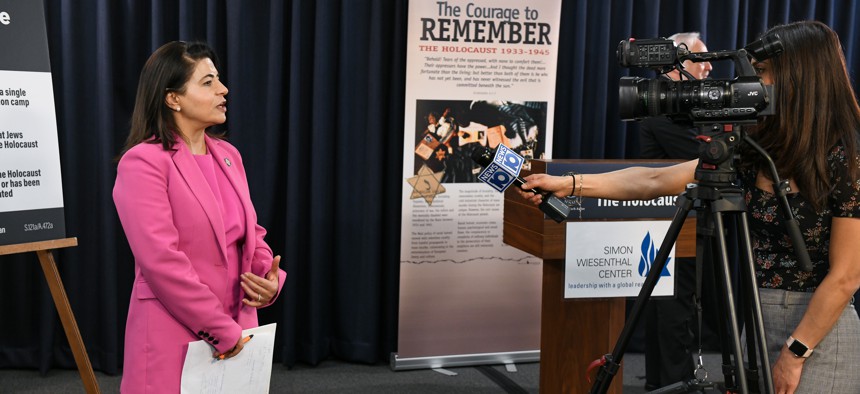 This story is from the Campaign Confidential newsletter, relaunched for 2023. Want it in your inbox? Sign up here. And check out the whole email here.
"Hi, it's Anna Kaplan." Or … is it?
American Bridge 21st Century, the opposition research arm of the national Democratic Party, has now sent out at least four fundraising emails to its massive list boosting Anna Kaplan as the candidate who will defeat Rep. George Santos in the 3rd Congressional District. The emails are written in the candidate's voice – e.g. "Today, I'm announcing my intention to run for Congress to replace him" – which got City & State wondering why this super PAC endorsed the former state senator so early in a crowded primary that might end up as a special election instead.
The answer: they didn't. "We haven't endorsed her campaign, the only thing we endorse is Republicans are bad and we want to beat them," said Alex DeLuca, vice president of communications for American Bridge. "She's not writing the email, she's not approving the emails," DeLuca said. 
It's an all too common form of fundraising subterfuge – Barack Obama isn't writing those emails to you either – and apparently Kaplan's name and story as a Jewish refugee from Iran tested well. 
Generally, super PACs can't coordinate with campaigns, but there are certain rules when it comes to fundraising, rather than spending, and American Bridge seems to be following them when it links would-be donors to an ActBlue page where they can split a contribution between Kaplan's campaign and the PAC. 
Kaplan's campaign didn't respond to a request for comment. American Bridge normally stays out of House races, but it found a good target in Santos, and the PAC got some press by filing an ethics complaint early in the Santos saga. Said DeLuca: "American Bridge is anti-Santos, we are not necessarily pro-Kaplan."
Sure enough, the PAC sent out an email fundraising for another 3rd District candidate on June 5. "Hi friend," it starts. "I am Zak Malamed."