Politics
Edward Caban named NYPD's first Latino commissioner
A department veteran and Eric Adams loyalist takes over for Keechant Sewell, who stepped down after reportedly being micromanaged by the administration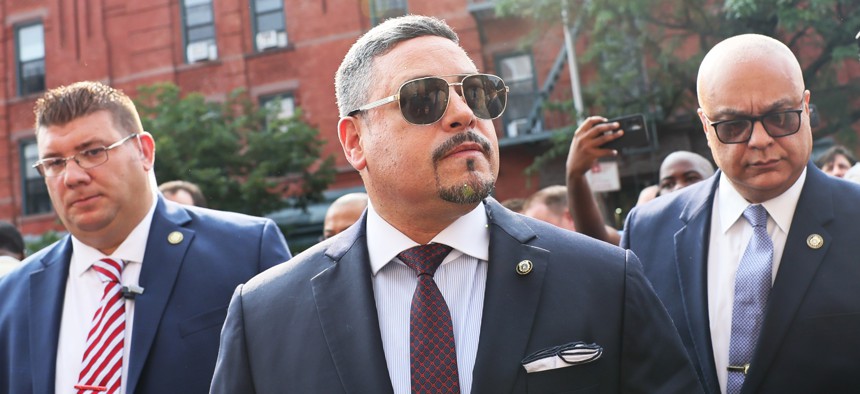 It was a full circle moment. Thirty plus years after Edward Caban began his policing career in the South Bronx, he stood once again just outside the 40th Precinct stationhouse, a rookie no longer, as New York City Mayor Eric Adams named him the official head of the nation's largest police force.
Cheers reverberated throughout the sizable crowd, which spilled out down the precinct's stairs and into Alexander Avenue Monday morning. Members of the New York City Police Department's Hispanic Society waved Puerto Rican flags back and forth as Adams emphasized the historical significance of the day. Caban will be the department's first Latino commissioner in its 177-year history. Adams also announced that Tania Kinsella, deputy chief of the Patrol Services Bureau, will be the NYPD's new first deputy commissioner, making her the first woman of color to serve in the role.
"My journey with the NYPD began over 32 years ago, a young Puerto Rican kid from Parkchester standing on a foot post in the South Bronx just like thousands who came before me and thousands who have come after me," Caban said. "In those days the top bosses of the police department didn't really look like me."
Caban has been leading the NYPD on an acting basis since Keechant Sewell abruptly resigned from the position in June amid an ongoing power struggle with City Hall. Sewell, the first woman to lead the department, has made no public declarations as to why she decided to depart, but tensions had simmered behind the scenes largely hinging on her lack of autonomy in the role. While Adams has praised Sewell repeatedly for her 18 months of service, she'd struggled to make even simple moves without approval from City Hall. Local reporting uncovered that Adams and his Deputy Mayor for Public Safety Phil Banks – both former police officers – circumscribed her power especially after Sewell disciplined Chief of Department Jeff Maddrey for wrongfully intervening in an arrest.
Caban is viewed by many as an Adams ally. Before he was tapped as acting NYPD commissioner, he served as first deputy commissioner under Sewell – a position Adams had hand picked him for, according to The New York Times. "I saw in Eddie long ago possibilities. I knew that there was something special about Edward Caban. I watched him – his discipline, his attitude, the diversity of the people who constantly told me what he meant to them," Adams said Monday as he prepared to swear Caban in.
Still, many questions remain over what Caban and Adams' relationship will look like now that he's officially succeeding Sewell.
"The mayor has been known to be a micromanager and that is especially the case with the police department," said Eli Valentin, a political analyst with a focus on Latino politics, in an interview with City & State. Still, he added, if there is one difference between Caban and Sewell it's that Caban has spent his entire career entrenched in the NYPD.
"He knows how the NYPD runs, he knows where the bodies are buried, no pun intended. He just knows how to navigate this massive department," Valentin said. "That is an advantage, both for him and his tenure, but I think also it's an advantage and a plus for the mayor and the city at large." 
The large crowd that shut down part of Alexander Avenue on Monday included prominent Latino electeds and officials, including Rep. Adriano Espaillat, Brooklyn District Attorney Eric Gonzalez and Department of Correction Commissioner Louis Molina. 
Espaillat declined to say whether he had conversations with the mayor's office following Sewell's resignation about who should fill the post. But he said that he's known Caban for a long time, and called it a "great appointment" by the mayor. "I have been a strong supporter of Commissioner Caban for a long time, even before he was considered this time around for commissioner," Espaillat told City & State. "I think at his core, he's a beat cop. And one that understands the nuts and bolts of the neighborhoods of our city."
City Council members from the Bronx also showed up for the announcement, including Oswald Feliz, Marjorie Velázquez and Pierina Sanchez. "Seeing this city and our mayor give a Hispanic the opportunity to lead the largest, greatest and most important police department in the entire country, we're filled with gratitude," Feliz told City & State. 
Feliz also didn't say whether he personally encouraged the mayor's office to pick Caban, but added that he viewed him as the top choice. "Many of us immediately thought he would be the best person to succeed Commissioner Sewell, who did a great job leading the department," Feliz said. "He has the experience. He's managed some of the most challenging police precincts in the city, and we thought he was the best person, the best prepared to lead our police department."
Caban was raised in the Bronx and joined the NYPD in 1991, working his way up to sergeant in three years and later, inspector. His father, who stood teary-eyed beside Caban as he was sworn in, served as a New York City Transit Police Department detective. 
Beyond asserting his autonomy, Caban also faces the task of bringing crime down to the historic lows before the COVID-19 pandemic. The number of murders dropped around 11% last year from 2021 – something Adams credited Sewell and Caban for – but public safety remains a top priority for many New Yorkers. Bolstering police officer morale and building community trust will also likely be challenges he and Kinsella will face. 
The Legal Aid Society said that policing in New York City is "in dire need of reform," stressing that Caban needs to make "significant inroads" with New Yorkers in order to bolster community trust with law enforcement. 
"The Legal Aid Society is willing to collaborate with Mr. Caban to advance these overdue reforms and many others, just as we are always willing to hold the department and its officers accountable when called for on behalf of the people we serve," the organization said in a statement.
This story has been updated from its original post.
Powered By
NEXT STORY: New York's green revolution is almost here