Energy & Environment
New York's green revolution is almost here
With rising costs and an aging electrical grid, can the state hit its ambitious climate goals by 2030?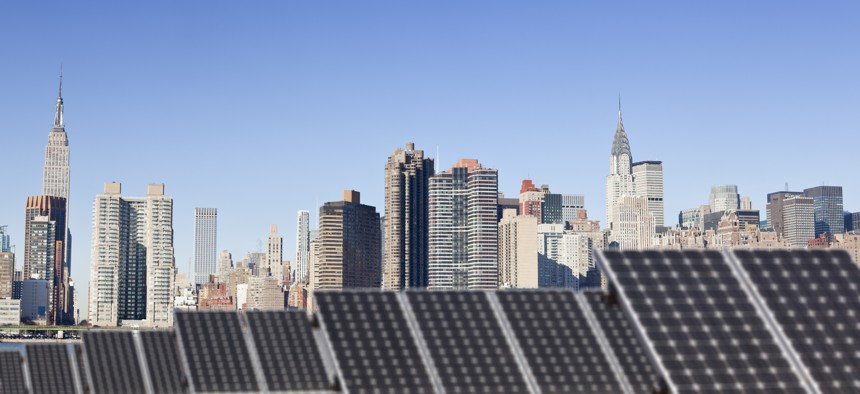 Northern wildfires blanket the five boroughs with dense plumes of acrid smoke. Flash flooding inundates the Hudson Valley and the Finger Lakes, shutting down roads and railways. Scientists warn that heat waves will scorch communities across the state – and around the world – with increasing frequency in the years ahead.
It's all part of a cycle of extreme weather events upending daily life with growing regularity, and it's broadly linked to the worsening effects of human-made climate change. New York, for its part, has embarked on an ambitious effort to slow the state's contribution to climate change, passing a landmark law in 2019 that mandated a 40% reduction in greenhouse gas emissions by 2030 and then, by 2050, an 85% reduction in emissions relative to 1990. The law also required the state to generate 70% of its electricity from renewables by 2030.
But four years after the passage of the Climate Leadership and Community Protection Act and with the initial 2030 deadline fast approaching, is New York actually on track to meet the goals lauded as "one of the world's most ambitious climate plans?"
---
When the Climate Leadership and Community Protection Act, or CLCPA, was signed into law in New York, the state was much different from what it is today.
Kathy Hochul was a little-known lieutenant governor, inflation was something you learned about in history class and COVID-19, which would eventually lead to the death of 80,000 New Yorkers, hadn't yet reached the state.
Both the short- and long-term impacts of the coronavirus pandemic have disrupted efforts to implement the CLCPA and reduce greenhouse gas emissions by increasing the state's share of renewable energy. However, key players involved in New York's clean energy transition, from climate activists to state agency officials, remain cautiously optimistic that the targets set out in the CLCPA are possible despite ongoing economic challenges as well as an aging electrical grid and a relative dearth of renewable energy production.
"That is not something that's unique to New York coming out of COVID, supply chain issues, geopolitical disruption and other market shocks that have happened over the past years have led to inflation on a global scale," John O'Leary, the governor's deputy secretary for energy, told City & State.
Even the state's impressive effort to invest in offshore wind development has hit economic headwinds. Sunrise Wind, a joint venture between Eversource Energy and Ørsted to construct a 924-megawatt wind farm, filed a petition in June to the state Public Service Commission asking to amend their agreement with the state to adjust for inflation.
"A combination of unprecedented and unforeseen public health, geopolitical, and macroeconomic events that began only months after NYSERDA and Sunrise Wind executed the OREC Agreement in October 2019 have severely impacted the Project," the company wrote in its petition.
Moving the goalposts only serves to perpetuate investments in the gas industry.
Environmental Advocates NY Policy Director Conor Bambrick
Skyrocketing construction costs have been among the challenges, although the pressure has eased somewhat. Comparing its highest price in 2019 to May 2023, the producer price index for building materials rose by 32% according to the Federal Reserve Bank of St. Louis. However, since peak inflation in April 2022, the price has fallen by 26%.
"Disruptions in the supply chain, inflation and the increased cost of construction material has certainly led to energy projects – like many other construction projects – taking longer and (becoming) more expensive to build," Assembly Member Didi Barrett, who chairs the Energy Committee, wrote in an email to City & State. "These increased costs must be part of the conversation."
Doreen Harris, the head of the New York State Energy Research and Development Authority who also co-chairs the state Climate Action Council that's overseeing implementation of the CLCPA, agreed that inflation has been a hurdle for the state, along with related challenges like rising interest rates and overall supply chain issues.
What environmentalists and activists now fear is that ongoing struggles with inflation may result in New York backtracking on its nation-leading climate goals.
---
These concerns came to a head when Hochul, Barrett and state Sen. Kevin Parker teamed up on legislation earlier this year that would have changed the state's accounting system for methane gas emissions within the CLCPA. The new system would have revised the calculation for methane emissions from 20 to 100 years, reducing energy transition costs passed on to consumers but also, environmentalists argued, allowing more emissions by easing up on the state's stringent goals.
Parker, who chairs the state Senate Energy and Telecommunications Committee, argued that the legislation introduced during the budget process was much less about the accounting mechanism, but trying to keep in check the costs of the state's plans. Parker said he wasn't committed to changing the accounting methods set out in the CLCPA, but that he was going to ensure that the clean energy transmission would be affordable for New Yorkers.
Conor Bambrick, the director of policy for Environmental Advocates NY, acknowledged that rising costs and inflation have been a major bottleneck for the state to reach goals set out by the CLCPA. But Bambrick said that altering the methane gas formula dilutes the real impact of emissions.
"Moving the goalposts only serves to perpetuate investments in the gas industry," said Bambrick, who also serves on the steering committee of NY Renews, a coalition of justice, labor and faith groups pushing for progressive climate legislation.
Bob Cohen, the policy director of Citizen Action New York, a grassroots group that advocates for climate justice, echoed Bambrick. "It makes us concerned that they're not being as aggressive as they need to be in insisting that the CLCPA mandates be enforced," Cohen said. "(The CLCPA's goals are) feasible if New York state demonstrates the political will to do that."
O'Leary declined to say whether Hochul would pursue a similar adjustment down the road. The emissions accounting debate was tied to the state's cap-and-invest program, a market-based strategy that Hochul first unveiled in January and that has elicited cautious optimism from some environmentalists.
The program would put a cap on how much greenhouse gases can be emitted while also reducing that cap over time. The state would also charge large-scale emitters to obtain allowances for emissions. New York would then put that money toward projects that reduce emissions, equitably, according to the governor's website.
It makes us concerned that they're not being as aggressive as they need to be in insisting that the CLCPA mandates be enforced.
Citizen Action New York Policy Director Bob Cohen
Parker touted the law as one of his chief accomplishments this past session, while Harris billed the cap-and-invest program one of the state's centerpieces when it comes to near-term action. Yet, others worry about how the final regulations will shape up.
"Done right, a cap-and-invest system could be a key tool in securing climate justice in New York," NY Renews wrote in February. "Done wrong, a cap-and-invest system would only widen the gap between the haves and have-nots in our state."
---
Meanwhile, some major renewable energy projects have been advancing. The South Fork Wind project off the shore of Long Island, which itself would generate 132 megawatts of power, has completed its on-land portion of the site. In late June, the project put its first piece of foundation in the water. Its developers, Ørsted and Eversource Energy, are also behind the 924-megawatt Sunrise Wind project and have proposed a third offshore wind project as well. Equinor and BP have also teamed up on major offshore wind developments, including the 2-gigawatt Empire Wind project. These are just a portion of the 9,000 MW the CLCPA's scoping plan lays out in offshore wind.
"You think about 9,000 megawatts of offshore wind? Currently, we have none," noted Tim Cawley, the president, chair and CEO of Con Edison. "We've never sort of taken in our generation from that direction into what is a really complex and very reliable grid in New York City and the surrounding area. The grid is really going to reinvent itself. We are excited about the challenge."
Indeed, the scoping plan specifies that the state should pursue system upgrades on Long Island and in New York City to facilitate the new source of energy and the increased energy load needed to support a further electrified state.
"It may even be doubling the capacity of New York's electric grid to really provide the level of supply necessary to run your electric vehicle, to run your heat pump, your induction cooktop or whatever may be the solutions that are brought to bear," Harris said.
Bambrick said the current grid was designed to deliver electricity from fossil fuel-based facilities. "It's not a system that's equipped for some larger-scale renewables like offshore wind, in particular," he said.
The grid will not only have to take on a higher load of energy, but also will have to withstand more extreme weather presented by climate change. Harris said many of the wires above and below ground that make up the grid haven't been updated in decades.
In the 1980s, the U.S. had 33 weather events where damages and costs reached at least $1 billion. From 2018 to 2022, the U.S. had 90, according to the National Oceanic and Atmospheric Administration. To hit the CLCPA's 2030 goals, Harris said the state will need a "significant" transformation of the grid.
Some major transmission projects, however, are underway. The 174-mile Clean Path NY transmission line will help deliver energy from upstate to New York City while a series of projects, such as Smart Path and Smart Path Connect, will strengthen transmission in the North Country.
Parker, along with co-sponsor state Sen. Brad Hoylman-Sigal, introduced legislation to create the New York state grid modernization commission, which would conduct "research, development and demonstrations of electric grid modernizations." The bill is currently in the senate's Finance Committee. "There's a lot that needs to be done for us to get to where we need to get to," Parker said.
The grid's age is already causing problems. In New York Independent System Operators' 2023 Power Trends report, the group noted that potential delays in construction of new supply and transmission, among other reasons, could threaten reliability.
---
In 2021, Harris and Seggos attended COP26, a climate change conference in Glasgow, Scotland. While the focus of the conference for the general public was on the many world leaders in attendance, from President Joe Biden to then-German Chancellor Angela Merkel, Seggos recalled in an interview that specific provinces and states represented at the gathering were still "well ahead" of most countries. He believes that, in some respects, that's still true today.
Building on the 2019 CLCPA, the state Legislature this year passed a few more major laws aimed at bolstering the state's green energy. The state budget included a version of the Build Public Renewables Act, which will require the New York Power Authority to provide only clean energy and paves the way for the public power organization to build its own renewables.
We know what the targets are, we know that they're ambitious and we're working every day to make progress towards them.
John O'Leary, the governor's deputy secretary for energy
"I'm very satisfied with the fact that we're going to do a study out of NYPA and tee them up so that if and when we need them, and I think we're going to need them unfortunately, they'll be prepared and poised to take the steps in order to build some sustainable energy projects," Parker said.
Justin Driscoll, NYPA's acting president and CEO, said that outside of being able to own and develop renewable generation, the new law allocates money to workforce training and projects dedicated to serving disadvantaged communities. If the state is behind in its goals, Driscoll said it would be NYPA's role to identify sites where renewable projects could be built. NYPA is also able to now work with developers to get projects built.
In June, the state Senate declined to hold a vote on the nomination of Driscoll, who has some environmentalist detractors, to remove the acting part of his title. However, Driscoll can continue to serve as acting president indefinitely, and he said the nomination process has not impacted his work at NYPA.
"There's still so much great work to be done and so I'm looking forward to continuing to serve here at the power authority," Driscoll said. "I'm really excited about the work we have in front of us."
---
Is New York on pace to hit its climate goals that the state enacted in 2019? The only thing that everyone seems to agree on is that it won't be easy.
"If you took every project that organizations like the Independent Power Producers (of New York) have and (the Alliance for Clean Energy New York), and you took the possibility under what we passed in Build Public Renewables, we still would not have enough energy in the ground in order to reach our CLCPA goals," Parker said.
O'Leary noted that the state is doing well in some areas, while more efforts are needed in other areas. "In the power sector, we are on track to achieve the CLCPA target of 70% renewable power generation by 2030," he said. "When we look at the transportation sector and the building sector, those have ambitious targets as well that we would need to achieve to reach the emissions targets. The governor has been very clear that she wants to really lean into those sectors to accelerate decarbonization. So we know what the targets are, we know that they're ambitious and we're working every day to make progress towards them."
Harris and Seggos, who are at the forefront of that effort, argued that the state's goals were attainable, but acknowledged that the obstacles that have already hindered the CLCPA's implementation could continue to slow it down.
"There's reason for concern there, political fluctuations, cost implications, inflation, geopolitics, that's putting a real challenge on microissues that we deal with here in New York on a regular basis," Seggos said. "We are both clear-sighted about the challenges ahead of us and we can do everything that we can here in New York."